By Christopher Conover and Andrea Kelly
Arizona Public Media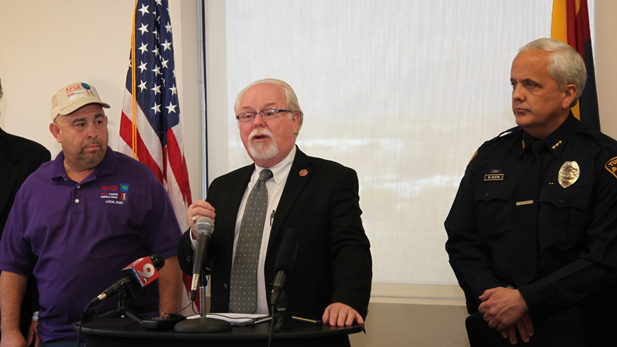 U.S. Rep. Ron Barber, D-Tucson, discusses looming federal budget cuts associated with sequestration set to start March 1, 2013. (PHOTO: Andrea Kelly)
Tucson Mayor Jonathan Rothschild and U.S. Rep. Ron Barber, D-Tucson, are worried about the impact of automatic federal budget cuts, known as sequestration, set to take effect March 1.
Barber said Friday that cuts to defense programs, highlighted in the debate about the budget situation, don't tell the whole story. Security along the Southern Arizona border could also be affected by the reduction in across-the-board federal spending.
Listen: Border Impact
Border Patrol agents face cuts in pay, just as all federal employees do. Art Del Cueto, president of the Border Patrol union that represents agents in Arizona, said cuts to Border Patrol could also change how much the agents work and how rural areas of the border are patrolled.
"With cutting down the hours on the agents, with cutting down the pay, with facing furloughs, that does mean you'll have less agents working many of these areas, and at the same time you'll have a lot less security," he said.
Barber said the biggest threat to the nation's economy is uncertainty. Cuts to federal spending along the border not only affect the Border Patrol and its ability to seize illegal drugs, but also economic traffic headed into the country.
Staffing is already short at ports of entry, he said.
"Further impact on those agents means even longer wait times for people who are coming here for legitimate business," Barber said.
He blamed fellow congressional representatives for passing the bill more than a year ago that set in motion the process for sequestration. He said he would not have voted for a bill that included automatic cuts, and he won't vote for any bill that prolongs the uncertainty about the federal budget.
Barber said congressional leadership needs to work with the president to resolve the fiscal crisis and pass a budget, because he thinks there is a "significant number of the Republican caucus and the Democratic caucus who would be willing to join together and vote for a bill that will end the sequestration nightmare and get us moving forward in a balanced and sensible way."
There is a litany of people who could be directly affected by the federal budget cuts, Barber said, including federal workers and those who benefit from federal funding, including doctors who accept Medicare patients, teachers with federal grants and civilians workers on military bases.
City of Tucson officials are also considering the impact federal budget cuts could have on city residents and city programs. Mayor Jonathan Rothschild said he is worried about the cuts to federal funding for the Police Department.
Listen: City Impact
He is expecting a 5 percent cut to the department if a federal grant the Police Department uses in its anti-drug enforcement efforts is hit by the budget ax, the mayor said. He questioned what the department should do when the money expires.
"Do they now move money from other programs so they can continue this narcotics work? Do they say, 'no, we'll just have to cut back an officer or two in narcotics to keep our other programs'?"
City officials said federal housing assistance will also be cut if sequestration occurs. More than 5,000 Tucson families receive the assistance, and 250 to 400 families could lose their ability to pay for housing, said Assistant City Manager Albert Elías.
Rothschild said most of the city cuts won't be obvious for about a month.
Congress has until Thursday at midnight to pass legislation to avoid the automatic federal budget cuts.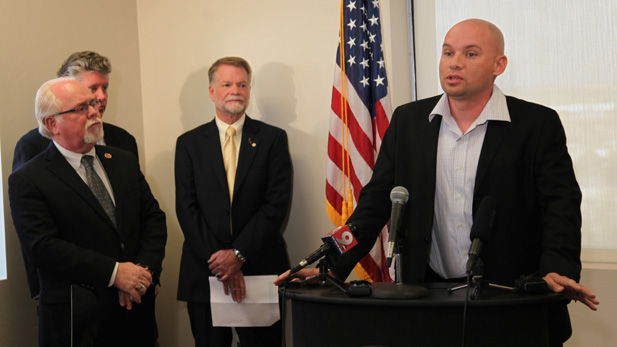 Art Del Cueto, president of the Border Patrol Tucson Sector's union. He says sequestration, or automatic federal budget cuts, could reduce security along the U.S.-Mexico border. (PHOTO: Andrea Kelly)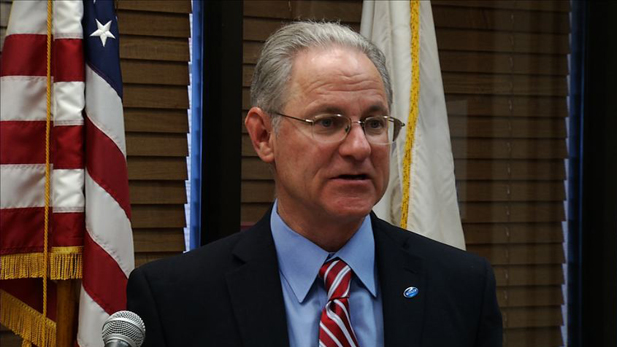 Tucson Mayor Jonathan Rothschild (D) says the city will feel the effects of mandatory federal budget cuts. (PHOTO: Christopher Conover, AZPM)