(VIDEO: AZPM)
Water demand from the Colorado River has exceeded supply since 1998, and the overdraw could surpass 20 percent in 50 years under current trends, says a river basin expert.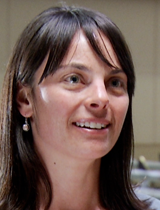 Carly Jerla, program manager for Bureau of Reclamation's Colorado River Basin study. (PHOTO: AZPM)
"We are in a state where allocations exceed what the long-term average has been on the system," said Carly Jerla, program manager for the U.S. Bureau of Reclamation's Colorado River Basin Water Supply and Demand Study.
Jerla spoke at the University of Arizona's annual water conference this week and in an interview for the Friday Arizona Week broadcast.
She said that the study projects that at minimum, the overdraw from the Colorado will be 3.2 million acre-feet a year and under the worst conditions could go to 7 million acre-feet. About 15 million acre-feet are now drawn from the river by Arizona, six other states and Mexico, Jerla said.
Tucson gets 144,728 acre-feet each year from the Colorado via the Central Arizona Project, and most of that water is stored in reservoirs and used to recharge the metro area's groundwater.
The overdraw has been covered, so far, by reservoir storage, including Lake Mead, and by less usage upstream, Jerla said.
"We've been able to get through that, up to this point, really, because the upper basin states have not built in fully to what they've been allocated and because of the huge amount of reservoir storage that we have on the system," she said.
But that storage is imperiled by a prolonged dry spell in the region, Jerla said. Lake Mead is down significantly, approaching the 4 million acre-foot mark, a level at which the outtake pipes for Las Vegas won't function, she said.
At the conference, which was held Tuesday on the UA campus, speakers and panelists outlined the need for Arizona to work for a secure water supply.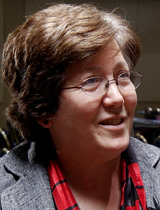 Sharon Megdal, director of UA Water Resources Research Center. (PHOTO: AZPM)
UA Water Resources Research Center Director Sharon Megdal, who hosted scientists, conservationists, businesspeople and the public at the conference, said the state's economic future depends on water.
"There is competition for water resources," Megdal said. "There's growing demand for these resources, and we have to figure out how do we ensure the economic vitality and the environmental vitality of our communities as we go forward."
She and others said the good news is that all interested parties are working toward that end, and thus there are no surprises in the state's water scenario. At the same time, she said, due diligence is a must.
"Whether or not we have a wet period, we know we'll have dry periods," Megdal said. "And we in central Arizona, particularly, are quite - let's say - vulnerable to very long-term shortages or droughts on the Colorado River."
Jerla said conservation, reallocations, potential supply changes and the rate of population growth all are factors in supply and demand, and if those factors are well managed, the Colorado can continue as the key water source for the region.