(VIDEO: AZPM)
By Christopher Conover and Fernanda Echavarri
Hands reached through the border fence at Nogales and passed candles to commemorate the life of Jose Antonio Elena Rodriguez on Wednesday.
U.S. Border Patrol agents who at the time claimed he was throwing rocks at them shot the 16-year old Mexican citizen as he stood on the Mexican side of the fence in October. An autopsy showed he was shot multiple times in the back.
The protestors walked along the U.S. side of the border, carrying signs saying, "Our Border is not a War Zone" and chanting, "No more deaths," in English and Spanish.
Border Patrol officials declined to comment for recording but sent a one-sentence printed statement: "CBP (Custom and Border Patrol) has no additional information available regarding this incident and is fully cooperating with the FBI investigation."
The cross-border protest took place as Border Patrol observed from their trucks and Mexican police patrolled on motorcycles.
Protestors said the shooting was six months ago, but the U.S. government has done nothing to investigate or reveal the names of agents involved.
"The very idea that men in uniform who are supposed to serve and protect us can just gun one of us down and six months later we are still standing here without any explanation that upsets me on a very personal level," said David Hill, a Nogales, Ariz., resident.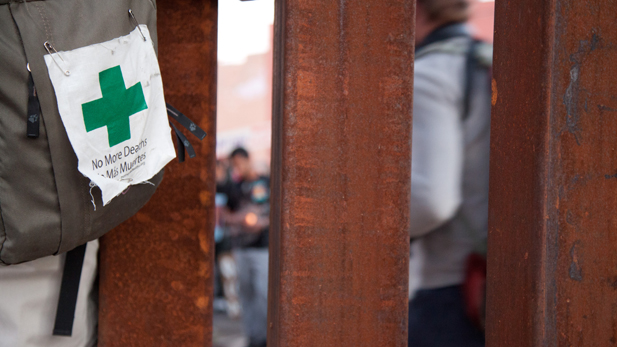 A protestor on the U.S. side of the border fence leans close to talk to protestors on the Mexican side.

Fernanda Echavarri
AZPM reporter intern Mariana Dale contributed to this report