(VIDEO: AZPM )
Robert Glen Jones Jr., convicted murderer of six people in two armed robberies in Tucson in 1996, was executed by lethal injection at the Arizona State Prison in Florence Wednesday.
Jones was convicted on six counts of first-degree murder and sentenced to death in 2000. A motion for the inmate's appeal of his convictions and sentencing were pending until the Arizona Supreme Court denied it 90 minutes before the scheduled execution, The Associated Press reported.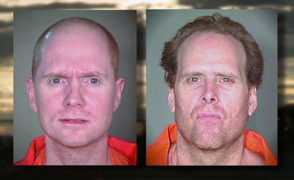 Robert Glen Jones Jr. and Scott Nordstrom were convicted for the murder of six people during two robberies in Tucson that occurred in 1996.

AZPM Staff
On May 30, 1996, two men robbed the Moon Smoke shop in Tucson. In the process, they shot and killed one customer and one employee. Another employee was also shot but survived.
Two weeks later, the same two men entered the Tucson Firefighters Union Hall on East Benson Highway, killed one man and three women, and stole money from the cash register and the victims' wallets.
Those two men were Jones and Scott Nordstrom. Nordstrom still remains on death row.
"I think at that time it affected the community at large because...these were two violent crimes, very close together, perpetrated by the same people, leaving multiple deaths, affecting seven families," said Carol Gaxiola, director of Homicide Survivors, a Tucson nonprofit that provides support and advocacy for families and friends of murder victims.
Over the years, the organization has helped many people cope with issues of grief and loss, including those who lost family members in what came to be called the "Firefighters Union Hall murders."
The Jones and Nordstrom crimes represented six of the 46 homicides reported in Tucson during that year.
Jones and Nordstrom entered the Tucson Firefighters Union Hall on East Benson Highway and killed four people. The tragedy became known as the 'Firefighters Union Hall murders.'

AZPM Staff
"It was I think the worst you could say mass murder that had occurred, and it shook Tucson's collective soul I believe because, first of all, how could that happen here and second of all, how do we not have it happen again," Gaxiola said.
Gaxiola, whose 14 year-old daughter Jasmine was murdered by two men 14 years ago, knows the challenges homicide survivors face.
"Jasmine was shot in the neck and then the face...that bullet was lodged in her brain and killed her," she explained. "...the two defendants were eventually arrested and it became a double death penalty case. "…obviously the system needs to be very cautious...if they're thinking of executing someone at the end of it...it's a very lengthy procedure."
In Gaxiola's case, she and the prosecution accepted a plea deal that avoided the death penalty. The judge sentenced the men to "natural life" in prison.
"For my family and for myself it was an acceptable resolution of this really difficult journey in the criminal justice system...and we have families that we work with...(going back to court 29 years later)...30 years and it's still not finished and that's a lifetime for them," she said.
Gaxiola, who has been the nonprofit's director since 2010, said issues surrounding the death penalty are complicated and there are no easy answers.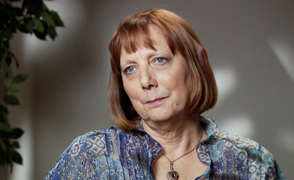 Carol Gaxiola, director of Homicide Survivors, has experienced firsthand the aftermaths of having a loved one murdered.

AZPM Staff
"The death penalty, even among survivors, can be controversial," she said.
Some people see it as a sense of justice, and others, for spiritual reasons, are completely against it.
"...we need to take precautions, we don't want to execute an innocent person but it's excruciating when it goes on for 30 years, for the family and I don't know how that serves justice," she added.
The impact of murder and the death penalty, according to Gaxiola, extends beyond the families and friends of victims. It also penetrates the families and friends of those convicted.
"I just…I can't imagine and I often hear survivors express, 'He may have or she may have done this' but it's not (his or) her parents' fault...," she said. "So, there's a lot of compassion for them too and it has to be…excruciating …it's the ripple effect of this choice that someone (made) to take another human life..."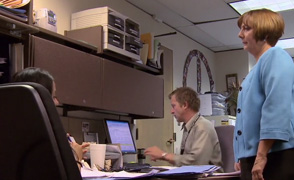 Gaxiola at the Homicide Survivors office.

AZPM Staff
Beyond the crime and the punishment, the question of forgiveness arises and that, too, she said is complicated.
"Forgiving the perpetrator (varies)...some people feel the need to do that for their own sake because of their spiritual beliefs...(and) some people don't want to give the defendant another thought," Gaxiola said. "They don't care. They leave (forgiveness) to...either the system or a higher power or whomever."
Forgiveness starts with those who have lost family members, she says.
"The person that you have to forgive first and foremost is yourself. You have to forgive yourself because there's always the 'should haves' and the 'could haves' that come up after this happens in hindsight, and 'why didn't I do this' or 'if I'd only,' and so the number one person that you have to forgive is yourself," Gaxiola said.