Listen:
Don Do has one kidney, is on dialysis, had a failed kidney transplant, has attempted suicide multiple times, and is 23 years old.
On a recent Friday morning, he sat in a large maroon recliner with a worn green blanket covering his legs and a tangle of tubes on his lap. Hooked up to his arm, the tubes took his blood to a machine that filters it because his kidneys can't.
Do was the only patient in the room younger than 40 years old getting a dialysis treatment.
The room was filled with the sounds of machines beeping and whirring and nurses chatting with patients. Patients lined the room, sitting in dialysis chairs with their feet propped up and arms hooked up.
"There have been so many occasions in which I've been asked, 'really you have kidney failure? But you're so young,'" Do said.
SOCIAL MEDIA IN THE ORGAN TRANSPLANT COMMUNITY
Do is an example of the growing trend of using social media to find an organ donor. In August, he started a Facebook event titled "I need a kidney."

"I recently decided I'm going to take initiative," Do said. "I have a lot of friends on Facebook so maybe I can find another living donor because that's what I had before."
The social media event gives a short explanation of his story and asks anyone willing to donate a kidney for him to contact the University of Arizona Medical Center. There are 4,000 people included in the Facebook event, some have left comments asking about the criteria to be a match. Others who are not a match have offered support and prayers, with promises to spread the word about Do's situation. The response has been positive and he has heard from many people he hasn't spoken with in a long time, Do said.
"A lot of surprises too of people that say, 'Oh so I called them and I'm waiting for them to call me back about it, and a lot of positive which is good," Do said. "I need a lot of positivity in my life cause there's a lot of stuff I have to face."

More than 80 percent of people waiting for an organ transplant, which is 96,000 people, are waiting for a kidney, according to the National Kidney Foundation. Last year only 17 percent of those patients received a transplant.
Do's chances of receiving a kidney are slim because his body already rejected a transplanted kidney, which created antibodies that make him sensitive to certain donors.
Doctor Tun Jie, a transplant surgeon at the University of Arizona, saw Do when his kidney started failing in college. Jie said Do is not the first person he has seen turn to the Internet to find a transplant donor.
However, the use of social media does raise ethical concerns in the medical community, he said.
"We have to make sure that the decision is mature and that they're not under any pressure," Jie said. "And obviously we don't want them to have money exchanged, that's not legal in this country."
Potential donors always go through extensive medical and psychological evaluations, he said. After passing an initial phone screening, doctors examine the potential donors' kidney functions and their family history of kidney disease, then donors meet with a social worker to talk about their motivations. Afterwards, the potential donors' cases are presented to a board of doctors for evaluation.
The screening process could take months, Jie said.
EARLY KIDNEY PROBLEMS
Do's struggles with his kidneys began when he was three years old and was diagnosed with Alport Syndrome, a rare genetic disease that can cause loss of hearing, loss of vision and kidney disease.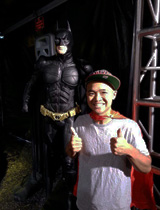 "There's not a single second person that I have met in Tucson with it," Do said.
When he was 10, Do's kidneys started failing and he was on dialysis for three months before he received a kidney transplant that year. At 18 he could no longer see his pediatric kidney doctor and the language barrier between his Vietnamese parents and the doctors caused confusion that stopped him from getting a new doctor.
"I started feeling swollen, weak, started having less energy, shortness of breath again," Do said. "And that started happening during my first year of college and that was a lot to take in."
Doctors told him he would need to go back on dialysis and he would need to get back on the transplant wait list for another kidney.
DEALING WITH DEPRESSION
Before Do was accepted onto the transplant wait list, doctors decided they had to remove his kidney in August of 2012 before it deteriorated further. After the operation, he developed high blood pressure, which got so out of control he had three strokes in two months, he said.
Do had to cut things out of his life, like dance and said that made him "really, really depressed. I did actually try suicide a few times."
The last time he attempted suicide one of his friends drove the almost 45-minutes to his house in Vail to make sure he was okay.
"Seeing his face and talking to him that night, I didn't want to let him down anymore," Do said. "I made it a point to get help and get positive. I saw a therapist after that. I pretty much turned everything around and I haven't reached that level of depression since then."
THE FUTURE
Do withdrew from college for medical reasons, but he still hopes to finish his education at the University of Arizona. Though he was studying computer and electrical engineering, Do realized it wasn't the right field for him and he now wants to study kidneys in hopes of one day making an artificial one.
"Right now I kind of have to put a lot of plans on hold until I do get a transplant," Do said. "Once I get that transplant, that's when I feel like I have the free will in life to go to school and not be afraid of getting sick of having my body fail me when I need it most."
Even if he gets another kidney transplant, Do still has to face living with Alport's Syndrome. But he said a transplant would give him the confidence to do what he wants in life.
Kayla Samoy is a University of Arizona journalism student and apprentice at Arizona Public Media.