(VIDEO: AZPM)
"How will I pay for school?" oftentimes lingers in people's heads when time comes to consider a higher education. There are scholarships, grants and loans to help load off the weight of a very expensive tuition, but some of these plan B's may not cover the entirety of it. And, when it comes to loans, not a lot of students may fond the idea of owing thousands after graduation.
Tuition spikes are a constant concern and debate among Arizona public universities, which - for the most part - depend on how much money the state Legislature has to give them. If the funds aren't sufficient to maintain the services they offer, the first thing that comes to mind is raising tuition to make ends meet.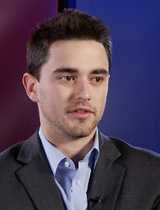 Morgan Abraham, ASUA president. (PHOTO: AZPM Staff)
Gov. Jan Brewer joined the tuition debate during her State of the State address back in January. In the speech, she urged the Arizona Board of Regents to come up with a plan that would guarantee steady in-state tuitions in the three public universities - University of Arizona, Arizona State University and Northern Arizona University - for the four years it usually takes a student to get a degree. The governor said students and families need "stability and affordability in their college education," but to ensure these goals, she needs the Legislature and ABOR to get on board.
ASUA President Morgan Abraham was among the audience the day of her address, and, during Friday's broadcast of Arizona Week, he said these words really hit home because it is absolutely what Arizona students feel and need.
UA tuition has double in the past six years, and a lot of this has come from Legislature budget shortfalls, he said. And the constant, unexpected increases have repelled many new students, whom instead choose Pima Community College or a cheaper alternative for a few years of their college education, Abraham argued.
"(Tuition increases) affect our recruiting...it affects Arizona's ability to get new students to get their degrees (here), which (then) is beneficial to our economy," he said. "It's not the UA's fault. You look at charts and Arizona is always (at the top for less funding for higher education). I am hoping that the Legislature will see that, and work with us to fund higher education properly."
Abraham said he and the UA students he has spoken to are excited about the four-year tuition freeze. However, when he saw how much money the UA is receiving for the 2014-15 fiscal year, he was shocked and incredibly upset.
Brewer's budget proposal for public universities was $30 million, with $26 million going to ASU and NAU, leaving the UA with merely $4 million, Abraham said. So, the question is, how could a tuition freeze even happen, when there is not enough money to fund the university and prevent such increases from happening.
But Abraham argued that installing the four-year tuition freeze could perhaps push the UA administration, ABOR and the Legislature to manage budgets a little differently instead of always raising tuition whenever more money is needed.
He said he is optimistic because a lot of the state legislators he's been speaking to aren't opposed to the idea. For instance, House Minority Leader Rep. Chad Campbell has been pushing a bill since last year for a four-year tuition freeze, but until all students are vocal about what they want, then the bill won't have sufficient force, Abraham argued.
"But that is where we come in...organizing and getting people to the Capitol," he said.