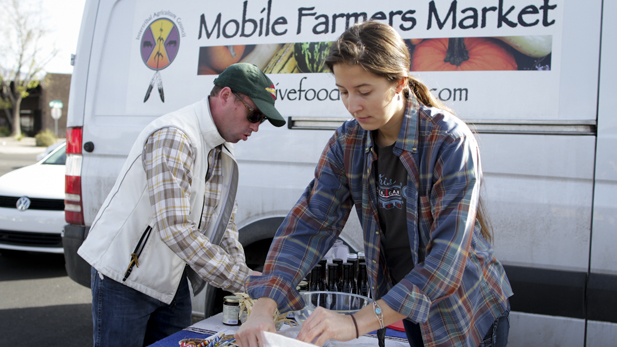 Dan Cornelius, left, and his assistant set up the Mobile Farmers Market at Tucson's Native Seeds/SEARCH.

Mariana Dale
Dan Cornelius has been on the road for three months, buying and selling the wares of North America's indigenous communities from Louisiana to New Mexico and Arizona.
From tepary beans grown by the Tohono O'Odham people to chocolate produced by the Chickasaw Nation, Native Americans are entering the niche food market in many places.
Listen:
Cornelius is a member of the Oneida Nation in Wisconsin and the general manager of the Mobile Farmers Market. The group believes traditional food production can be part of an economic solution for high unemployment and other problems.
Tucson's Native Seeds/SEARCH was one of more than a dozen stops on his trip to reconnect tribal trade routes and showcase Native American foods.
"We've got communities that are really remote and that don't have good access to healthy traditional fresh foods," Cornelius said. "So that's part of it, to help address those needs of the food deserts and the food access, but also to help tribal producers expand their market access."
About 23 percent of all Native American families earn income that falls below the poverty line, according to the latest report from the Bureau of Indian Affairs.
Many families grow crops, such as blue corn for their own consumption without realizing they could sell the excess for profit, according to Cornelius.
"We've got these great resources, these great products and we just needed more support to help to move them, to distribute them, to really reconnect the tribal trade," Cornelius said.

He said he believes there is a national market for traditionally grown products.
However, one challenge for the Mobile Farmers Market is pricing. Some products cost much more than their grocery store counterparts. For instance, half a pound of wild rice is about $7.
"For a lot of the products we have, they're traditionally processed, traditionally harvested, traditionally grown," Cornelius said. "There's a lot of labor and time that goes into that."
Cornelius said there are a few tribal members who don't believe in selling traditional foods to the general public, but he sees food production as a sustainable economic resource.
"There's interest across the country," Cornelius said. "It's not just about health it's about economic development. It's really about maintaining our traditions."
Ramona and Terry Button are the kind of producers the Mobile Farmers Market wants to connect with. They've farmed the land near Sacaton, located on the Gila River Indian Reservation north of Tucson, for 40 years.
The Buttons grow a variety of traditional crops including white Sonoran wheat, Pima club wheat, garbanzo and tepary beans. The latter were a staple for Southwestern tribes for centuries.
When the Buttons first started growing them, tepary beans had all but disappeared from the diet of their relatives, who worried they would soon be extinct.
"My father had some beans that we found in an old trunk and so we started planting it," Ramona said.
The pair grows two varieties: the white bean, which is called sto-toah bahf, and the brown beans, which are so-am bahf in the Akimel O'Odham language. Both types are hearty legumes with high levels of protein and fiber. The beans also have a low glycemic index, which can help those with diabetes maintain an even blood-sugar level, because as they digest the beans, glucose releases slowly.
For many years, Ramona Farms' main customers were small ethnic grocers on the reservation. Then the market changed in the 1980s and 90s as urbanization took hold between Phoenix and Tucson.
"Big residential areas and the big grocery chains moved in and they out-competed the smaller stores and those people folded up," Terry said. "The larger chains didn't recognize the significance of the tepary beans to the O'Odham people."
With fewer outlets carrying their beans, the Buttons had to cultivate a new market. Now their wares can be found at boutique retailers, online and at a handful of Whole Foods Market grocery stores.

"Trends for Whole Foods are maybe different from, you know, the retail mall," said Darcy Landis, who coordinates local purchasing for the store in Arizona and Nevada. "It's more heirloom grains. How can we get people excited about food that our ancestors ate?"
Landis helped bring the Buttons' products to store shelves. To pique interest in the bean they've held demonstrations and tastings of tepary bean-inspired dishes, such as hummus and even brownies.
Despite the new opportunities, common crops, such as cotton, wheat and alfalfa occupy the majority of the Button's farm. Making a profit is ultimately the end goal, Terry said.
"We have to be able to sell the products that we raise," Terry said. "Otherwise we are going to wind up like everybody else and just selling corn to livestock producers and dairyman and whatnot, instead of marketing the wholesome and traditional heritage foods that we want to focus on."
Katherine Beckwith is part of a new customer base for heirloom growers like the Buttons. She discovered tepary beans while road tripping through Wilcox and came to Native Seeds/SEARCH to restock.
"I can't eat wheat and so I'm limited in what sorts of grains I can eat," Beckwith said. "As far as cooking them, I don't know if I do it the right way. I have my own way, just cooking them with plenty of water."
While there, she also picked up a package of Minnesota-grown wild rice from the Mobile Farmers Market.
"I think it's great to support small farmers and small groups," Beckwith said.
The Buttons hope the demand grows, so they can sow more beans and less cotton.