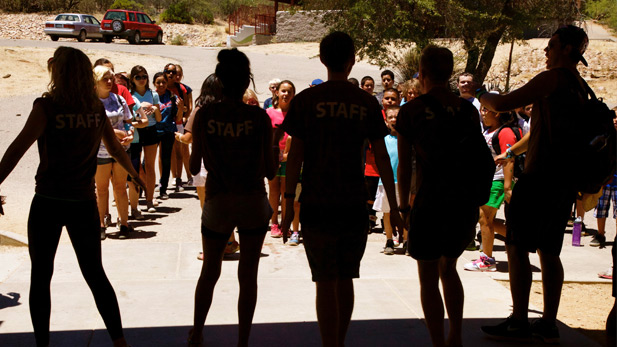 Triangle Y campers line up in front of counselors before lunch.

Vanessa Barchfield, AZPM
First in a four-part series running through July
Listen:
It takes about an hour and 15 minutes to reach the Triangle Y Ranch from downtown Tucson. Driving up Oracle Road, urban life thins and instead of strip malls and construction sites, you whizz past clusters of ocotillos – all in bloom this time of year.
This sleep-away camp run by the YMCA is nestled on the north side of the Catalina Mountains. Although the heat is still penetrating here, it doesn't seem to faze the campers, who are as young as seven and as old as 17.
They've been up hours already and it's only 10 a.m.
Morning activities are in full swing. Glitter is splashed across the arts and crafts room, there's a heated game of ping pong, some kids dribble basketballs as others cannonball into the swimming pool.
The campers at the Triangle Y are bursting with energy. At the center of this revelry, shouting the loudest, jumping the highest, is a committed cadre of camp counselors, like 24-year-old Ryan Saunders of England and 21-year-old Marci Uhrig of Germany.
Half of the counselors here come from abroad and many return year after year. This is the second summer that Saunders and Uhrig have spent here.
Saunders said his placement in Arizona was random – international camp counselors don't have a say in where they go.
"So I saw Arizona and I literally nearly had a heart attack," he said.
Camp director Alicia Anderson said the international counselors are an important part of what distinguishes the Triangle Y from other summer camps around town. They foster openness and inclusion, which, she said, are fundamental values of the YMCA.
Saunders and Uhrig said they had the time of their lives during their first time at the Triangle Y.
Their smiles suggest this summer is just as good.
Anderson said counselors serve as their guides and team leaders for campers.
"We really stress the importance of being a team and team building. Every activity – nine times out of ten they have to rely on somebody else. And it's a stranger at the beginning of the week and at the end of the week they're life-long friends," she said.
One camper, 16-year old Bailey Nelson, has been coming to camp for seven years. She said the emphasis on inclusion at the Triangle Y fundamentally changed her.
"I had been bullied at school and I had stopped talking to people. I came to camp and I realized that I could trust people again and I could socialize again. There's always the support of counselors and even when it feels like no one is going to listen, they've always been there," she said.
Nelson said she hopes to become counselor herself one day soon.
Part II: Kids, Animals Bond at Humane Society's Dog Days in Desert
Part III:Teenagers Ask Big Questions at Biosphere 2's Summer Academy
Part IV:On Court at Christine Clark Girls' Basketball Camp