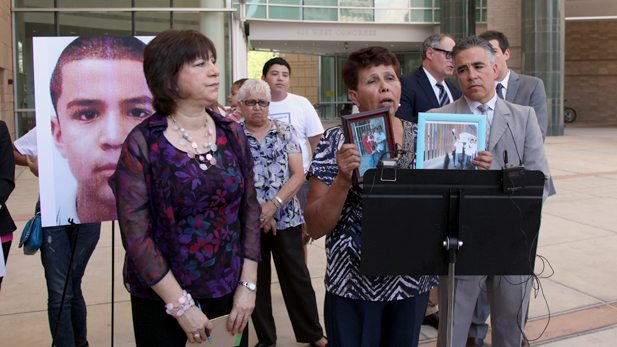 Taide Elena, Jose Antonio's grandmother, shows a photo of the teen next to an image of his coffin at the border.

Fernanda Echavarri, AZPM
Listen:
A federal judge Thursday ordered the release of the name of the U.S. Border Patrol agent who shot and killed a Mexican teen through the international fence in Nogales two years ago.
Agent Lonnie Swartz's attorney had asked a federal judge to keep Swartz's name sealed in federal court documents to protect him against "ridicule, harassment, embarrassment and threats."
Judge Raner C. Collins denied the request this afternoon.
"The court finds that while defendant's concerns are valid, these do not rise to the level of overcoming the strong presumption in favor of public access," Collins wrote in his ruling.
The American Civil Liberties Union filed a suit on behalf of Araceli Rodriguez, mother of Jose Antonio Elena Rodriguez, earlier this year. The complaint demanded Border Patrol release the names of the agent or agents who shot the teen across the international border fence.
"I want to see the faces of the agents who killed my grandson, he was a child not an animal and he was doing nothing wrong," said Taide Elena, the teenager's grandmother.
On Oct. 10, 2012, Elena Rodriguez was in Nogales, Sonora walking on a sidewalk parallel to the border fence when one or more Border Patrol agents shot from the U.S. multiple times, killing the teen, according to the family's attorney.
The killing sparked protests on both sides of the border.
Border Patrol initially said there were rocks thrown from the Mexican side of the fence before agents fired.
Art Del Cueto, a representative of the Border Patrol Union in Tucson, said the judge's ruling was "disappointing."
Revealing the identities of agents involved in fatal shootings is damaging, he said, because Border Patrol agents are different from local law enforcement officers.
"We deal with higher crimes, cartels or different types of very organized criminal organizations," Del Cueto said.
The agency has been criticized for lack of transparency and for "holding itself out as above the law or exceptional from other law enforcement agencies," said James Duff Lyall, border litigation attorney with the ACLU of Arizona.
"It should not require a court order to get disclosure of a name which is standard," Lyall said. "In police shootings and other law enforcement settings, this wouldn't even be an issue."
Border Patrol officials did not provide information on how long Swartz had been with the agency or if he still worked there. It is also unknown if he was ever disciplined.
The investigation into the 2012 shooting has been taken over by the FBI, according to Border Patrol.