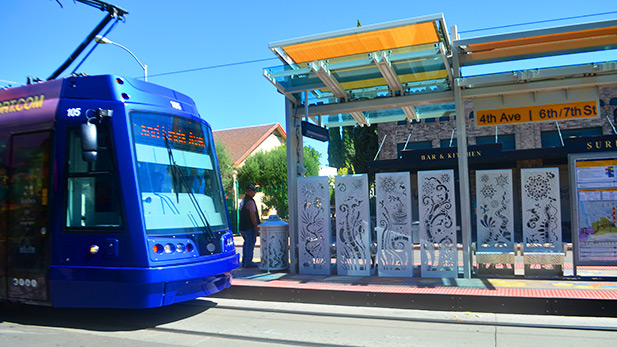 Tucson Streetcar stop on Fourth Avenue.

Maria Inés Taracena, AZPM
Listen:
The 45th annual Fourth Avenue Winter Street Fair is being held from Dec. 12 to Dec. 14, and it's expected to attract many locals and visitors.
The fair is organized by the Fourth Avenue Merchants Association, which also puts on another version of the event in the spring.
And, while it's estimated that hundreds of thousands of people attend each year and pump millions of dollars into the local economy, the true financial windfall hasn't been officially calculated.
Kurt Tallis, the fair's director and marketing director at the association, and said this is changing.

The group is conducting official research to gauge tangible numbers about the financial benefits of the two fairs.
More on the study:
"We're working on that, that's something we realize is crucial for us to come up," Tallis said. "We're actually doing an impact study and we should have that impact study ready for the next spring fair."
This year's winter fair is the first since the Tucson streetcar went into operation.
The streetcar will temporarily run two non-contiguous lines, north and south of the fair, to allow for the closure of the two stations covered by the fair on Fourth Avenue - that stretch of the route will be filled with pedestrians.