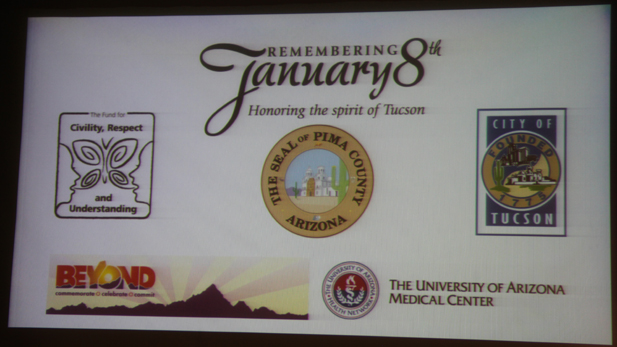 Tucson-based government and non-profit agencies are sponsoring events to mark the second anniversary of the Jan. 8, 2011 shooting in Tucson.

Andrea Kelly
Listen:
Thursday is the the fourth anniversary of the Tucson shooting, when six people died and 13 others, including Gabrielle Giffords and Ron Barber, were wounded outside a Safeway supermarket.
One of the victims, Pam Simon, said this week that what happened that day - her injury, the loss of her friends and community members - is always with her along with a sense of awe that she is still alive.
"You know I wake up every day so filled with gratitude that I get some more time on Earth," Simon said. "And want to make those days count."
Simon said she is making sure her days don't just count for herself, but for others as well. She said she is committed to helping people whose lives have been shaken by gun violence; she has spent time with the families of victims of other mass shootings – Aurora, Newtown and Santa Barbara - and with victims of random gun violence.
She works with organizations that are trying to change gun laws in the United States, including Giffords' group, Americans for Responsible Solutions, and Mayors Against Illegal Guns.
University of Arizona Medical Center trauma surgeon Randall Friese, who was on the medical team that cared for victims, said tragedies such as the one in Tucson can lead to big change because they bring communities together in their grief and mourning. Like Simon, Friese was steered in a new direction because of Jan. 8.
He spent months attending classes on how to run for political office. Last November he was elected to the state House to represent Tucson's Legislative District 9 and will be sworn in next week. One of his campaign pledges was to push for comprehensive background checks for gun sales, keeping guns out of the hands of people who shouldn't have them.
Gun laws haven't changed much since Jan. 8, 2011. But Simon said change is happening slowly, at the state level. She pointed to Washington state, where in November voters passed an initiative to require background checks on every person buying a gun.
"I think it's like a lot of issues that it's taking a while for the Titanic to turn, but it is turning," she said.
Simon is also involved in planning the Jan. 8 memorial. Four designs for the memorial are being considered, and whichever is chosen, Simon said she wants it to be a place of reflection, a place that shows how Tucson came together.
"I like to think of 100 years from now when a teacher that's not even born yet will be showing her students through that display, and they will be taking away lessons in positive community response to a tragedy, but not responding with anger and negativity but responding in a positive way," she said.
Simon said she hopes the memorial is ready to be unveiled on the fifth anniversary of the shooting.
Numerous events around the city this week will commemorate the shooting and the victims.
The University of Arizona Medical Center will host a bell ring ceremony at 10:10 a.m.
Mayor Jonathan Rothschild will ring a bell 19 times for each victim also at 10:10 a.m. at Tucson Fire Central n West Cushing Street.
The public is invited to see the January 8th Memorial Foundation's design team finalists Tuesday at 5:30 p.m. at the Arizona Historical Society.
**Click here for a list other events.