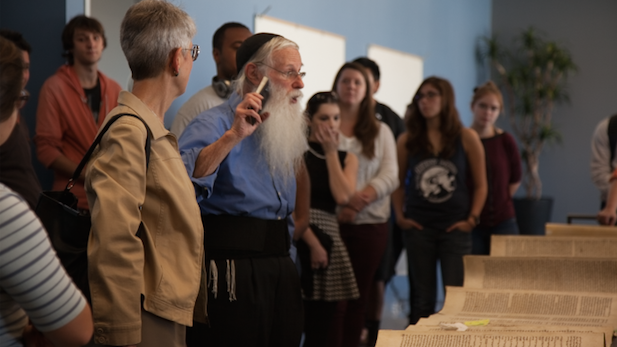 Rabbi Gedaliah Druin explains to students and faculty his techniques for repairing an ancient Torah.

Emily Huddleston, AZPM
Story by Emily S. Huddleston, AZPM Intern
Listen:
A 200-year-old Torah scroll used for teaching and research at the University of Arizona was repaired this week by a rabbi, who used the opportunity to explain its importance in the Jewish religion.
The Torah, which is the first five books of the Hebrew Bible, was handwritten on sheepskin parchment. It was anonymously donated to the UA for its Judaic Studies Program six years ago and was in need of repair.
Rabbi Gedaliah Druin, a master scribe, was called in to restore the document, originally written with a quill pen and special ink.
Druin said his work on the sacred scroll is more than a repair.
"The restoration is not simply, OK, I will patch it up. Pay me money, and I will come back in a couple of years," he said. "That is a business. A Torah is how I would take care of you and your children. That is a different thing."
The Torah is used regularly in the classroom for courses in Judaic Studies, said Beth Alpert Nakhai, an associate professor. Keeping it in good shape is important, she said
"They are doing everything possible to try to revitalize it and bring it back to the best condition it can possibly have after all these centuries," Nakhai said.