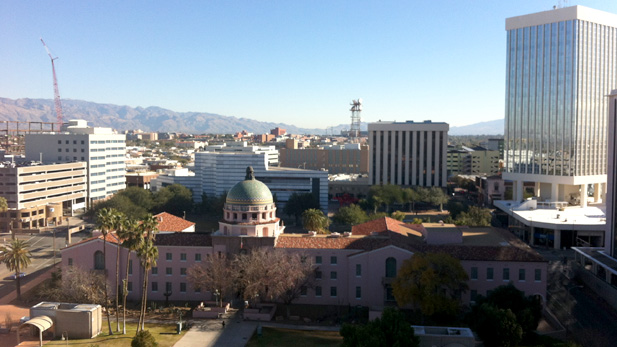 Downtown Tucson.

Fernanda Echavarri, AZPM
Listen:
The land along Tangerine Road near Interstate 10 used to be citrus groves.
But now, as is common in Marana, old farm land is giving way to buildings.
In this case, the land has been cleared, and will soon be a new warehouse and logistics facility for the area's largest biotech company, Ventana Medical systems.
But why choose this site? This land that at least currently seems quite removed from the company's Oro Valley facility, and is currently home to no other businesses.
The people who are most involved in this project can build a solid case.
"The town of Marana has been great," said Ventana Medical Systems President Dan Zabrowski. "It's a pro-business community. The facility will be closer to our main campus in Oro Valley."
"We have many suppliers who are in the Phoenix area," said Himanshu Parikh, Vice President for Ventana. "So it makes it easy for us to bring our supply base closer."
Proximity to I-10, and the fact that it's a 20-minute drive down Tangerine Road from one Ventana facility to the other both make sense, as does building in a place where the municipal government is helpful. But there's one more key factor.
"Ventana has a lot of specialized needs and equipment," said David Mehl, owner of Cottonwood Properties, the company who will be building the new facility. "They really can't retrofit an older building, especially since there wasn't anything in this area that would even come close."
The need for open space to build a new facility is necessary. That's because the current inventory of industrial real estate in Tucson didn't work for Ventana.
"Our inventory on the industrial side is very dated," said Ike Isaacson, managing director for commercial real estate company CBRE's Tucson office. "We haven't built a lot of new product, and as a result are seeing some build-to-suit activity."
That doesn't mean that space is without value though.
"I think we're going to see some adaptive re-use," said Isaacson. "Some creative ideas will come out for some of this 1970s, 1980s construction."
While companies with high-tech manufacturing needs may be better suited by building new, there is another tech sector that is moving into that old space. Young entrepreneurs working in the digital world.
"They want an exciting environment," said Isaacson. "They want a fun, walkable live, work, play type of environment. Our downtown is poised to be that for that age group."
And they're finding that space by reusing old buildings in downtown Tucson.
"I'd say about 30-40 percent of my employees can walk to work on a daily basis," said Ryan Flannigan, CEO of digital marketing company Nuanced Media.
Nuanced Media's offices are in the Pioneer Building, an 11-story high-rise that was built in the 1920s.
Flannigan has seen the type of business being done in downtown change in recent years.
"It was a lot of government jobs, lawyer jobs, and banker jobs. But that's changing now. We're getting more private business coming down here. There's a lot of vacant space and room for growth."
That room for growth is there. A recent report showed office space in downtown is available. 31% of it is vacant.
It's a matter of finding young people to fill those vacant offices with employees, and Flannigan thinks that can happen by keeping local talent.
"If you can provide that pipeline to people from Eller or people graduating in computer science and say 'hey, there's jobs here in Tucson,' and you have the resources locally to stay here, then there's no reason Tucson can't be the next Austin, or the next big booming environment."
And whether it's the tech industry growing in downtown Tucson, or a large biomedical company expanding to a new building in a surrounding community, it all can be seen as signs of a recovering economy continuing to grow.