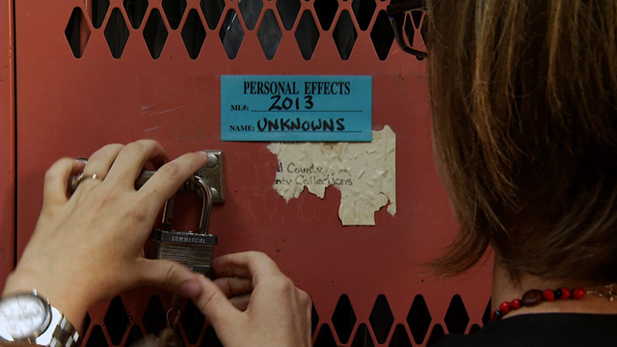 Belongings of unidentified people found in the desert along the U.S.-Mexican border.

AZPM
Listen:
First of two parts - part 2
Stuart Somershoe has a difficult job.
His work as a Phoenix police detective is among the most painstaking and, often, gruesome, law enforcement work there is.
"I work cold cases for missing and unidentified persons in the Phoenix Police Department," Somershoe says. Some of Somershoe's cases date back to the 1940s, and in many of them, it's unlikely the person is still alive.
In his and other police agencies in Arizona, it's a labor unlike others and unlike in other states. For Arizona has more sets of unidentified remains and, per capita, missing persons cases than almost any other state, according to the National Missing and Unidentified Persons System, known as NamUs.
The state has more than 1,300 unidentified sets of human remains. Somershoe said two factors are at work in that statistic: proximity to the border means a lot of under-prepared people try to walk across hundreds of miles through dangerous terrain to get to the U.S.; and related to it is the desert environment, which can quickly obliterate evidence.
"We are a desert and that's very bad for bodies," Somershoe said. "Bodies disintegrate; bodies decompose a lot quicker than in other states, so it's harder to identify them when they're just bones or fragments. When you get outside of the metropolitan area of Phoenix you're basically in open desert. It's kind of like our version of the Pacific Ocean. It's very easy to lose things."
But the problem isn't only in Arizona. Nationally, a minimum estimated 40,000 sets of human remains are unidentified, NamUs figures show.
"They call it the nation's silent mass disaster," Somershoe said. "And the reason those numbers (are uncertain) ... is because it's based on self-reporting from medical examiners, coroners across the country, and we know there's a lot more out there than what are being reported to us."
The relatively recent formation of NamUs created a national database of missing persons and is used extensively by many police agencies trying to connect remains in their charge with reports of those missing along with other potential clues.
"NamUs has been around officially since 2007," said Todd Matthews, the database's case management director. "It went online with the unidentified persons database and in 2009 after a beta trial we added the missing persons database."
While the database isn't the first to match DNA of unidentified remains to missing persons, it is the first that allows the families of those missing to take part in the search for their loved ones," Matthews said.
"I think we've always needed a national database," he said. "You know, you have city, county, state. We needed something that would go beyond those boundaries, because often a person is missing from New York and possibly found in Connecticut and unless those two compare notes," which is what the database allows.
Federal statistics show about 2000 missing persons in Arizona, among an estimated 80,000 nationwide.
Somershoe said the NamUs database could be the key to solving these cases.
"Law enforcement is sometimes very poor in communicating with other jurisdictions," he said. "We tend to hoard information. If my missing person ended up dead in a different county, I may not know about that. If they ended up in another state I may not know about that.
"NAMus is great because we're all invited into the same room and say, 'Hey, I have pieces of the puzzle; you have pieces of the puzzle, let's try and resolve these'."
Somershoe said he has solved nearly a dozen cases, some decades old, with the help of NamUs. He said the more information is added to the system, the likelier that thousands of families who are missing loved ones will finally have closure.