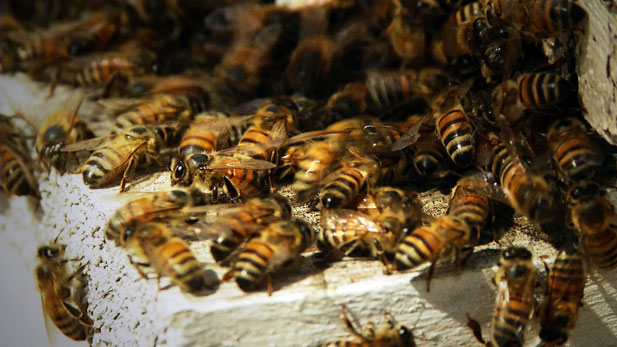 Listen:
The Sonoran Desert's bountiful bloom of spring wildflowers, thanks to a wet fall and winter, and mild temperatures, is leading to a bumper crop of honey, regional beekeepers are predicting.
Freddy Terry has been raising bees for four decades and owns The Singing Beekeeper in Oracle north of Tucson. Terry said the 2015 honey season may be the best since 1998.
"It's a combination of the fact that we had really excellent rains in the fall, and the winter turned out to be quite wet," Terry said. "We haven't had the horrible freezes like we had in 2011 and 2013, and if the wind won't blow all spring like it has most of the last 20 years, we should have a really terrific, a really terrific harvest this year."
Noel Patterson, a bee hobbyist who keeps about 30 hives in Pima County, also predicted an exceptional honey harvest.
"It's going to be especially abundant," Patterson said. "Really, all honey in the simplest form is evaporated flower nectar. So the more flowers there are out there, the more nectar that bees can bring in and therefore more honey."
Patterson said he's interested in the honey's flavor and complexity, which will be influenced by the variety of plants from which bees collect their nectar.