Artist and writer Beth Surdut listens to ravens, and has paddled with alligators in wild and scenic places -- but she also knows that true adventure can be found just outside your window...
Listen:
"The one thing I know above all is that even to hope to protect it (nature), I have got to break out of all the categories and confront it as it is; I must be present in its presence." ~ Life is a Miracle - by Wendell Berry, 2001
Mug of early morning coffee at the ready, I was about to open my laptop when I was stopped by a miniature storm outside my window. Dry earth the color of a brown paper bag flew through the air as one of three resident rabbits dug a tunnel under a pine tree. About seven feet away, another rabbit hopped in to graze under the bird feeder.
The Digger (Sylvilagus audubonii), busy chewing a daffodil bulb, gave chase. Racing across grasses so drought-dry they crackled underfoot, Digger soon returned to resume excavating as I scanned to see who else might be in the bushes and trees. In just those few minutes that I turned my eyes away, Digger had completely covered and camouflaged the new entrance and was aggressively chasing a very large ground squirrel. Turns out Digger was protecting her subterranean babies who emerged at my feet as I sat outside soon after sunset.
Had I leafed through the newspaper or tunneled my way through a book about animal behavior, or checked my messages, I would never have known about the rabbit warren that I had walked over countless times. I would have missed watching 3 adult rabbits of varying sizes and 2 baby bunnies that could fit right in the palm of my hand. Had I not practiced the art of paying attention, I would have missed the drama, the mystery, the life right in front of me.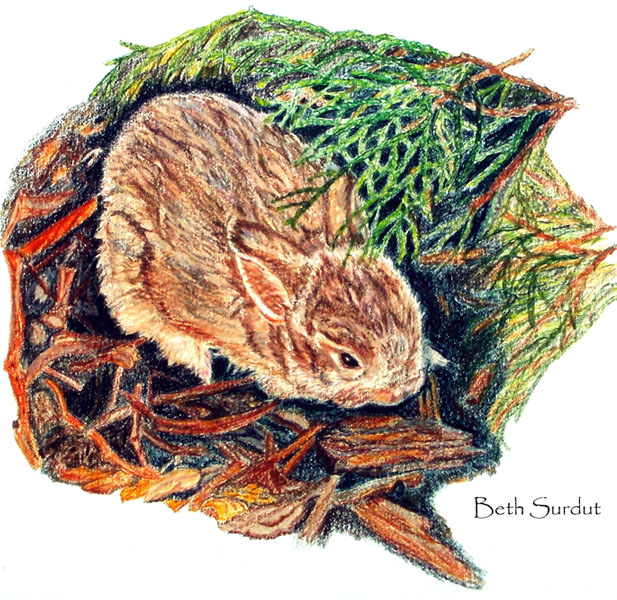 When Rachel Carson wanted people to pay attention to the effects of environmental pollution, she personalized the far-reaching effects of pesticides by asking readers of her New Yorker pieces to look out their windows. And they did. Not only did people see the corpses of poisoned squirrels, they took action. Whether motivated to protect the human species or every little life in the larger ecosystem, the results raised enough awareness to make changes.
Like Carson, I know from experience that if you pay attention long enough, you can see the whole world in your yard. And once you start looking, it is hard to stop. From my perspective, paying attention brings care, care brings love; and that love engenders protection. I am extending an invitation to you to observe, with unbounded curiosity, the wild life that flies, crawls, and skitters along with us in our changing environment.
Let's get involved; let's acknowledge that we are part of it, not some separate and more important entity. "The natural world" is not a foreign land where we book a vacation or take a class, even though there is a plethora of information urging us to "get back to nature."
We never left.
Find more of Surdut's drawings - and true stories about spirited critters - at listeningtoraven.com and surdutblogspot.com.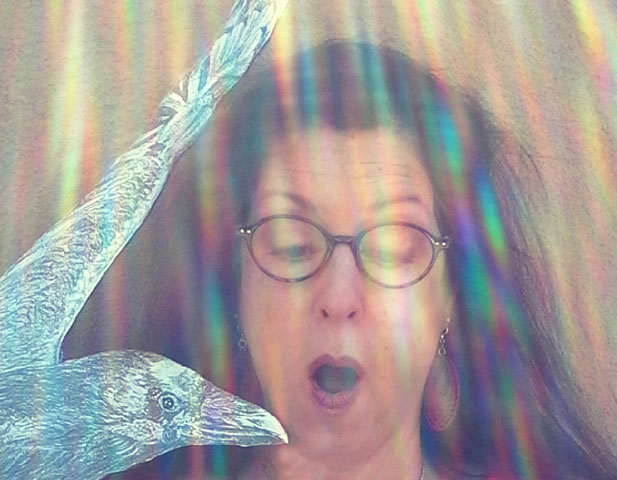 Beth Surdut's illustrated work Listening to Raven won the 2013 Tucson Festival of Books Literary Award for Non-Fiction. Elements of her raven clan have appeared in Orion Magazine, flown across the digitally looped Art Billboard Project in Albany, New York and roosted at the New York State Museum in an exhibition of international scientific illustrators.
The Raven segment of Encyclopedia of Santa Fe and Northern New Mexico by Mark Cross is illustrated with The Reason Why along with her explanation of Raven calling her to the Southwest to draw and collect first person stories of interactions with this clever corvid and iconic spirit guide.