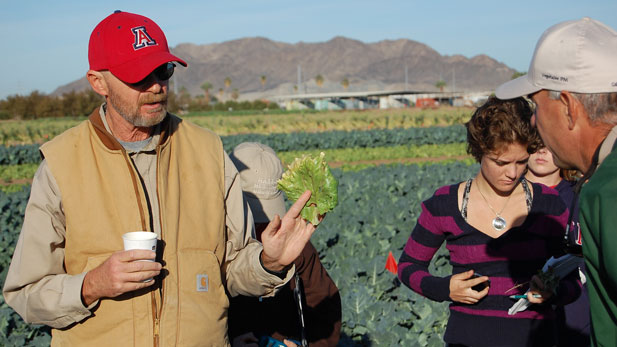 Jeffrey Silvertooth, PhD, addresses topics such as plant health, soil fertility and crop science.

Arizona Cooperative Extension
Listen:
Residents who are interested in growing their own food, learning landscaping skills or cooking up a more balanced meal may be able to get some assistance from the University of Arizona's Cooperative Extension, which is part of the College of Agriculture and Life Sciences.
Cooperative Extension has been working across the country for more than 100 years thanks to funding from federal, state and county governments.
In Arizona, it has offered classes to countless participants including farmers, master gardeners and members of 4-H Youth Development which helps children to develop responsibility and leadership.
Jeffrey Silvertooh, PhD, is and associate dean at the University of Arizona's School of Plant Sciences and directs Cooperative Extension in Arizona.
"We have basically every facet of agriculture you can think of. We have a traditional and a very strong relationship with what we call commercial agriculture here in the state both in crop production and in ranching or animal science," Silvertooth said.
"Then we also have relationships to all the other facets of food production. Local gardens, small farms, the organic farming systems all the other, you know, multiple systems that are being envisioned and developed these days."
Accessible examples of the group's work can be found at the Tucson Village Farm which is located at 4210 N. Campbell Avenue.