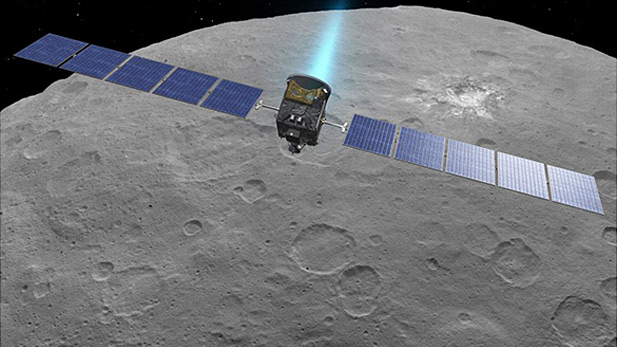 Artist rendition of Dawn spacecraft nearing dwarf planet Ceres

NASA
Listen
By Sara Hammond, for AZPM
Five solar system exploration projects are vying to be the next mission selected for NASA's Discovery program, and the Tucson-based Planetary Science Institute researchers are working on three of them.
NASA is providing each team with $3 million to refine its proposal. Two projects focus on Venus and three target asteroids. NASA will select one or two of the missions to fly in the 2020s.
The PSI scientists are working on the Near Earth Object Camera mission which would search for potentially hazardous near-Earth objects or targets for human exploration and space resources.
Others from the non-profit research corporation are part of the Deep Atmosphere Venus Investigation of Noble gases, Chemistry and Imaging mission, aimed at studying the chemical composition of Venus' atmosphere during a descent to the planet.
A third project involving PSI researchers would explore the origin of planetary cores by studying the metallic asteroid Psyche. Its principal investigator is Lindy Elkins-Tanton of Arizona State University.
"PSI right now is involved in almost every one of NASA's solar system exploration missions, and so that kind of continues our level of involvement," said Mark Sykes, PSI director. Sykes is on the NEOCam project team.
PSI has a long history of participating in Discovery class missions. Its researchers helped discover ice at the north pole of Mercury as part of the Messenger mission. PSI work also showed that the first planet's magnetic equator was offset from its geographic equator. PSI provided ground support for the Deep Impact mission and is operating a gamma ray and neutron detector for the current Dawn mission, examining the giant asteroid Vesta and dwarf planet Ceres.
Sykes says PSI has grown from a little more than a dozen scientists a decade ago to more than 100 planetary researchers who are involved in NASA and international missions.
"We are the largest non-governmental employer of planetary scientists in the world," he said.