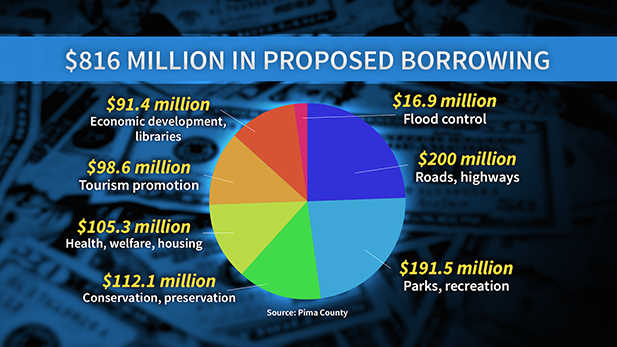 Listen:
All seven Pima County bond packages totaling $816 million in borrowing were in jeopardy in election returns Tuesday night, with some losing by margins of as much as 2-to-1.
"This is the people telling the county we've had enough," bond opponent Ginny Crawford said Tuesday night.
What would be the county's biggest borrowing package ever proposed paying for 99 projects, including road repair and a new highway, tourism promotion, public health and neighborhood development, economic development and libraries, parks and recreation projects, conservation and historic preservation and flood prevention.
The project costs and interest on the borrowing would have been paid back with property taxes totaling $55 a year for more than a decade on the average Pima County residence.
The $200 million road maintenance and construction package, largest on the list, was being turned away by a margin of 53 percent to 47 percent with an estimated two-thirds of the total votes counted.
The $92 million economic development workforce training and libraries package was being defeated 62 percent to 38 percent.
The tourism promotion package, at $98 million, was losing 67 percent to 33 percent, and the $191 million parks and recreation package was being turned away 60 percent to 40 percent.
A $105 million package for neighborhoods and public health was losing 60 percent to 40 percent, and the $112 million package for open space conservation and historic preservation was being defeated 62 percent to 38 percent.
The flood control proposal, at $17 million, was losing 52 percent to 48 percent.

For complete local election news covering Tucson, Oro Valley, and Pima County,
click here
.