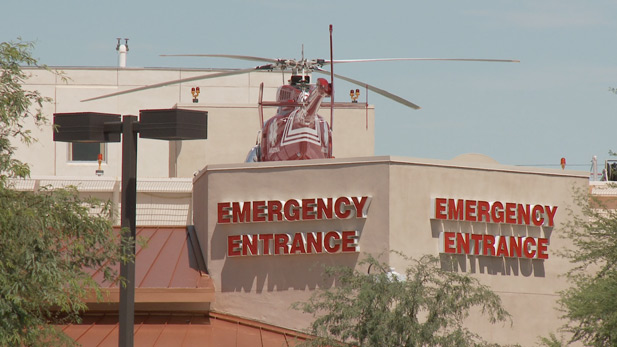 AZPM Staff
Listen:
Tucson's hospitals are busy this time of year, but usually not this busy.
"This year, it seems that the influenza epidemic that we see is more widespread in Arizona, and the virus is typically worse," said Tucson Medical Center's Chief Medical Officer Dr. Rick Anderson.
TMC is not alone. All of Tucson's hospitals have reported a shortage of open spaces this week.
"We've been near capacity or at capacity for the last several days, and that includes a very busy emergency room," said Banner University Medical Center Chief Medical Officer Dr. Andreas Theodorou.
The same was echoed by the Carondelet's Director of Emergency Department, Dr. Herb McReynolds, and a representative for Northwest and Oro Valley Medical Centers.
While many of the cases are influenza, the flu is not the only culprit.
"Keep it in mind that, in addition to the flu, we still get all the stuff we normally get," Theodorou said.
That 'normal stuff' is already elevated in the winter months due to seasonal residents and tourists.
"It seems like Tucson swells a little bit in January, February and March with a lot of snowbirds coming down to visit," Anderson said. "You still have some of the other stuff that you tend to see that tends to be a little more intense during those months."
Atypical visitors to the emergency room add up
The H1N1 flu strain has proven common to Tucson this year.
That particular strain affects those in their 20s and 30s just as much as more critical age groups.
"In most diseases, the frail and the extreme of ages are the ones that usually get sick and those in the middle tolerate things well," said UMC's Theodorou. "But in this circumstance, those in the middle mount a good, strong inflammatory response and it's that inflammatory response that can actually get them into trouble."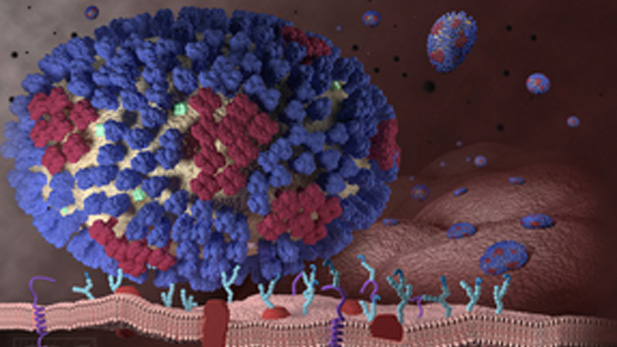 Microscopic look at influenza virus.
The increase in younger adults who have to be hospitalized is stressing the already busy hospital system.
Hospitals are doing what they can to cope. Many are declaring a Code Purple, which means getting those who have been cleared for discharge out of the hospital is a priority.
There is also increased communication between hospitals to see who has the best capabilities to handle new patients.
"When we're like this, it really is a team sport to provide care to the city and the state. There's lots of communication that happens between hospitals," said Theodorou.
Hospitals are also utilizing every room possible, placing adults in wards usually reserved for purposes such as pediatric or women's health.
For those who are not sick, doctors offer one piece of advice.
"I tell patients 'if you haven't gotten a flu shot, get one,'" said Anderson at TMC.
For those who do begin showing symptoms including fever, body aches, headaches, but do not have shortness of breath:
"The best thing to do is contact your personal physician and stay at home," said Dr. Anderson.
Local medical facilities point possible patients who are not severely ill to non-emergency treatment options. Both TMC and Carondelet offer same-day physician visits at their clinics. Northwest Medical Center's Virtual Health Now offers patients the chance to consult with a doctor online.
All emphasize that if symptoms become severe, hospitals will make sure any and all patients receive medical treatment.