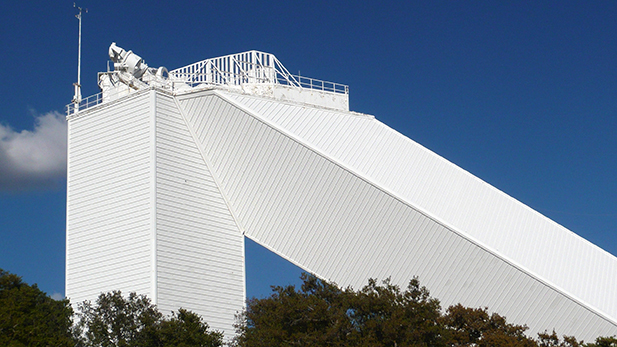 Completed in 1962, the National Solar Observatory's McMath-Pierce Solar Telescope at Kitt Peak, Arizona, is the world's largest solar telescope.

National Solar Observatory
Listen:
An era of discovery is coming to an end for the solar telescope atop Kitt Peak west of Tucson.
The National Solar Observatory has moved its headquarters to Boulder, Colorado, from Tucson. The organization will abandon its solar telescopes here and in New Mexico for a larger instrument in Hawaii.
The McMath-Pierce Solar Telescope has held the designation as the world's largest collection of solar telescopes since it was dedicated in 1962. Its upside-down V shape is visible for miles atop the Kitt Peak National Observatory.
It will be replaced by the Daniel K. Inouye Solar Telescope on the Hawaiian island of Maui in 2019. The Solar Observatory is seeking another organization to take over operations at the Kitt Peak telescope after next year.
"The McMath instrument has a long history of discovery in solar physics particularly at infrared wavelengths," said Matt Penn, assistant astronomer at the National Solar Observatory.
"At the McMath, we discovered that the solar atmosphere is very cold. Molecules of carbon monoxide were found to exist in the solar atmosphere," he said.
Penn said moving personnel from Tucson and Cloudcroft, New Mexico, will enable greater collaboration among his group and several other organizations engaged in solar research.
The Solar Observatory is building the larger telescope atop Halelakā mountain. Its primary mirror was built in Germany and polished last year at the Richard F. Caris Mirror Lab at the University of Arizona.
Penn says about 50,000 people visit the McMath-Pierce telescope each year. It's the only instrument people can tour on Kitt Peak during the day. It will remain open to visitors until October 2017.
The Arizona Science Desk is a collaboration of public broadcasting entities in the state, including Arizona Public Media.