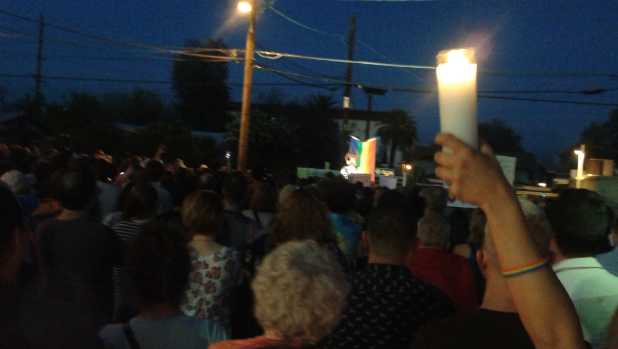 Hundreds gathered on Tucson's North Fourth Avenue to remember the victims in Orlando, Fla.

AZPM
Hundreds of Tucsonans gathered by candlelight on North Fourth Avenue Sunday evening to remember the victims of the mass killings in Orlando, Fla., and to protest gun violence.
The crowd ranged from families with small children, to couples to members of the clergy and more. The vigil was organized by leaders of Tucson's LGBTQ community in honor of gay men and women who died at an Orlando nightclub early Sunday.
"Love, love, love!" the crowd intoned at the behest of one speaker. The vigil was marked by prayers, signs with slogans that included, "Stop gun violence," and "Love is radical." Some in the crowd wept openly during prayers and speeches.
Several speakers asked that the shootings in Orlando be seen not as an act of religious extremism after the shooter was said to have declared his allegiance to ISIS.
Several also denounced gun violence and the easy availability of guns, especially assault rifles such as one used at the Orlando nightclub.