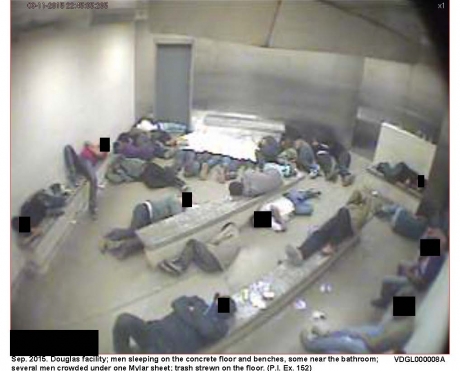 Arizona ACLU
Photos from inside a Customs and Border Protection immigrant detention center show what a human rights group claims are inhumane and abusive conditions.
Nora Preciado of the National Immigration Law Center told reporters that the photos back up detainee stories of conditions for CBP detainees in the Tucson Sector.
"Detainees described being held in overcrowded, filthy cells for days on end – and being denied food, water and medical care and basic hygiene necessities. "
Border Patrol representatives say they cannot comment on ongoing litigation, but two weeks ago Border Patrol Commissioner Gil Kerlikowske said in an interview that the agency faces challenges. He said the biggest was in 2014 with a wave of unaccompanied minors from Central America arriving at the U.S. border.
"Our Border Patrol stations were absolutely overwhelmed. We didn't have health care, we didn't have food systems in place, nothing. And these kids were crossing, turning themselves in."
The federal agency tried to block the release of the photos, but a federal judge ordered them made public.