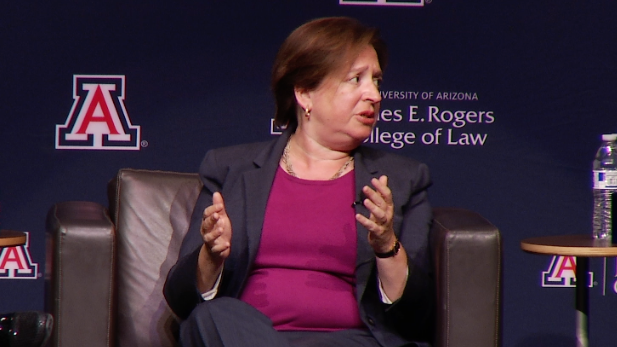 U.S. Supreme Court Justice Elena Kagan, Aug. 31, 2016.

Sandra Westdahl, AZPM
U.S. Supreme Court Justice Elena Kagan spoke at the University of Arizona Wednesday, discussing the late Justice Antonin Scalia and how her constitutional interpretations differ from his.
Introduced by law school Dean Marc Miller as the "hippest justice" on the bench, Kagan began her talk with some trademark humor.
"Some people might say it's kind of a low bar to be the Supreme Court's hippest justice," she said.
Kagan then turned to a more serious topic, the legacy of Scalia, whose death in February caused Kagan to cancel a previously scheduled visit to the UA.
"I think anybody's death or departure really changes the court, any one of the nine," Kagan said. "That's true, but Justice Scalia more so. Justice Scalia was such a powerful personality, a powerful presence."
She said she has a different approach to constitutional interpretation than Scalia. Still, they were close friends and respected colleagues, she said.
Kagan discussed some of the differences in constitutional theory. She explained how the court decides what cases to hear, and said she and the other members of the court are not subject to political pressures.
"None of us think about, 'Would the president like this or not like this? Would Congress like this or not like this?'" she said. "It's utterly irrelevant to us when deciding cases.
"Our role is essentially to provide a check on the political institutions, on the political process, and to police a body of rules and to say here the political process has gone too far, here the majorities don't get their way."
Kagan was appointed to the Supreme Court by President Barack Obama in 2010. She was U.S. solicitor general in the Obama administration before that.
Kagan earned her undergraduate degree at Princeton University, a graduate degree at Worcester College, Oxford, England, and her law degree at Harvard University. She taught at the University of Chicago Law School.