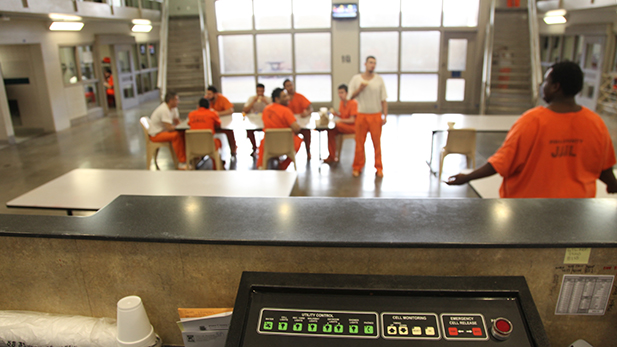 Andrea Kelly, AZPM
When India Davis started working as a Pima County corrections officer 20 years ago, the county jail had minimal mental health services and staff.
Today, as the jail's chief administrator, she oversees what has become the largest mental health facility in the county.
"Seventy percent of the people who come into the jail are suffering in one way or another and rely on the behavioral health services we provide at the jail," she says. "In many cases, it's the first time they're seeing a doctor or mental health practitioner."
Speaking at a recent public panel hosted by Tucson's League of Women Voters, Davis and other justice system officials outlined the challenges they face in trying to meet a need that's growing here and across the country.
"There are 10 times as many people with mental illness receiving services through detention facilities than there are in psychiatric hospitals," says Vicki Knight, the jail's chief psychiatrist.
Knight is tasked with providing behavioral health services to a large and constantly changing population. An average of 2,000 people are held in the jail each day, and most will stay for fewer than 30 days.
Knight and her team take medical and mental health histories from those who enter the jail, and prescribe medication if it's deemed necessary to stabilize a mental health crisis.
"We also then try to engage or re-engage them with community mental health agencies so that we're not just releasing them into the streets, but we're releasing them with some supports that weren't there when they came in," she explains.
Despite these efforts, both Knight and Davis say the high turnover and limited resources make it difficult for the system to keep up. Some individuals slip by and wind up without the help they need - either in jail or in the community - which can lead them back to jail down the line.
"A lot of times it's a revolving door at the jail for people who suffer from mental illness, because there's just not enough services in the community to handle the volume," Davis says.
That's why addressing mental health is a key part of Pima County's new plan to reduce its jail population. Earlier this year, the county received a $1.5 million grant from the MacArthur Foundation to safely scale down its jail population, with the goal of achieving an 18 percent reduction in three years.
Davis says the grant will help the jail expand mental health screenings so that all inmates receive more thorough evaluations, and to improve "handoff" or transition services that connect those who are released with community-based mental health agencies.
It will also bolster alternative programs, like the Mental Health Court, that divert nonviolent individuals living with mental health or substance abuse issues to treatment instead of jail.
Davis said early identification of and help for those who suffer will save taxpayers money and ultimately benefit the whole community.
"We're either going to pay for building more prisons, or we're going to pay for treatment and access to care for people who wouldn't or couldn't otherwise get it," she says. "We don't ever want to build another jail in this community. That's our long-term goal."