Corona
azpm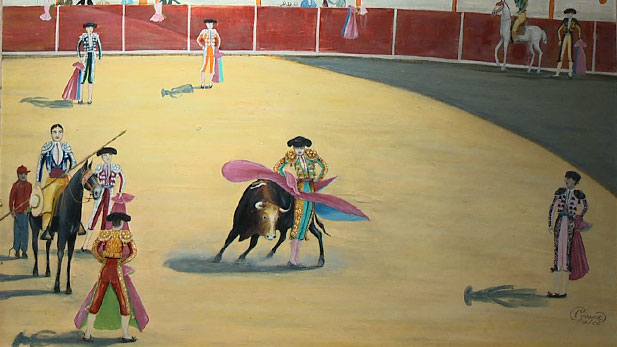 Longtime residents of Tucson may be familiar with the work of Mexican-born artist Salvador Corona without even realizing it. His indelible imprint has been left on our community in the form of countless murals, and many of them survive to this day.
Now the Arizona State Museum has assembled an exhibition of Corona's work as part of the Museum's 2010 Year of Mexico bicentennial and centennial celebrations.

Diane Dittemor, assistant curator in ethnological collections at the Arizona State Museum, says that Corona's legacy is very much a part of the unique history of Tucson. "We found that there is a whole new generation of collectors that have come to associate him with a rootedness in Tucson."

Corona's work is unique, and it's in large part due to the unusual life-journey of a man that began as a bullfighter. Because of a violent encounter in the ring, Corona was forced to seek out an artistic outlet elsewhere says Corinne Milton. She is the author of a biography on Salvador Corona titled Corona: Bullfighter and Artist/Torero y Artista. She says that in 1919, in Guadalajara, he was gored by a bull. He was then given his first painting lessons by a fellow bullfighter. "You wouldn't think that a bullfighter, which you consider a sport, would become an artist," she says but his friend pointed out that as a bullfighter he essentially was participating in an artistic expression. "Bullfighters are artists. Your movement is ballet, it's precision and timing," she says. "You're blocking out space."
Salvador corona, bullfighter turned artist and Tucson Icon. His work is being honored at an exhibit at the Arizona State Museum.