San Xavier Gift of Angels (VIDEO: azpm)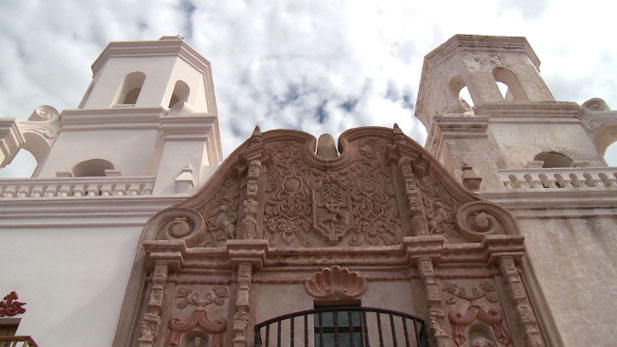 It's possible to become so familiar with something that we begin to take it for granted. We begin to overlook the meaning and the beauty that is present in the details. Edward McCain is the award winning photographer of the new book A Gift of Angels: The Art of Mission San Xavier del Bac. Many of the images in this book reveal details that seem new, and unique. "I've shown these to people and they say 'where is this?'…. It's new to their eyes," he says. McCain points out that the challenge in photographing Mission San Xavier del Bac, arguably the most prominent icon of the Tucson region, and one of the most photographed buildings in Arizona, is finding a new way of seeing.
Bernard Fontana is a leading authority on Mission San Xavier del Bac, and the author of A Gift of Angels. "It was a huge undertaking," he says, "to photograph the building and façade in detail." Bernard, or "Bunny," to you and I, has been quite curious about this church for many decades, and he's devoted a large part of his life to the scholarly interpretation of the San Xavier del Bac. The book, he points out, is intended as an all-inclusive catalog of the artistic treasures that are housed here. "It's an absolutely extraordinary place."
The book will be published later this fall and you can get information at the UA Press.