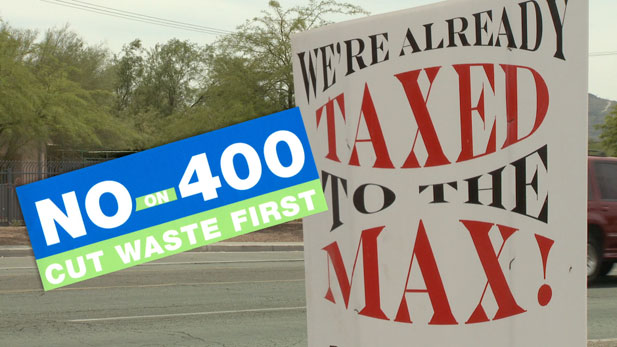 Tucson struggles to balance its budget after the defeat of Prop 400. (PHOTO: AZPM)
Tucson voters recently rejected a half-cent sales tax increase, voting down proposition 400 by a three to two margin. The proposition was offered by city leaders as a way to protect "core" services like police and fire departments.

Sean McClusky led the campaign to defeat the half-cent tax, which would have provided the city about $40 million. The revenue would have significantly narrowed the gap of what now is projected as a looming 51-million-dollar deficit. McClusky says the city is caught in a "rut," and he wants leaders to develop a long-term plan that will protect public safety.
McClusky's success in the battle against Prop 400 is the flip side of a punishing defeat for the city's efforts to dig itself out of a deep financial hole. In a press conference following the election, City Manager Mike Letcher said that "the message sent by voters is clear, and people are looking for smaller government." He pointed out that the core tax committee mapped out a plan that consists of staff reductions: 150 for police, 100 for fire departments, 161 for parks and recreation, and about 70 for non-core positions.
Council members have now approved a budget calendar, and layoff plans for as many as 400 city employees will be made public in January. However, the city's budget for the next fiscal year won't be presented to the council until May.
Ward 6 council member Steve Kosachik says it's a difficult situation to face as a governing body, but it's clear that "every department is going to take a hit." He points out that three fourths of the city's budget is devoted to public safety, so there is little chance of bridging the gap without considering cuts to police and fire. "They know there will be reductions in forces," he says. "My perspective is that they should be informed sooner rather than later, so they can make career-related decisions now."
McClusky, who previously made a bid for a city council seat and lost, says he understands the dilemma faced by the city, but the loss of any police and fire positions is unacceptable. McClusky says he and others associated with the "No on Prop 400" campaign will launch a recall election for the council members who vote to eliminate any police and fire positions.

In this next story we take a look at what the recent defeat of Prop 400 means for the city's ability to balance the budget. (VIDEO: AZPM)