In Rita Elliott's office, history lives in black binders. Stacks of them hold newspaper clippings, photocopies of old phone books, yellowed photographs taped to white paper.
"You need to know where you've been to know where you're going," she's fond of saying, and few know better than she where Tucson's Black community has been.
Elliott, a lifelong educator, lives in what was once her grandparents' home, on the corner of University Boulevard and Queen Avenue in the heart of the Dunbar Spring neighborhood.
Bordered by Speedway Boulevard to the north, Stone Avenue to the east, Sixth Street to the south and the railroad to the west, and dotted by churches and funky traffic circles, the neighborhood is the kind of vibrant, artsy place where young professionals now flock.

But during the 50 years of segregation that followed Arizona's statehood in 1912, Dunbar Spring was one of very few places where Tucson's Black residents could live.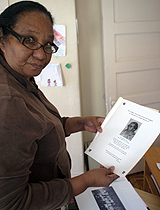 Rita Elliott is compiling a history of the Dunbar neighborhood and the legacy of its 50 years of segregation.

Gisela Telis
Elliott grew up in Pasadena, Calif., but spent every summer in Dunbar Spring. She remembers having to sit in the balconies of Tucson's movie theaters--the "crow's nest" was the only section where Black movie-goers were allowed to go--and visiting separate parks and hospitals.

"My uncles fought for this country," she recalls, "and then couldn't sit down at some of the restaurants downtown."
But there were beautiful things, too: bustling businesses run by her grandparents' Black neighbors, visits from luminaries like Marian Anderson, a feeling of safety when playing outside with other kids--all things she didn't experience in California, where she could attend integrated schools but still had a cross burned in her front yard.
Her vivid early life led the now 70-year-old Elliott to becomes a civil rights activist and an advocate for children, and more recently to become a chronicler of Dunbar Spring's history. In addition to the binders of photographs and documents, she's compiling oral histories from the handful of Black families who stayed on in the neighborhood, recording for posterity everything from recollections of 1950s outings to Sabino Canyon to the doings of the Black women who made up Dunbar's Eureka Club.
"We [as African-Americans] don't sing our own song. We lost it," says Elliott. And memory, she adds, is one way of getting it back.
Cressworth Lander might say that a place can help summon the song too. The 86-year-old son of a Buffalo soldier--the famed late 19th-century all-Black Army regiments--has spent more than a decade trying to preserve and restore the Dunbar School, one of the neighborhood's landmarks.
The school, named after renowned Black poet Paul Lawrence Dunbar, was built when Arizona became a state in 1912; prior to that, Tucson schools weren't segregated.

Lander attended the school for 9 years, finishing 9th grade there in 1940. (Regardless of race, all of Tucson's students went to Tucson High, where classrooms were segregated.) While he was a student there and for another 11 years after he left, it was an explicitly segregated school, but many of its graduates say it provided a world-class education.
"The teachers were family figures to us: they lived in the same community, went to the same churches and stores, and were constantly in contact," says Lander. "There was never any doubt who was in charge."
After serving in World War II, studying at several universities and working in the Tucson community as a public servant for more than 20 years, Lander came back to the school that launched his life of service.

Abandoned since 1978, the Dunbar School had fallen into disrepair, like much of the Dunbar Spring neighborhood in the mid 1990s. But a 1995 grant from the city made saving it a possibility, and a coalition of Dunbar Spring residents--including Lander and Rita Elliott--voted unanimously to use part of the funds to renovate the school.
The renovated portion of the building now houses a barber academy, a dance school, and an auditorium frequently tapped for Tucson events. The oldest part of the school, which is still being restored, will include an African-American museum and cultural center and a community center.
"Dunbar was sitting here with barbed wire all around it for 25 years," says Lander. "Now it's a symbol of renewal."
While Lander and Elliott work to reclaim the song of Tucson's 20th-century Black history, Michael Engs is digging deeper, into that history's Spanish colonial roots.
Engs is a retired professor and counselor, and he's not a Tucson native. He grew up in Williamsburg, Va., and--perhaps not surprisingly, given the city's past--was a history buff from an early age.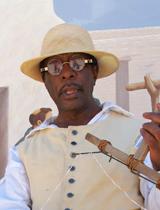 Educator and history buff Michael Engs is documenting--and occasionally re-enacting--Black history in the Spanish Colonial era.

Courtesy of the Tucson Presidio Trust
Shortly after moving to Tucson in the 1980s, Engs became interested in the city's Black history and particularly in the stories of Buffalo soldiers. By the mid-1990s, he was training members of the community to collect oral histories from Tucson's first Black settlers and their descendants.
The more he learned, the further back the stories drew him. He began to study Esteban, the Moroccan slave believed to be the first Black explorer of the continental U.S., who in the 1500s traveled through New Mexico and Arizona in search of the fabled Seven Golden Cities of Cibola.
Esteban's story led to others, such as the tale of Isabel de Olivera, who in 1600 petitioned her mayor to recognize her status as a free woman before accompanying Juan Guerra de Resa's expedition to New Mexico.

"There were about 100,000 African people living in Spanish colonial America, and 70 percent were free," says Engs. "They were such brave, adventurous people--they had to be, because they were literally walking into the unknown."
Engs hopes to bring the ancient into the new: he'd like to see a computer lab in the Dunbar School where students can access the historical materials Engs, Stuart Glogoff and others have archived in the educational website In the Steps of Esteban.
In the meantime, Engs says he has work to do.
"I don't see anyone else on the trail of these first African people," he says. "So I plan to keep chasing them for as long as I can."