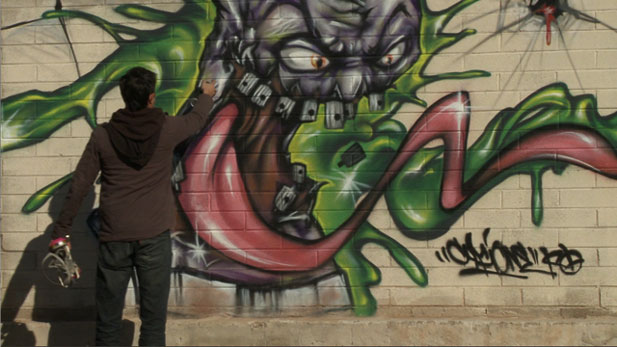 One former illegal tagger is exploring alternatives to the city's ongoing graffiti abatement program.

AZPM
Last year the city's graffiti abatement contractor, Graffiti Protective Coatings (GPC), filled almost 40,000 work orders throughout the city. It's a cat-and-mouse game that has crews working constantly to keep up with what seems like a neverending problem.
Lupe Mercado is general manager of GPC in Tucson, and he says GPC tries to get to each reported graffiti site within 24 to 48 hours. But with the new technology many of the cleanups happen sooner. He also points out eighty percent of the cleanups are tags GPC workers spot themselves.
There are many clues embedded in the tags, and since they've been compiling the database TPD has been able to use the information for prosecution of repeat offenders.

"We found out the hard way that simply covering up the graffiti is not going to solve the problem," Mercado says. "You need to catch the taggers, and apprehend them."
Rock Martinez knows about illegal graffiti and apprehensions. He had to pay about $11,000 in fines when he got caught spray painting on trains. He says he's evolved since then, but there are plenty of others filling his shoes.
"I think the city focuses too much on trying to stop it," he says. "It's not going to happen."
Martinez paints murals around Tucson legally now. His talents were honed in illegal graffiti, but now he's frequently commissioned for big projects like the mural on the Tucson Water Department building downtown. He also owns Art Terrain Gallery on Fourth Avenue.

Martinez says what attracts people to graffiti is the rush, and the fact that it's illegal. Graffiti culture has also evolved in the last 15 years to become more mainstream, he adds, and is now routinely used in advertising targeted at young people.

"Now you can see graffiti art in galleries," he says. "It's trendy."
Graffiti is trendy, and it's been co-opted by popular media, perhaps contributing to the woes of the city by glamorizing the image of the tagger.

Martinez now advocates for legal walls as a way of positively re-directing some of the creative energy of young graffiti artists.
Both Martinez and Mercado are pessimists when it comes to completely eradicating illegal graffiti, but they both feel collaborative efforts can help minimize the blight that many neighborhoods are experiencing because of illegal taggers.
Call it vandalism, artistic expression or coded messages from the front lines of class conflict - graffiti is all over Tucson. The city's ongoing graffiti abatement program now uses new technology to compile a database of taggers and their distinctive signatures. However one former illegal tagger says there are other ways to help deal with the problem. (VIDEO: AZPM)