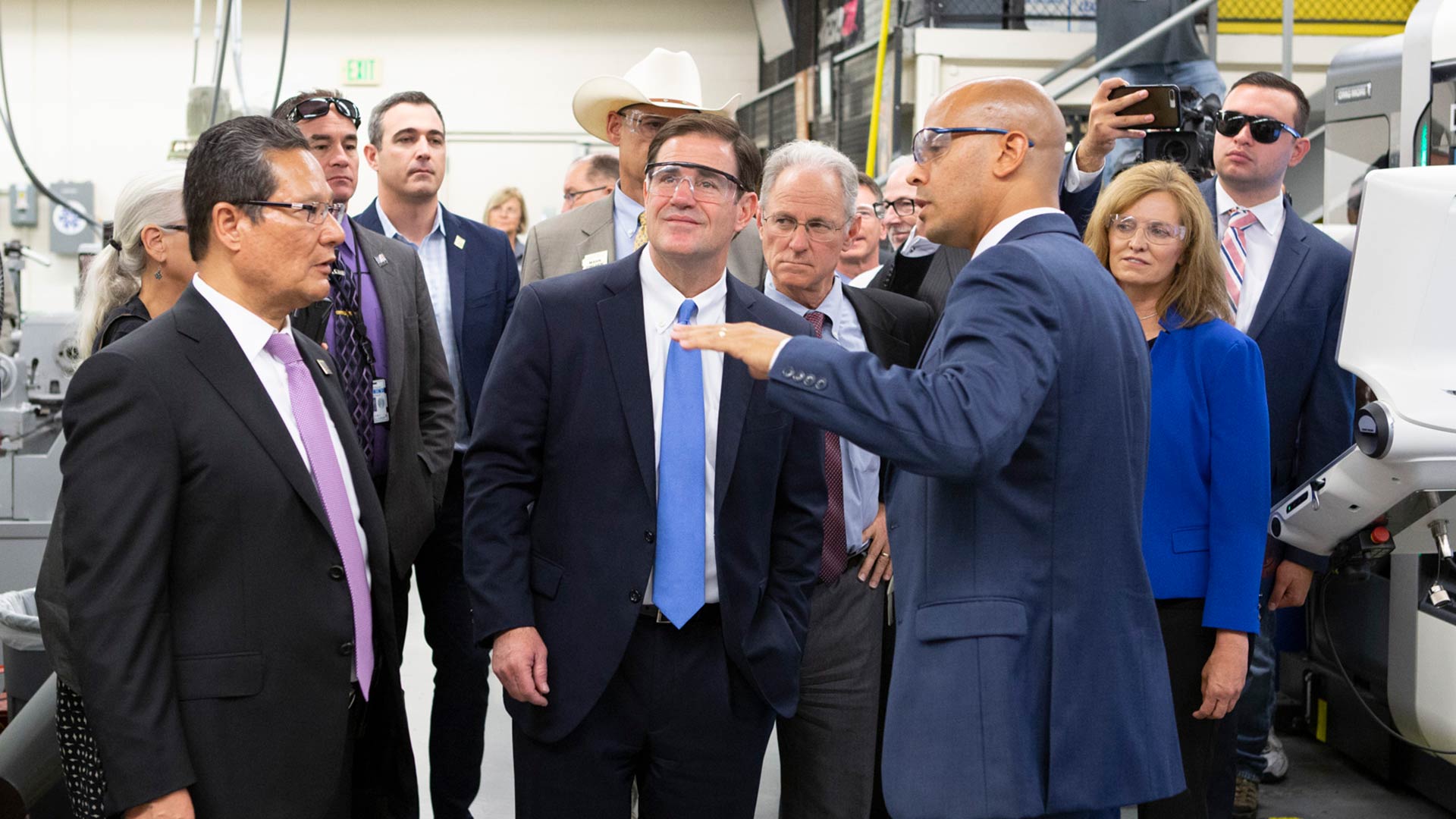 Gov. Doug Ducey tours Pima Community College's downtown campus as part of a Caterpillar announcement, Aug. 24, 2018. From left, Lee Lambert, PCC Chancellor; Ducey; Greg Wilson, PCC academic dean of business, occupational and professional programs; and Jean Savage, vice president for Caterpillar's surface mining and technology division.
Pima Community College
Gov. Doug Ducey released his budget plan for the upcoming fiscal year on Friday.
The $11.4 billion plan includes $20 million for the expansion of the aviation program at Pima Community College.
"And what [PCC Chancellor] Lee Lambert is doing at Pima Community College with aviation has really opened our eyes at the state Capitol. And it is not just aviation, it's advanced manufacturing, it's pharmaceutical, it's the skilled trades," Ducey told AZPM.
PCC has not received any state funding since 2015.
The governor's budget proposal is a 9.2 percent increase over last year's proposal. That is the largest one year increase since Ducey took office in 2015.
The budget also includes $167 million for a 5 percent teacher pay raise. That is part of the promise Ducey and the Legislature made to teachers last year for a 20 percent pay raise over three years. That brings the total of the raise to 15 percent.
The governor also wants $21 million to expand the Arizona Teacher's Academy at the state's three public universities.
He also wants approval of more than $20 million for more school resource officers, counselors and social workers.
The governor's budget is a blueprint for what he wants to state lawmakers to include in the budget. The Legislature is under no legal obligation to fund anything the governor proposes.