This is part three of Arizona Public Media's five-part series, The Controversy over Cannabis, airing July 11-15 on NPR 89.1FM/1550AM.
Last November, Arizona voters passed Proposition 203, legalizing the medical use of marijuana. By the end of June, the AZ Department of Health had approved 6,557 applications – and denied 7.
Miles Perry received his card in June. The retired contractor broke his back 12 years ago. He went through two failed surgeries. To get through the day, he needed high doses of morphine. At the time, he lived in Colorado, where medical marijuana was legal.
"I was in horrendous pain, and my doctor, she said 'You're wasting away and I want to prescribe marijuana for you so your appetite will come back and you can start eating and get strong,'" Perry recalls.
It helped, and has been his mainstay ever since.
"Pot is the most effective drug that I can use at this point in time," he says. "I don't smoke it and run out and get in the car and drive off someplace. I'm more apt to smoke it at night so it helps me relax and get a good night's sleep. I don't sleep well. I wake up every two, three hours from pain. It's just a never-ending battle."
Now that Perry has his Arizona medical marijuana card, he's waiting for the state to settle legal matters and allow dispensaries to open.
Technically, he could start growing his own plants. Card holders who live more than 25 miles from a dispensary can apply for a license to grow six plants for medical use. Or, they can designate a caregiver to grow for them. Seventy-five percent of medical marijuana card holders in Arizona applied for that license already.
But where will they find cannabis seedlings? You can't just walk into a nursery and buy pot plants.
"Well, we're heading into our clone factory. This is sponsored by people who know somebody who desperately needs it and can't get it, or people who feel that it's the right thing to do. Come on in. Hello?" says Tom Maza, opening the door to a secret grow house.
Inside, all the windows are covered so passers-by can't see the 17 cannabis plants growing in the kitchen. Tom Maza is part of an underground network in Arizona. They're growing medical-grade cannabis plants to distribute to patients. Proposition 203 allows licensed caregivers to grow for patients, but this network started before the law went into effect. This grow house isn't legal.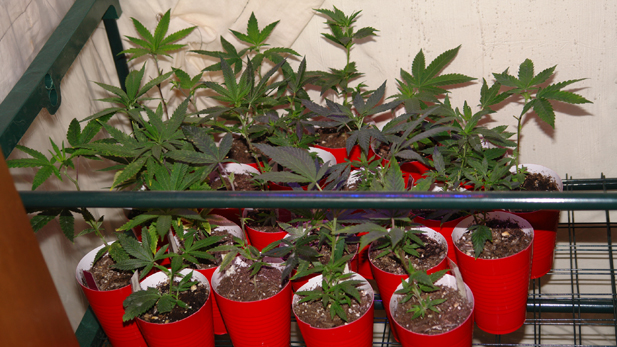 Cuttings from various strains of medical-grade marijuana are growing in a closet.

Laura Markowitz
"There's LA Confidential," Maza explains, pointing to the seedlings. "There's Sour Diesel."
Different strains of pot treat different ailments, he says. Each one of these plants is labeled with the name of the strain.
"There are probably seven or eight different kinds represented in this sample," he says. "We bring them in, isolate them to make sure there are no bugs. We do strictly organic."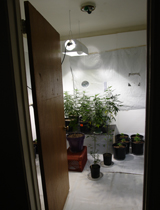 The mother plants are kept in a climate-controlled room. (PHOTO: Laura Markowitz)
The main greenhouse is in the bedroom. It's climate controlled. The floor is covered in white plastic.
"This is the bulk of the operation here," says Maza. "These are the mothers. We'd take a little cutting off of each. Plant it, get it rooted and it goes. Since we know these are female already, these plants can be taken and started to flower right away. Twelve weeks from getting them home, they can start to harvest."
The room holds over 20 plants, most about a yard tall.
Maza says these plants will go to legitimate medical marijuana patients. He knows the work he's doing cultivating these plants is illegal. But he says he doesn't care.
"This is the bus to Alabama," he says. "I'm doing the right thing for the right people with the right motivations. Will I make money? No. Could I could go to jail for the rest of my life? Yeah, I could."
There are thousands of legal home growers sprouting up in the state, but there's no way to know whether all that home-grown pot is being used for legitimate medical purposes. Licensed home growers can keep 2.5 ounces a week, but any surplus harvest has to be turned in to a medical marijuana dispensary.
"That's an awful lot of pot," says Perry. "I've never seen a person smoke two ounces of pot in a week. I never have, except sharing it with their friends, probably."
Arizona has a plan in place to regulate medical marijuana dispensaries. But there's no practical way they can regulate every small-scale home grower. In the end, the state will have no choice but to rely on the honor system.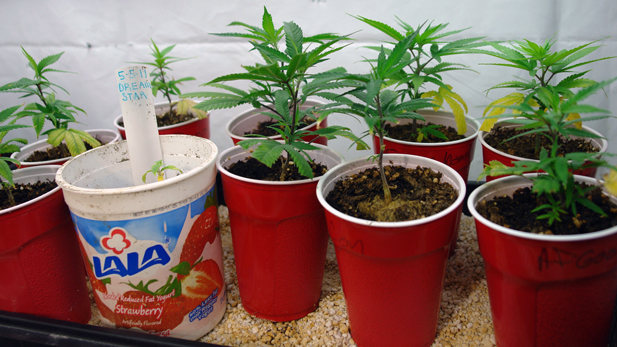 Cuttings of medical-grade marijuana plants in an illegal grow house in central Tucson.

Laura Markowitz

Tune in tomorrow for Part Four of The Controversy over Cannabis, a journey along the front lines of marijuana trafficking in Southern Arizona.