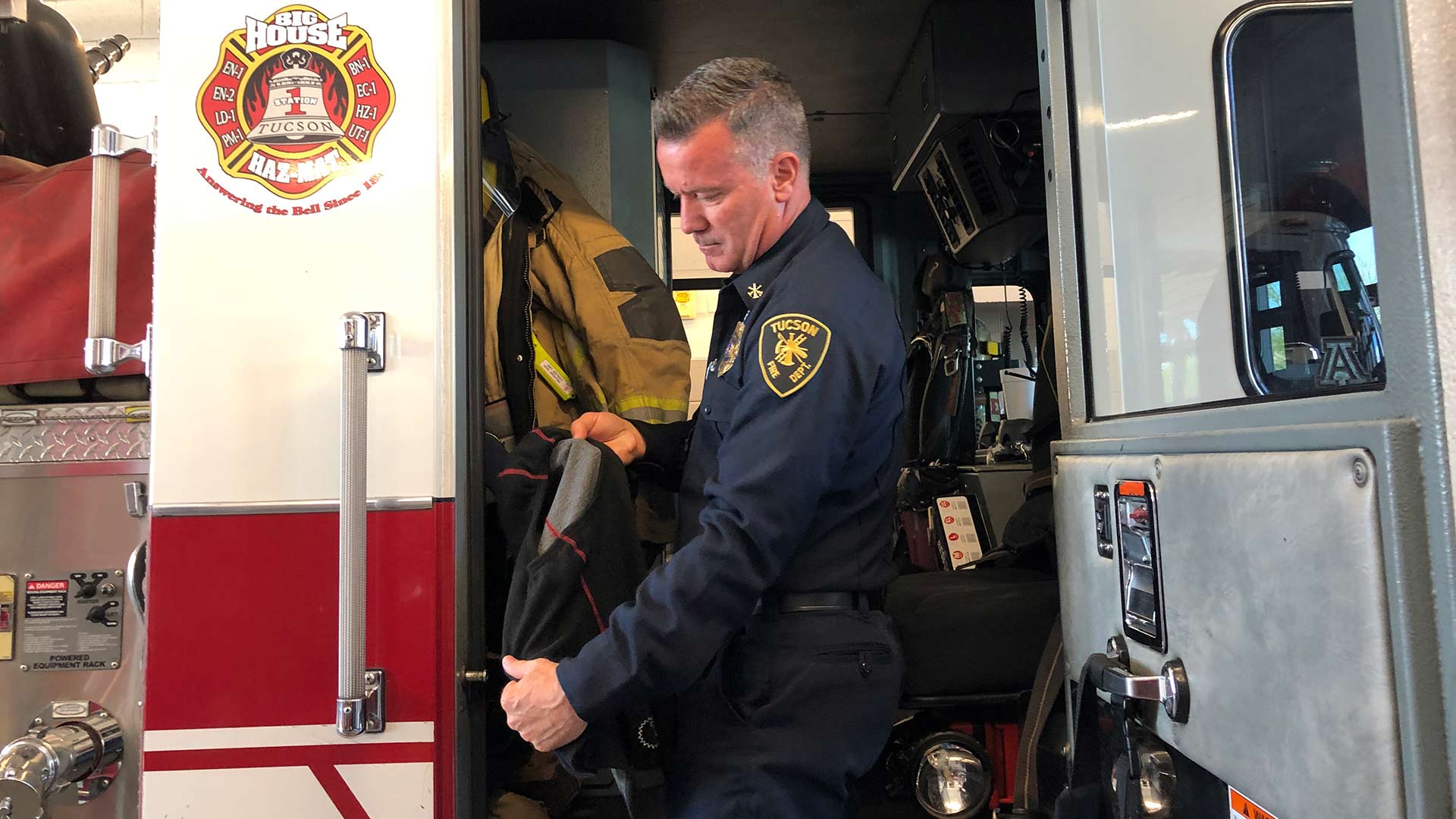 Health and Wellness Captain Darin Wallentine discusses improvements made to new firefighter hoods. He says a partnership has allowed the Tucson Fire Department to make improvements to its firefighting gear.
Sarah Workman/AZPM
Burning buildings, collapsing roofs and temperatures reaching toward 1,000 degrees are some of the life-threatening conditions that firefighters encounter on the job. But one of the greatest risks to firefighters' health is one that can't be seen: cancer.
That's why the Tucson Fire Department partnered with the University of Arizona College of Public Health to take action against the silent killer by improving the protective gear firefighters wear.
According to a 2016 study from the National Institute for Occupational Health and Safety, firefighters die from cancer-related illnesses at a 14 percent higher rate than the general public.
"There's an assortment of cancers that are out there that are higher in firefighters," said Darin Wallentine, the health and wellness chief for TFD. "Including things like mesothelioma, things that you get from asbestos, because the city of Tucson, a lot of the buildings that were built, utilized asbestos."
Wallentine says in addition to asbestos exposure, this increased cancer rate in firefighters is due in part to the use of new chemicals in things like furniture.
"They're not solid woods. Oftentime there's laminates, sometimes there's glues that are included within this compressed wood, and when they're subject to fire they will off-gas these toxins that are different than just a normal two-by-four, or thick wood would normally off-gas," Wallentine says.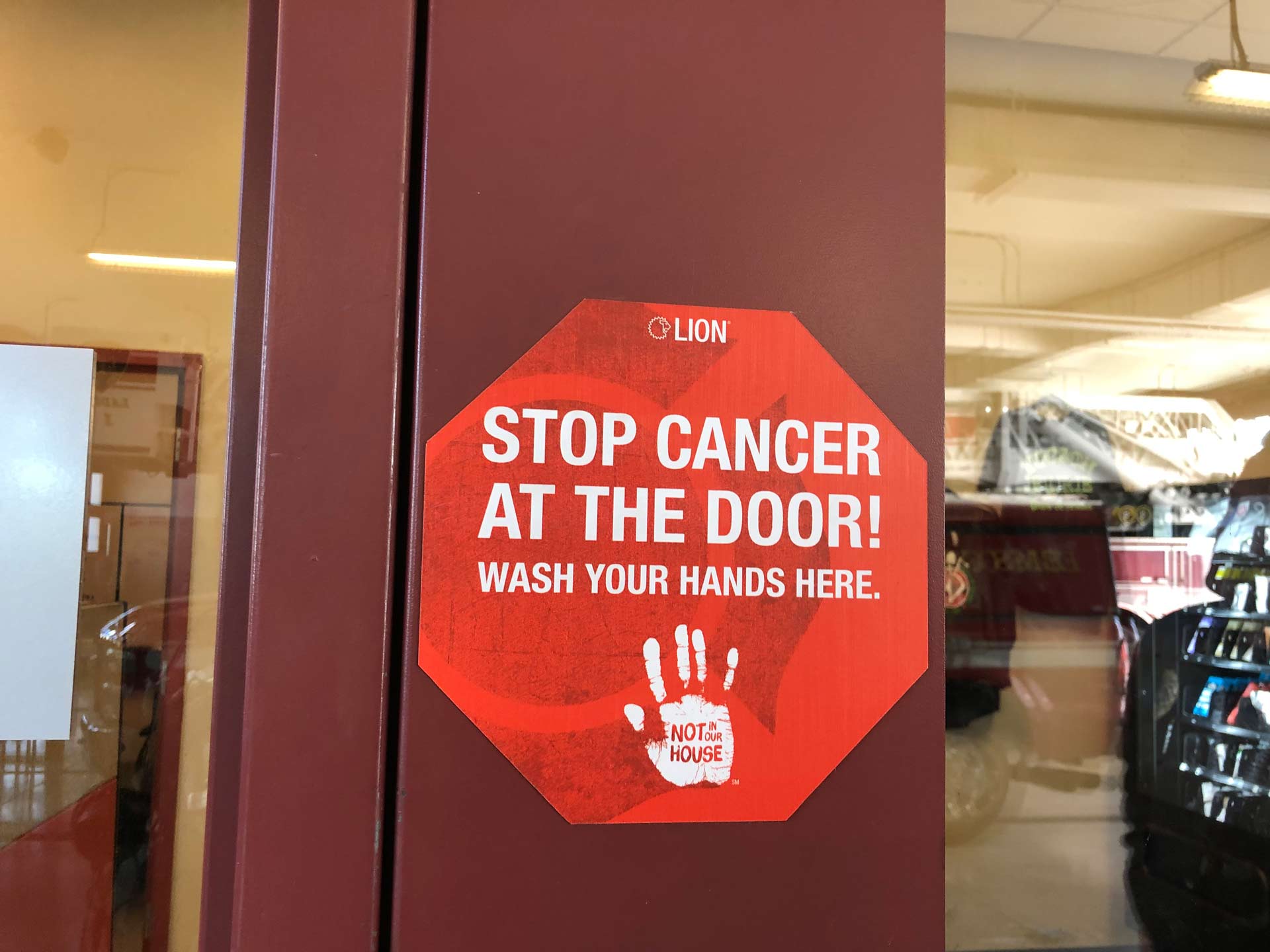 VIEW LARGER Firefighters die from cancer at a higher rate than the general public, a study says.

Sarah Workman/AZPM
In 2015, the UA College of Public Health received a $1.5 million grant to study cancer rates in firefighters and explore ways to reduce risk of exposure by making changes to their protective gear.
Wallentine says that when they began their cancer study, they believed the hood was the weakest part of the uniform.
"The hoods historically were made just of thin Nomex, and it was only supposed to be a covering for heat protection," Wallentine said. "The problem with that was is that that hood would allow the soot, and the smoke and now cancer-causing elements to go through it because it was porous. So, you would see that black soot and the stuff around your neck and your forehead."
Wallentine says his department approached different companies to come up with prototypes that would prevent those particles from making it through. Down in the firetruck engine room, Wallentine shows off the new and improved hood, which now blocks 99 percent of contaminants.
"So, there's a hood that we put over the top of our head before we put our helmet on, but it's meant to protect our neck and our head from heat," Wallentine says. "Now it protects us from particulates, things that can cause cancer because we know that the neck is a very vascular area."
But it is not just the hood that has been improved. Wallentine says the entire uniform has undergone changes thanks to a partnership they have with an outside vendor.
"We give them the things that they need to know, so that they can improve and make things better" Wallentine says. "The elements that are woven into this fabric ... that's on the heat shield of the space shuttle."
Mario Ciarlo has been with TFD since 2015 and says that although he appreciates the new hoods' better safety function, they are less comfortable.
"I think it definitely works a lot better in terms of letting heat out — I feel like we stay cooler in it. But putting it on is kind of more of a hassle than the older style," Ciarlo says.
Bryce Womack has been with TFD for 20 years. He says the cancer study made firefighters much more aware of potential safety hazards of their job.
"Instead of just doing what we're trained to do, we start thinking about our safety even moreso than we were doing before, which is a huge difference over the time that I've been on the job," Womack says.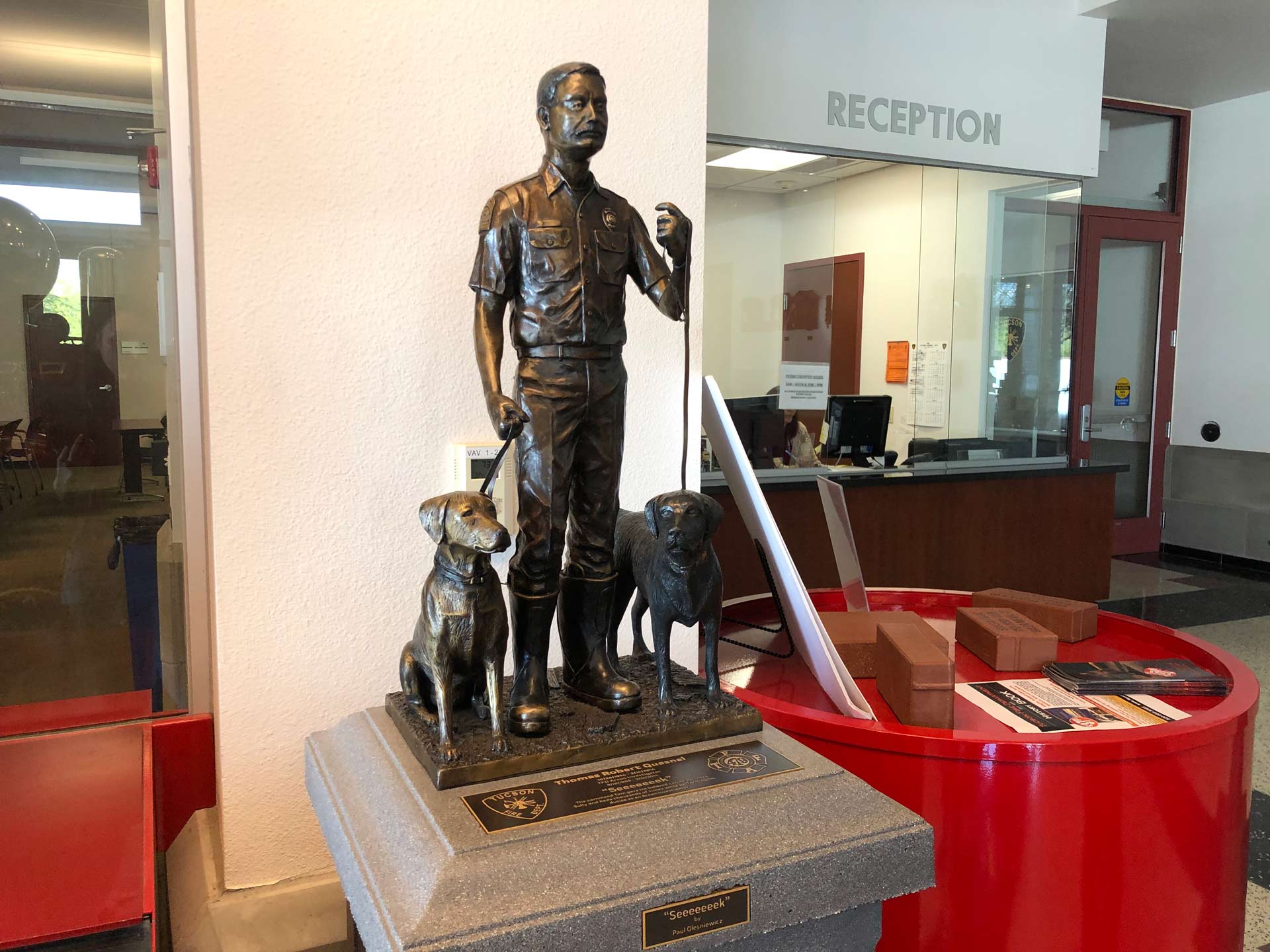 VIEW LARGER A statue dedicated to TFD investigator Tom Quesnel stands in the lobby of the department headquarters.

Sarah Workman/AZPM
Wallentine says the department's motivation for protecting their employees from cancer became much more personal after the death of TFD investigator Tom Quesnel in 2014, who passed away from leukemia.
"Tom is our 'why' — why we do what we do today, when we've partnered with the University of Arizona on these cancer studies but also as to prepare our firefighters and to educate them for how they can best protect themselves," Wallentine says.
Wallentine explains that because Quesnel was a fire cause investigator, he did not wear protective gear when he examined fire scenes, which resulted in him being exposed to carcinogens.
Quesnel worked with two Labrador K-9 partners, Sully and Keda. Both also died of cancer, according to Wallentine.
The department hopes improvements in protection gear and procedures will help prevent this from happening in the future.
---
Sarah Workman is an Arizona Public Media intern and a student in the University of Arizona School of Journalism.