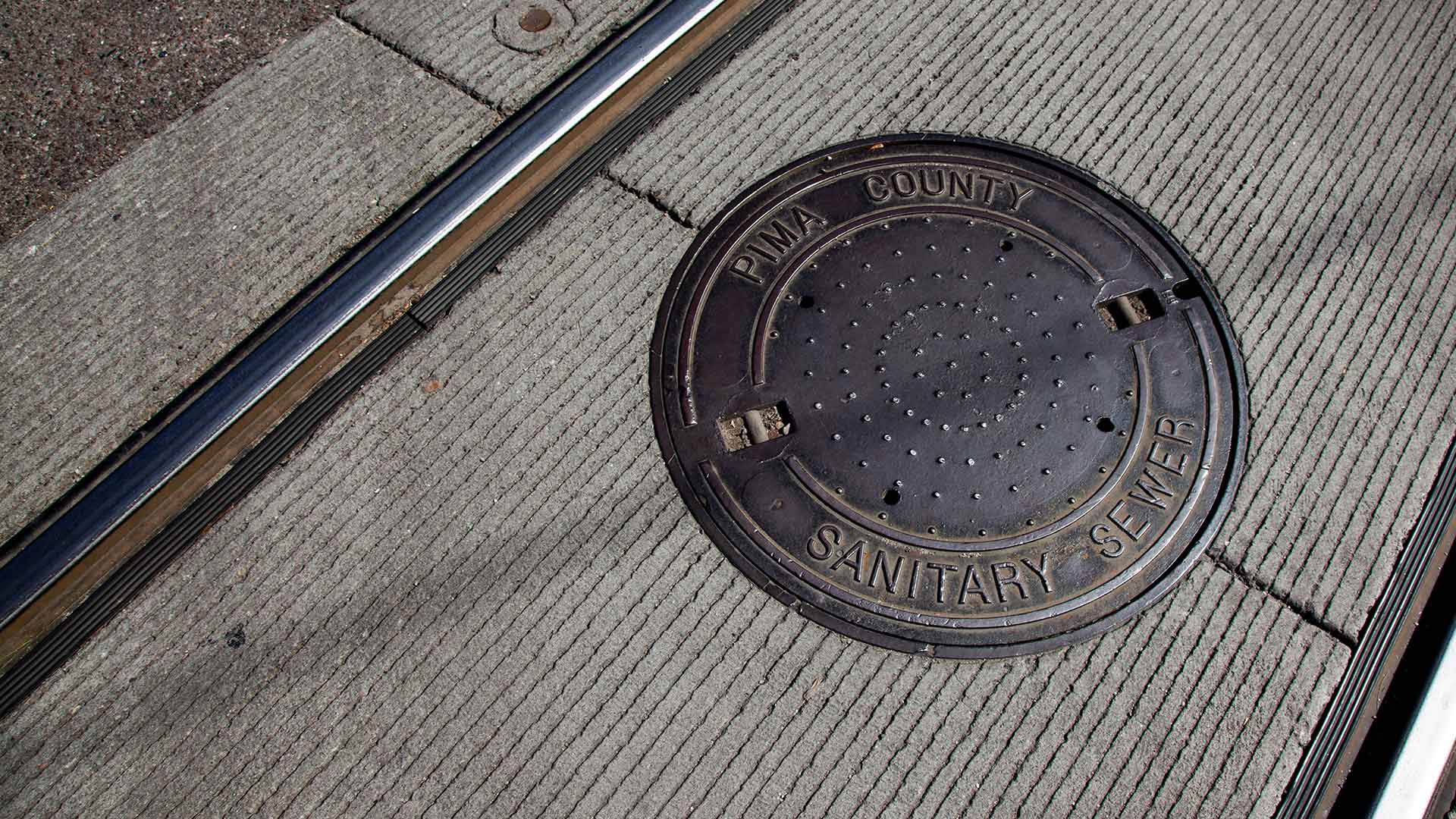 A Pima County sewer cover, along Tucson's streetcar line.
AZPM
The majority of the sewer repair projects starting Monday in Tucson will be completed during the week of Sept. 30, but some larger projects, like the ones following Speedway and Broadway boulevards, will last for six to eight weeks.
The construction will include manhole repairs and sewer pipe installation, replacement and lining.
Jaime Rivera is the deputy director of the conveyance division within Pima County's Wastewater Reclamation Department. He said the reason projects along Speedway and Broadway boulevards will take longer is because construction crews will be reinforcing the nearly 50-year-old pipes that are showing signs of corrosion with a fiberglass insert. When heated with water or steam, it transforms into a plastic-like lining within the pipe.
"And once it's cured, it is like a brand-new pipe. It's basically like a corrosion resistant material," said Rivera. "It won't corrode, so it will last a lot longer than that original metal or concrete pipe."
Rivera said with the new lining, these pipes can last another 50 years.
He said the department uses around $15 million to fix approximately 150 sewer lines per year, and it's the oldest systems that are updated first.
"If we don't do that, and we let the pipe corrode or degrade to the point where it breaks, it becomes an emergency," said Rivera. "And emergencies are always more expensive than going in ahead of time and spending the money fixing the line."
Drivers along these roads and athletes using The Loop near Pantano Wash should expect delays.
See where sewer repairs could affect traffic

View at Google Docs
|

Download File
These projects are some examples of the ongoing maintenance on the county sewer system.
Eric Wieduwilt is the deputy director for planning and engineering for the wastewater department. On The Buzz, he said the county evaluates the sewer system to make sure it can keep up with new construction in the city, including high-density housing projects.

Wieduwilt said the county evaluates the system's capacity to the demand of new housing projects by using a computer model.
"We ask them to tell us how much capacity they're gonna be discharging. We'll run that through the model. If the model says there's capacity all the way downstream, we're good to go. If it shows that there are some concerns, then we start working with the individual developers on remedying those impacts, if possible," said Wieduwilt.
When the sewer system can't handle the influx in activity, he said the city's residents and building developers pay to upgrade the system.