Have you ever wondered how many homeless kids are living on the streets of Tucson?
The numbers are difficult to determine, but young people are particularly difficult to track due to the unique challenges they face and their own efforts to go undetected. According to the Arizona Department of Economic Security, Pima County homeless service providers assisted nearly 1,500 children under the age of 18, and 729 young adults ages 18-24 during 2010.
Kim Sisson disputes these numbers and other such surveys. "For every 10 we see there have to be 100 more we don't see, at least," she says. Sisson is a volunteer and Director of Outreach for Stand Up For Kids, a non-profit organization founded in 1990 to help homeless and at-risk youth.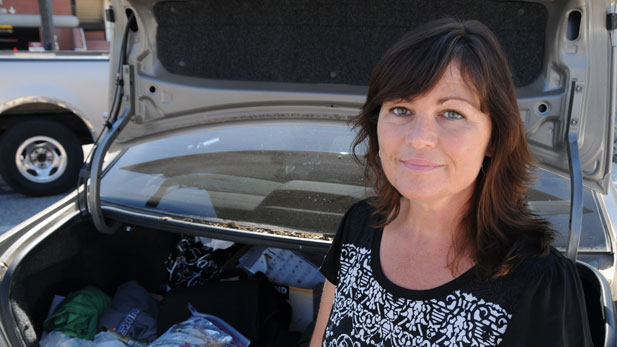 Kim Sisson keeps food, hygiene supplies and clothing for homeless youth in the trunk of her car.

Mitchell Riley
Sisson says they consider homeless youth to be 24 years old and under. She's even seen children as young as 9 living on the streets. She says the reasons they end up on the street include an escape from violence, abuse, neglect and abandonment. "The streets aren't safe, but for many of these kids, it's a lot safer than where they're coming from," says Sisson.
Some kids have been rejected or pushed out due to their sexual orientation, pregnancy, or economic pressures in the home. Some have simply run away from home due to involvement in drugs and gangs.
According to Sisson, there are several types of homeless youth in Tucson. There are those who have no place to go and end up finding shelter in parks, under bridges and in washes. There are those she refers to as "couch surfers" who bounce around from one friend's house to another, sleeping on a couch until they wear out their welcome and then they're back on the streets. And then there are those known as "travelers" who move from city to city, usually moving with the seasons.
As the Outreach Director, Sisson organizes volunteers to take to the streets to make contact and build relationships with homeless youth. They provide food, water, hygiene supplies, backpacks and socks, as well as contact information for various outreach centers and support organizations.
But according to Sisson, "these kids are wary and untrusting of the adult population." And that makes them less likely to take advantage of services intended for homeless adults that in many cases are age-restricted. Such is true of many of the cooling stations that are available to homeless adults during the heat of the summer.
Sisson says most of the food donations for Stand Up For Kids are coming from the St. Thomas More Catholic Newman Center at the University of Arizona and that they are always looking for more volunteers to assist in their outreach efforts. Along with providing some basic needs on her outreach visits, Sisson also gives them her full attention. She listens to them, engages them and encourages them.
She adds, "we do not ever assume we know what they need. We never make that assumption. We always ask them, 'what do you need? What do you want?'" She also provides the number to her outreach cell phone. During our visit with her, it was ringing constantly. She encourages them to call any time, day or night.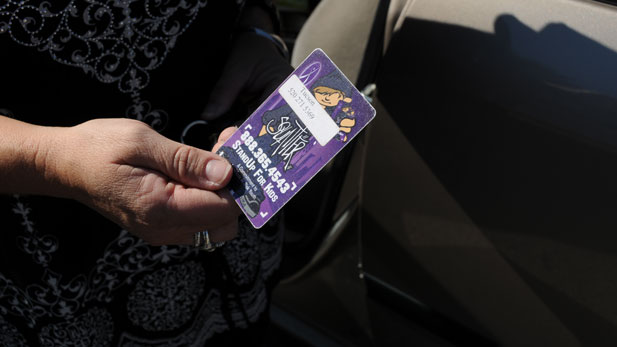 Sisson shows the contact card she hands out to kids.

Mitchell Riley
Sisson says she sometimes gets frustrated by the overwhelming nature of the problem. She senses a deepening level of desperation on the streets. "No kid should have to earn the right to live inside, to sleep in a bed, to be fed everyday, to go to school … they shouldn't have to earn that."
But, she insists, "you have to have hope, or what's the point. Yeah, you have to have hope."

Stand Up For Kids' outreach phone number is 520-271-5369.