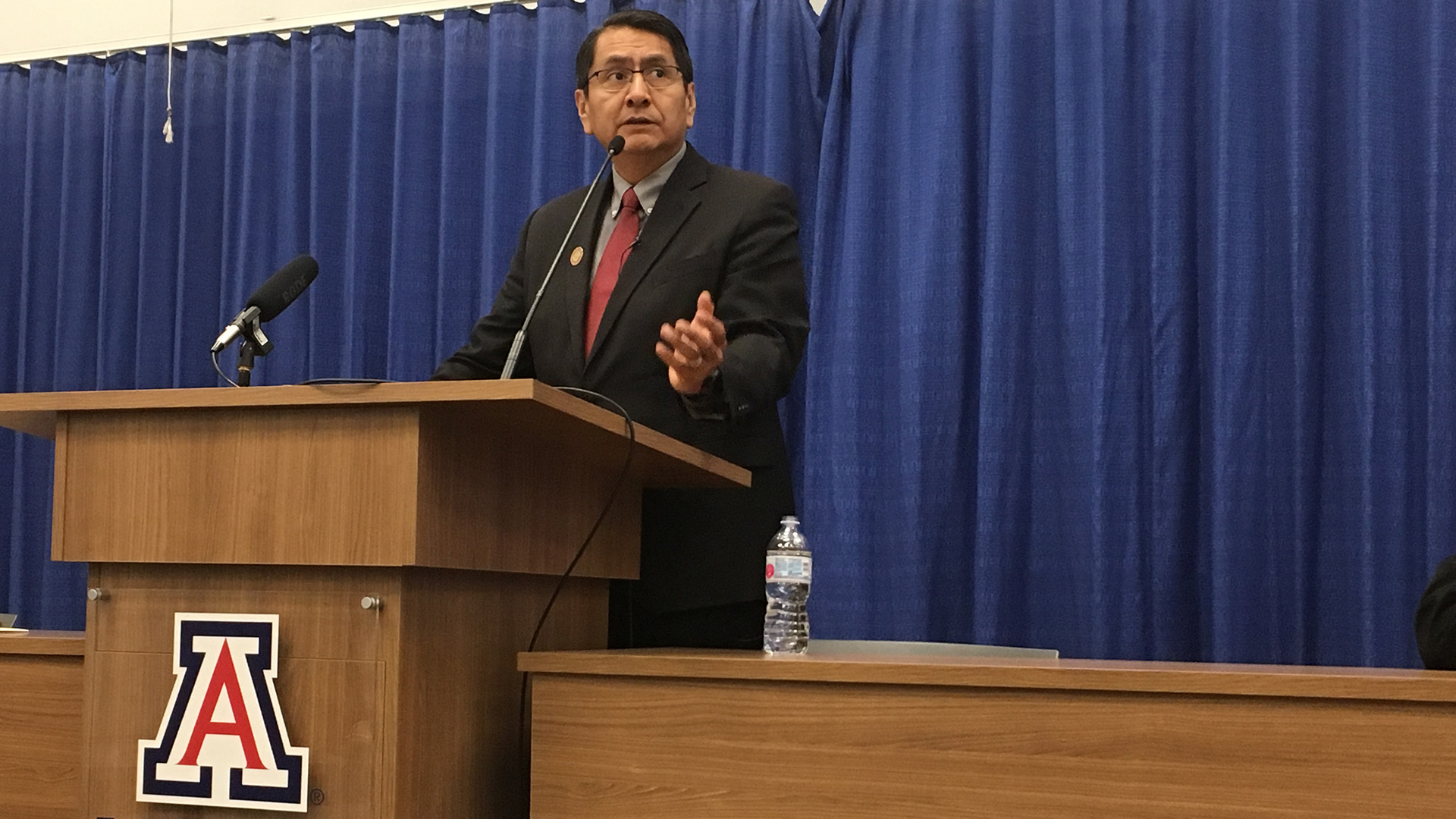 Navajo Nation President Jonathan Nez speaking to law students about the importance of nation building at the James E. Rogers College of Law, Tuesday, Dec. 3, 2019.
Emma Gibson/AZPM
The president of the Navajo Nation signed an agreement Tuesday morning with the University of Arizona to fund scholarships for Navajo law students.
The memorandum of agreement between the groups created the Navajo Law Fellowship Program and up to 10 scholarships that the James E. Rogers College of Law hopes will be available by spring 2020. Navajo Nation President Jonathan Nez told law students after the signing he hopes these and other opportunities bring people back to the nation to help build it up.
"This MOA is intended to empower our Diné students — to bring them home to the Navajo Nation to help our people through this partnership with the University of Arizona," Nez said in a Facebook post. "I am thankful to the university for working with us to create this new opportunity."
He was at the University Tuesday and told a group of law students and professors after the signing that it's important to invest in yourself, your family and your community.
"That's why our parents and grandparents say go get an education. They push us, and what do they say after that? They say come home—right?—and help your people," Nez said.
Nez said students in their first and second years of law school will learn about the Navajo Nation's legal system and how they could contribute to it. There will also be summer "externship" in which students may be able to work in a variety of positions related to the Navajo Nation judicial system.
Third-year students will continue to learn about the law throughout the Navajo Nation as they prepare for the Navajo Nation and Arizona bar exams.
Nez's Deputy Chief of Staff Milton Bluehouse Jr. said the nation is considering establishing its own Diné law school.

The Navajo Nation also contributed additional funds to help cover the costs for application fees for the state bar exam, the bar preparation course, and for the University of New Mexico's pre-law summer institute for American Indians and Alaska Natives.

During his speech, he touched on the importance of honoring treaties and fighting to keep language alive. He said after decades of subjugation, tribal nations depend on the federal government and Congress to stimulate change on the nation.
"They're not worried about the Native Americans," Nez said. "They're worried about an impeachment hearing right now, right? And how much of that attention is taken away from the improvement and the quality of life of Indigenous peoples throughout the countries?"
Nez said the nation needs the Navajo lawyers who will benefit from the scholarships to help educate Congress about its responsibilities to Indigenous peoples.
The university signed a similar agreement between the Navajo Nation and the UA College of Medicine in 2016.