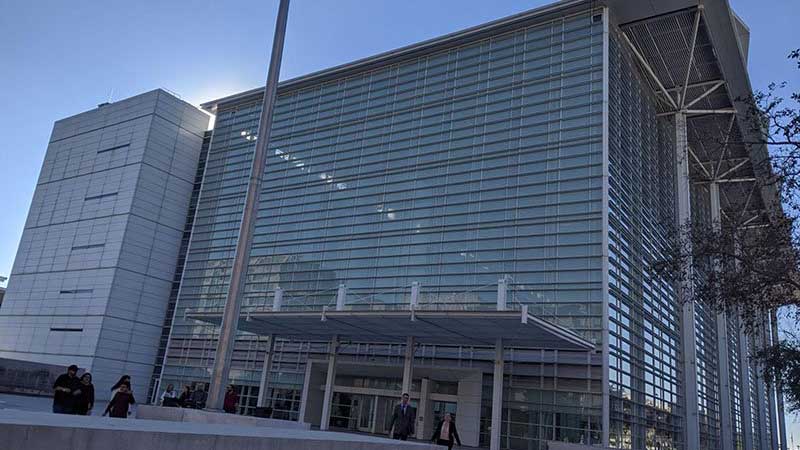 VIEW LARGER Sandra Day O'Connor Courthouse, Phoenix, Arizona.

Harrison Mantas/Cronkite News
The sole Native American on federal death row submitted his appeal Friday to the Ninth Circuit Court of Appeals claiming racial bias in the jury.
In a 2003 trial, the jury convicted Lezmond Mitchell, a Navajo man, of first-degree murder, felony murder, carjacking resulting in death and other federal crimes on the Navajo Nation. According to court documents, 20-year-old Mitchell and Johnny Orsinger, 16, were looking for a vehicle to rob a trading post in October 2001. They got into Alyce Slim's vehicle with her and her granddaughter between Tohatchi, New Mexico, and Sawmill, Arizona, on Oct. 28.
When Slim tried to drop the man and boy off in Sawmill, they both stabbed her a total of 33 times. They pulled Slim's body into the backseat of the pickup and sat her granddaughter next to her. Mitchell and Orsinger then drove 30 to 40 miles away to slit the 9-year-old's throat and crush her skull with rocks.
Mitchell was sentenced to die even though the Navajo Nation objected to the death penalty.
His execution was scheduled for Dec. 11, but the Ninth Circuit Court of Appeals stayed his death in October to hear his appeal. The three judge panel heard Mitchell's public defender's arguments for appeal due to racial bias two days after Mitchell was scheduled to be executed — Friday, Dec. 13. The court has not announced when it will rule on the appeal.
Mitchell's case exemplifies the complexities of capital punishment on tribal lands.
Melissa Tatum, a research professor of law at the University of Arizona, said that sometimes people focus on the U.S. government's choice to proceed with the death penalty in spite of the Navajo Nation's objection as flouting tribal authority, but that's not the case.
"It's very difficult for people to realize this wasn't ignoring federal law," Tatum said. "They didn't sort of say, 'The Navajo Nation has decided that we can't pursue the death penalty, but we're going to do it anyway.' Mitchell was prosecuted under a statute that didn't require tribal consent or not consent."
When prosecuting crimes on tribal lands, the alleged offender's relationship to the tribe and the type of crime determines if the tribe, state, or federal government have criminal jurisdiction.
Tatum said that according to those jurisdictional rules for crimes committed in Indian Country, the federal government would prosecute all federal crimes, and some crimes under extra federal power statutes: inter-racial crimes involving Native Americans using the Indian Country Crimes Act, and major crimes committed by Native Americans against Native Americans listed on the Major Crimes Act.
Murder is one of those major crimes that gives the federal government the power to prosecute.
"If an Indian is prosecuted under one of those extra federal power statutes — the Indian Country Crimes Act or the Major Crimes Act — the tribe has the absolute right to say, 'We're not opting in. You can't give the death penalty for these,'" Tatum said. "But if it's a federal criminal statute that's violated and it's an independent federal crime, the tribe can object, but the federal government doesn't have to acquiesce to that demand. That's what happened in the Mitchell case."
The carjacking resulting in a death constitutes that independent federal crime subject to the death penalty, and therefore the federal government did not need to respect the Navajo Nation's request to not send Mitchell to death row.
When tribal consent is needed, Tatum said the majority of tribal governments won't allow the federal government to sentence their members to death row.