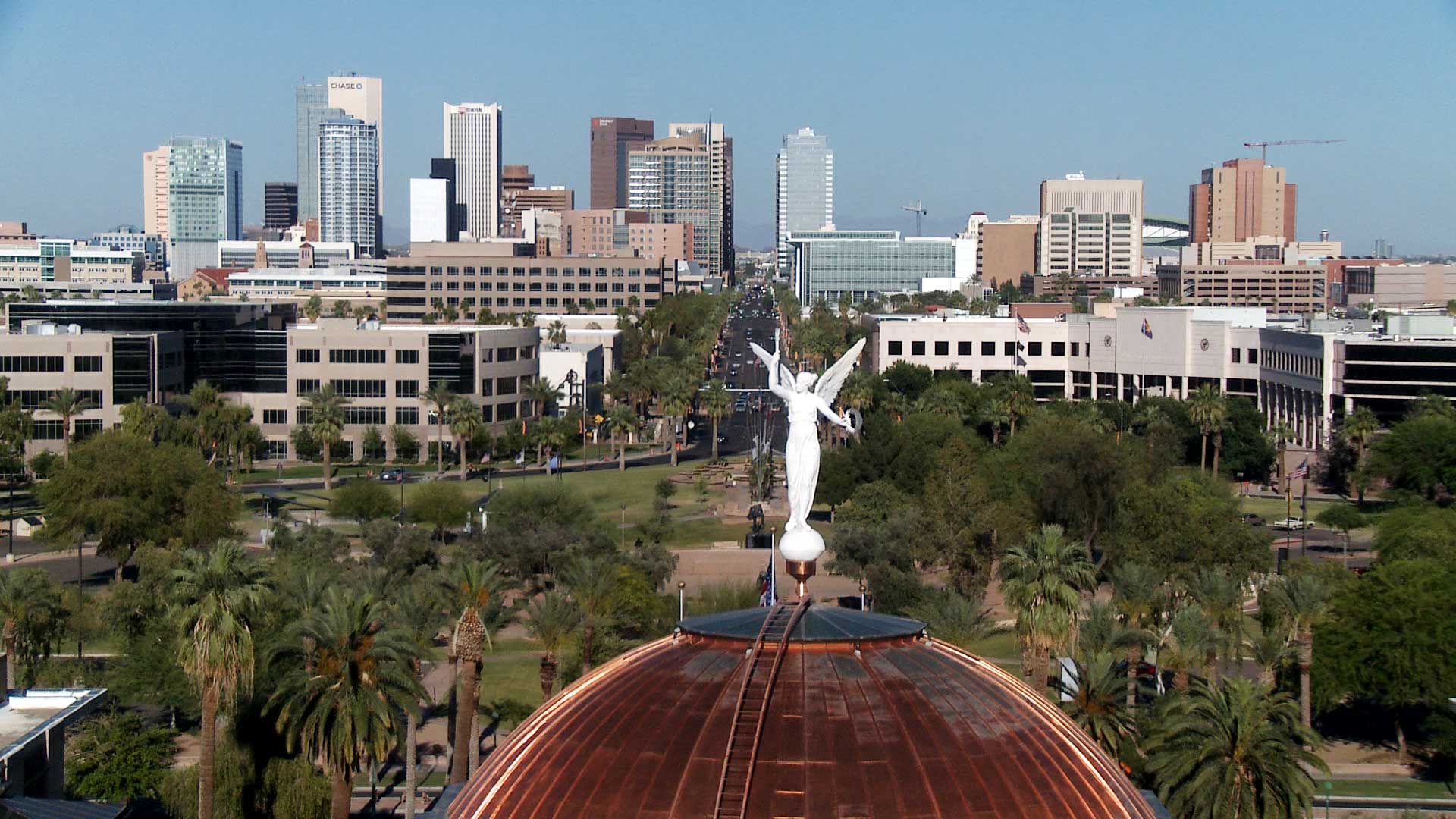 The dome of the Arizona Capitol Museum in Phoenix.
AZPM Staff
A bill passed by the Arizona House of Representatives would allow private landowners to build border walls on their property without first getting a permit from a city or county.
House Bill 2084 was brought to the floor for a final vote as the federal government continues new border wall construction through the Organ Pipe National Monument and the San Bernardino National Wildlife Refuge. The proposal would not affect that construction.
In arguing against the bill, Democratic Rep. Diego Rodriguez, told the House about a recent trip to the Mexican state of Guanajuato to meet with elected officials.
"It was clearly a situation where the elected officials of that state were bending over backwards to let us know the importance of our shared roots, our shared histories, of our shared values. In my opinion, this bill does the opposite," said Rodriguez.
Some Republican members say that more border walls mean more security.
"I see something like this, I see the efforts like this by our president, our acquitted president by the way, is making to try to secure our nation, to secure our border, I see those as extremely important steps because if we're going to be a humane society we do not want to encourage people, especially young children to come across the border and risk life and limb," said Republican Rep. Bob Thorpe.
Rep. John Kavanagh agreed with his Republican colleague.
"There is nothing inhospitable or mean about a wall. Walls are all over the place. Many members of this chamber have walls around their homes. This very chamber has a wall around, those doors. Only members, and staff members and guests can come on to this floor. We don't open it to everybody, and I don't think the people outside feel insulted by the fact that they can't just walk in here whenever they want to," Kavanagh reasoned.
Those arguments struck a nerve with Rep. Charlene Fernandez, House minority leader. She represents the Tohono O'odham Nation and the area where the federal government is currently building new, 30-foot-high barriers.
"It is beautiful there, and what is happening right now as we sit here and debate and talk about our vote, they are blasting their way over burial grounds that are sacred to those ancestors. And we are now passing a bill that would allow them to continue without asking for a permit. This is wrong," Fernandez said.
House Democrats also brought up the need for permits to protect the environment. That is a major concern regarding the current federal wall-building since the Trump administration has waived all normal reviews.
Republicans like Rep. Kelly Townsend countered the Democratic arguments, saying that the issue is about property rights.
"If a rancher or someone on the border wants to put something up because [he] can no longer cope with the issues that are there on their property because of an open, porous border, I believe whether I agree with them or not that they do have the right to do so," said Townsend.
The Republican majority in the House agreed and passed the bill on a 31-29 vote. The proposal now heads to the Arizona Senate.