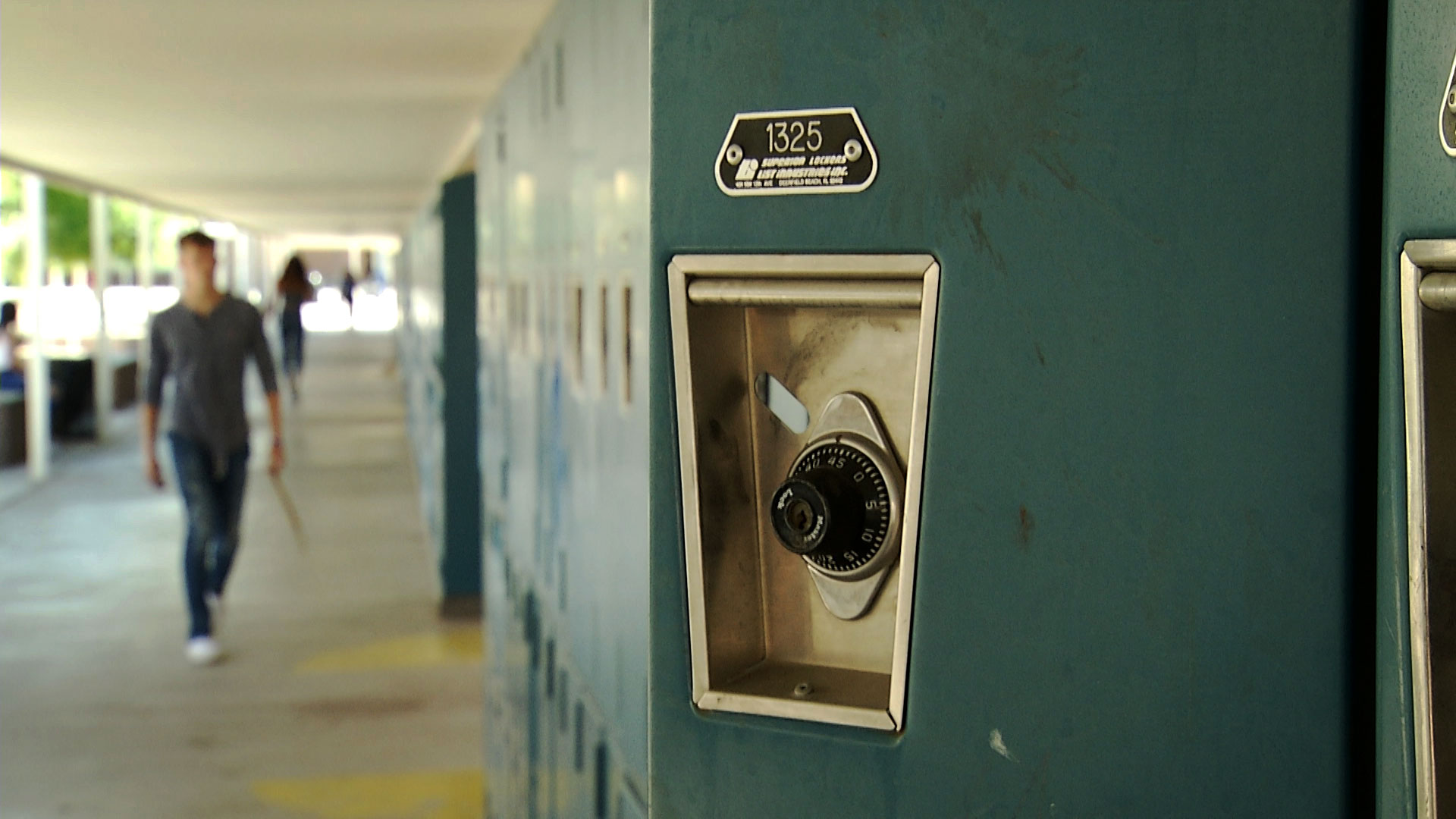 A locker door is visible in the foreground as a student walks in the distance at Marana High School in September 2019.
AZPM Staff
AZPM and Associated Press coverage of the COVID-19 outbreak as of the morning of March 13. For more coverage, visit our resource page.
---
Fourth Ave Street Fair and Cyclovia
The Spring 2020 edition of Tucson's Fourth Avenue Street Fair is being canceled. Organizers cited recommendations by local and area health care professionals and other actions being taken in Tucson and across the state regarding the coronavirus.
Organizers say the Fall edition of the street fair is still on schedule. It will be held in mid-December.
The Cyclovia event scheduled for Tucson March 29th has been called off because of the coronavirus. Organizers with the Living Streets Alliance say the event will return with circumstances are more conducive to public gatherings.
---
Pima County coronavirus steps
Cities and towns in Pima County are outlining steps to cope with the spread of the coronavirus.
Tucson mayor Regina Romero said Thursday all public meetings and city-sponsored public gatherings are suspended. She is also recommending any event with an expected attendance of at least 50 people be postponed. The city will not issue special event permits for events that expect more than 50 attendees.
All out-of-city travel for city employees on business is suspended.
---
University of Arizona basketball cancellations
Measures taken to contain the coronavirus have put an end to the basketball seasons for University of Arizona teams. The Pac 12 athletic conference and the NCAA canceled their post-season tournaments yesterday. The UA men's basketball team registered a final overall record of 21 wins and 11 losses. The women's team finished at 24-and-7.
The public health threat also led the NCAA to cancel the College World Series and Women's College World Series. That would mean the seasons are over for the Wildcats' 4th ranked softball team and the 10-and-5 baseball squad.

---
Oro Valley public meetings
The Town of Oro Valley is announcing changes in the way it conducts public meetings.
In a statement yesterday, the town announced Town Council meetings scheduled March 18 and April 1 will go on as planned, but in-person attendance will not be allowed to reduce the chance of community spread of the virus. Resident participation will be limited to online video streaming of the meetings, and town officials are working out details for web-based public input.
---
Virus concerns spur some Arizona schools to plan closures
PHOENIX (AP) — At least five school districts in metro Phoenix have announced they would shut down because of the new virus, despite state officials saying public schools could remain open.
Phoenix-area districts that late Thursday announced closures included the Alhambra, Cartwright, Kyrene, Osborn and Tempe elementary districts. State health officials said a statewide shutdown is not necessary now because there isn't a broad spread of the new virus.
Pima Unified School District in rural southeastern Arizona closed Thursday after saying some elementary school students were possibly exposed to an unknown illness. The district said Friday that the possible exposure involves a staff member and that it awaits test results.

---
Trump preparing to invoke emergency powers over coronavirus
WASHINGTON (AP) — President Donald Trump is preparing to invoke emergency powers as the country struggles to contain the coronavirus outbreak. This is according to two people familiar with the planning who spoke on condition of anonymity.
It is still unclear precisely what mechanism Trump would use to free up additional federal resources for testing and treatment as well as help those struggling with the economic impact. Trump is holding a news conference at the White House at 3 p.m. This comes as House Speaker Nancy Pelosi and the Trump administration are laboring to finish agreement on a coronavirus aid package.
---
Visits to federal inmates halted over virus
WASHINGTON (AP) — Inmates at all 122 federal correctional facilities across the country are no longer being allowed visits for the next 30 days, in response to the new coronavirus.
Officials tell The Associated Press that effective Friday, the Bureau of Prisons is suspending all visits. No federal inmates or Bureau of Prisons staff members had tested positive for COVID-19, as of Friday morning.
The plan to temporarily suspend visitation, curtail staff travel and pause inmate transfers is the result of concerns for the 175,000 inmates in BOP custody. Staff members who work in areas with "sustained community transmission" are subject to enhanced health screenings That includes having their temperature taken.
---
How to clean the bundle of germs that is your phone
NEW YORK (AP) — You're washing your hands to ward off the coronavirus, but don't forget about that extension of your hand and breeding ground for germs: your phone.
But cleaning your phone improperly can damage it. Don't spray the phone with disinfectant or dunk it in cleaning solution. You can use a Clorox wipe or soft cloth sprayed with disinfectant to wipe it down. Be sure to turn off your phone and unplug all cables first.
The virus has infected 137,000 people worldwide. More than 5,000 have died, but most patients have only mild or moderate symptoms.