In 2009, Sheila Claw-Starr was adrift in Tucson. She'd left her home in the Navajo Nation to be closer to her ex-husband, but now she was on her own, hunting for a job, looking into taking classes, and planning for a future in a strange, often lonely place.
"Basically, I was just trying to find myself," she recalls.
Then she met Raymond Mattia.
In a gathering at the Tucson Indian Center, Claw-Starr and Mattia, a member of the Tohono O'odham Nation, bonded over their shared experiences.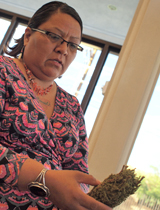 Sheila Claw-Starr employs medicinal herbs and Navajo and Tohono O'odham ceremonies in the One Sacred Nation Healing recovery program.

Gisela Telis
Both had been raised by deeply traditional grandmothers well-versed in their tribe's ancient ceremonies. Both had struggled in their off-reservation lives. Both were living in recovery from substance abuse, and both wanted to help others do the same.
"Knowing how hard it was in our lives and seeing people struggle," Claw-Starr says, "we thought we had to do something to help."
The two began to meet regularly to talk. They shared the details of their recovery—what had worked for them and what hadn't—as well as their traditional practices, including prayers, songs and plants used for healing.
"The more we talked, the more we saw a need for Native American recovery services," Mattia says.
So they decided to develop their own. They called it One Sacred Nation Healing—"because it's for all people," says Claw-Starr—and took it on the road, offering it free of charge to local agencies and clinics.
Claw-Starr and Mattia weren't the first to recognize the need for recovery rooted in culture. The White Bison program has offered an American Indian route to "wellbriety" (wellness and sobriety) since 1988.
Founded by a member of the Mohican Nation, the program encourages participants to embrace Native American culture as a way to heal themselves and their communities. It's been implemented throughout the country, including Arizona, as an alternative recovery program.
Claw-Starr and Mattia trained as White Bison facilitators and partly based their program on White Bison. But they incorporated practices and imagery that would resonate more strongly with the southern Arizona clients they serve— replacing White Bison's forest imagery, for example, with cactus imagery, and using their own songs and prayers in ceremonies. One Sacred Nation Healing is rich with Tohono O'odham and Navajo influence.
The strength of culture-based programs, whether it's White Bison or Claw-Starr's and Mattia's creation, is that they address the historical context of addiction and illness, says University of Arizona medical anthropologist Susan Shaw.
In the case of the Native American community, that context has included everything from abuse at boarding schools intended to "civilize" Native children to multi-generational poverty.
"American Indian ways of life have been pathologized," says Shaw. "These programs are about returning to and re-evaluating traditions that people have been told are wrong for a long, long time."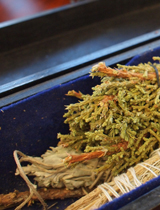 Claw-Starr and Mattia teach participants the proper uses of sage, cedar, and other medicinal herbs so they can conduct their own ceremonies after they leave the program.

Gisela Telis
That historical trauma causes real, profound pain, Claw-Starr and Mattia say, and healing it is critical to recovery.
"A lot of people don't know why they're addicted to alcohol or drugs, but when they look back through generations, it's like a window opening," says Mattia.
Culture-based or culturally appropriate programs also address cultural differences that can make treatment difficult. Counselors asking questions of a patient may expect immediate answers, for example, where many Native American cultures value thinking and responding later.
Such differences can lead to inadequate care if the counselor interprets silence as unwillingness or inability to answer, Shaw says. Claw-Starr and Mattia, who offer their program to health care providers as well, have seen the dynamic firsthand.
"It's a culture shock [for our clients]--they don't understand the counselors, and the counselors don't understand them," says Mattia. "We let them know it's OK to be quiet and think first, that we're like that."
Claw-Starr and Mattia aim to reconnect One Sacred Nation Healing participants with tradition, teaching them the ceremonies they conduct so that participants can carry the program's spiritual elements with them as they begin addiction-free lives. But they also offer strategies for surviving off-reservation, in a world that often leaves little room or time for tradition.
The combination is powerful, says Randolph Harvey, who is Tohono O'odham and completed the program in June.
"They give you the strength in your mind and your soul to see what is going on in your life, and what went on before you," says Harvey, who entered the program to deal with anger issues but has also suffered from drug and alcohol addiction. "Now I'm looking forward to getting myself to a better place in life."
Today, Claw-Starr and Mattias estimate they see 300 clients every week. They still work out of their Ford Taurus. They still refuse to accept payment, and they still feel overwhelmingly that the world needs the work they do.
"This is beyond being a counselor," says Mattia. "It all comes from the heart. We help people understand themselves again."