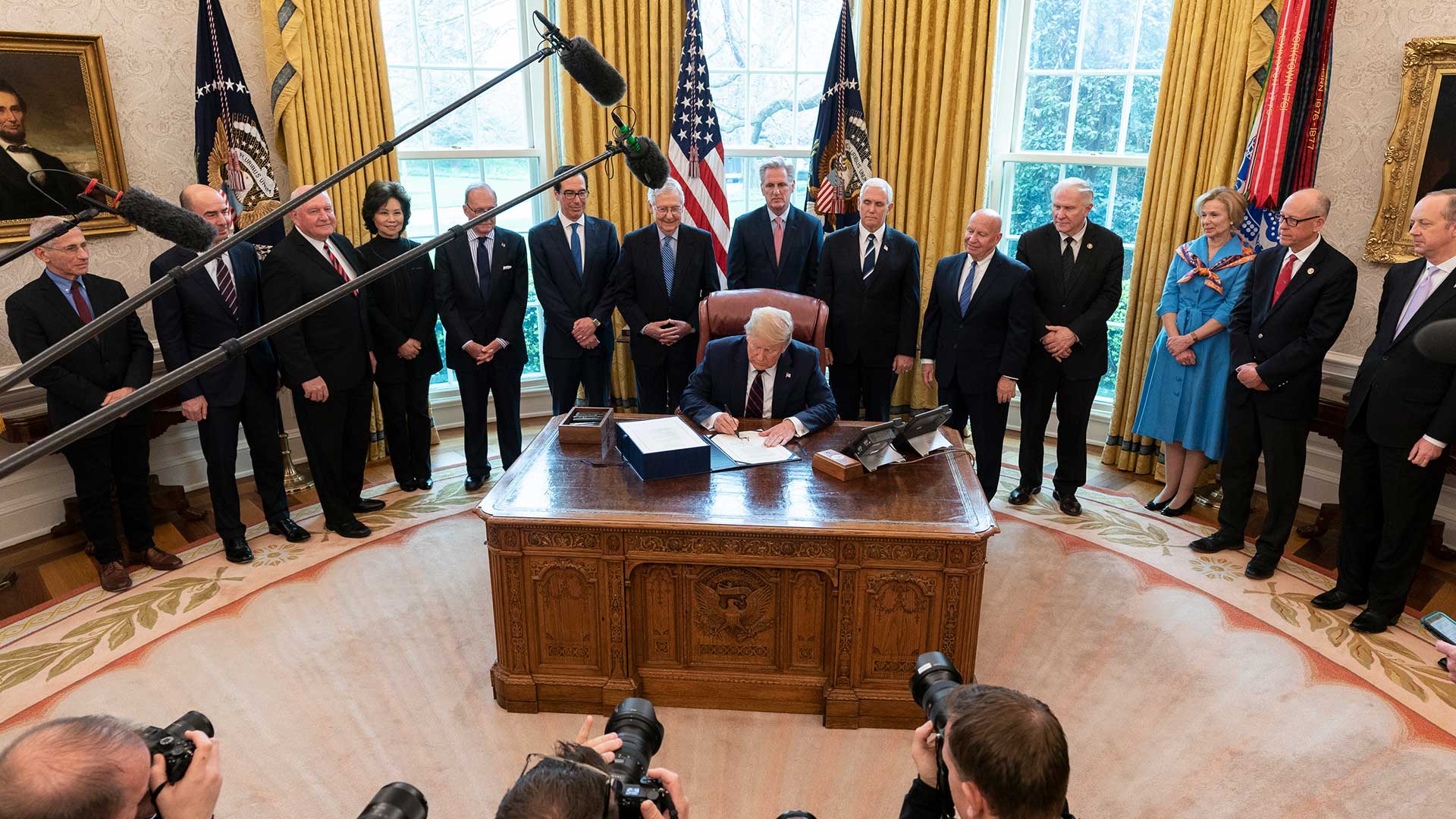 President Trump signs the $2.2 trillion COVID-19 relief package, March 27. DACA recipients in Arizona say it fails to protect mixed immigration status families during a crucial time.
Shealah Craighead/White House/Flickr
The coronavirus has created a lot of uncertainty for Arizonans. That's especially true for young immigrants who are recipients of the Obama-era Deferred Action for Childhood Arrivals program, or DACA.
If you're out of a job in Arizona right now, for example, you might consider applying for unemployment. But for DACA recipients like Jose Patiño, that option wasn't available in the past. And the law behind it is confusing.
"There is not a clearly defined definition of whether someone who has a work permit like DACA recipients would be eligible for unemployment," he said.
Patino is the education and advocacy director at Aliento, an aid group in Mesa that helps mixed-immigration status families, DACA recipients and undocumented immigrants. Over the last week the group has scrambled to work with state legislators to find answers for immigrant families in Arizona.
They learned DACA recipients are in fact eligible for state unemployment benefits. U.S. Citizenship and Immigration Services also announced it would renew DACA work permits using biometrics from past visits.
Aliento CEO and founder Reyna Montoya said those updates are a huge relief. But information came only after days of searching. In a state with some 25,000 DACA recipients, that lag left a lot of people hanging.
"I had the luxury to reach out to like 10 different people and be online looking at websites," she said. "I know many people don't have that luxury. So I was disappointed to be quite honest that the information wasn't as available as I was hoping it would be."
Montoya said it's also important to remember DACA doesn't exist in a bubble. Almost 17 million families across the country have mixed immigration status, meaning some members could have DACA, while others are undocumented.
Those families aren't protected by the current federal stimulus package. Montoya said that means even people who might normally be eligible for aid might not qualify.
"We're technically penalizing U.S. citizen children and DACA recipients with valid social security numbers for having a mom or a dad who's undocumented," she said.
Meanwhile, the fate of the entire DACA program is still unclear. The Supreme Court is currently not hearing new arguments, but it can rule on cases heard previously — including DACA, for which oral arguments happened late last year.
"We don't know how the Supreme Court is going to decide," Montoya said. "We're holding our breaths every day, every morning as the Supreme Court is making decisions.