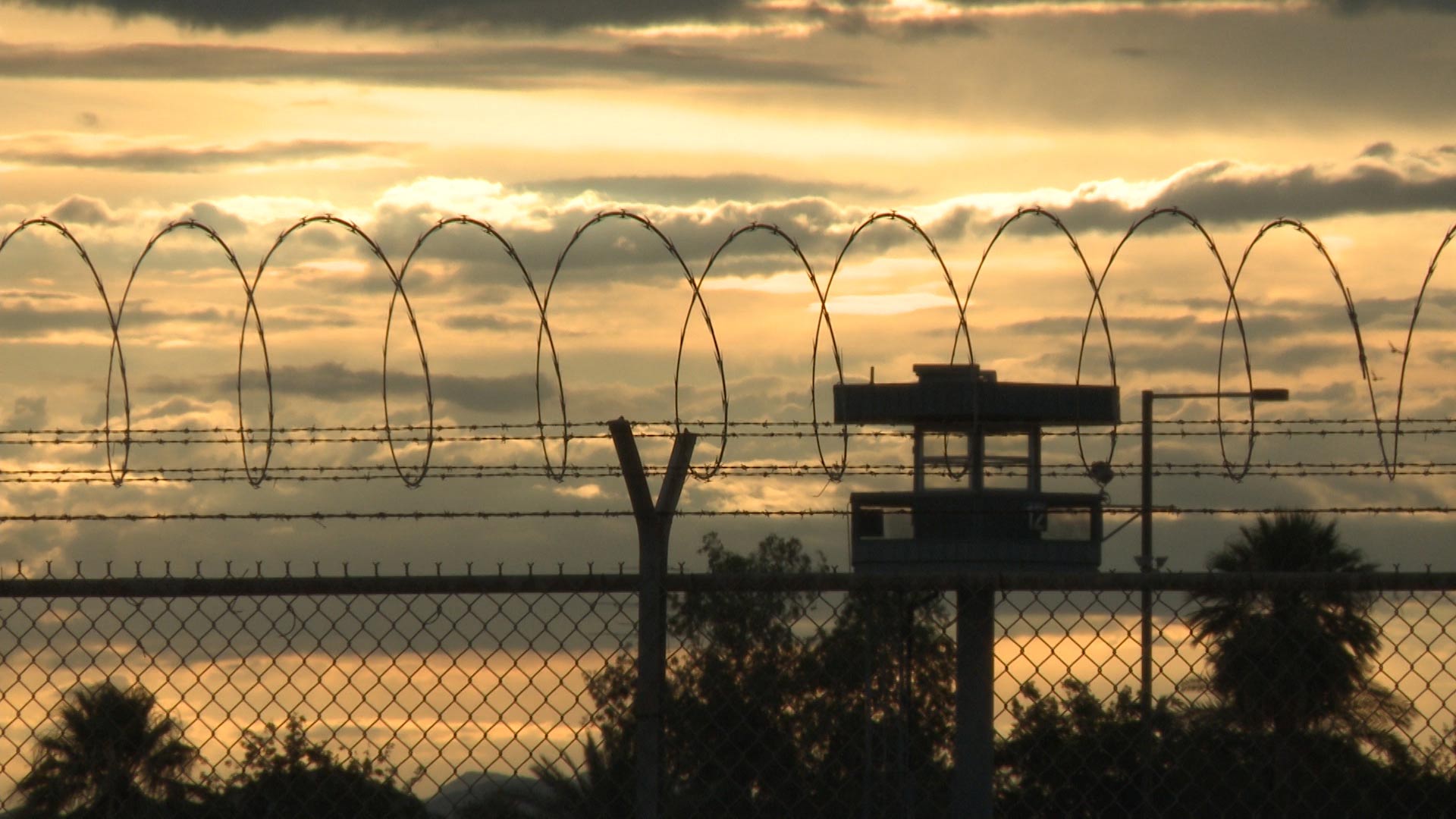 With nearly 42,000 incarcerated people, Arizona has one of the largest prison populations in the country.
AZPM Staff
This month on a phone call, Lillian Coppess' husband told her what to do with his remains.
"He's very realistic, and he knows that, god forbid, if he gets the virus, his chances of surviving are very minimum," she said.
Her husband Wellington Coppess is one of nearly 42,000 people incarcerated in the Arizona prison system.
He is about halfway through a 44-year sentence in Tucson for aggravated assault and second-degree murder. It's taken him years to get treatment for hepatitis C, and he also suffers from chronic obstructive pulmonary disease, or COPD.
As of Wednesday, 49 incarcerated people have tested positive for coronavirus and two have died from COVID-19. Arizona Department of Corrections has reported two inmates deaths from COVID-19. Coppess said if her husband becomes one of them, he likely won't survive.
Social distancing could cut down on the virus' ability to spread. But Coppess said her husband reports that's just not possible in prison.
"There are around 100 men who go to eat together without social distancing. And they are not able to wear a mask because it is against [Arizona Department of Corrections] policy," she said.
Arizona has one of the largest incarcerated populations in the country. Many are also over 55 years old. But the state lags behind others in releasing inmates.
Prison reform advocates have been vocal about the gap.
The Puente Human Rights Movement in Phoenix holds almost-weekly car rallies outside prisons and the Arizona Department of Corrections. On Sunday, advocates held a vigil outside the Perryville prison in Goodyear to ask the state to release family members and friends amid the pandemic.
This month, prison reform advocacy group FWD.us analyzed data from the state's correctional facilities to predict what infection rates could look like during the pandemic. Their model shows that 99% of the state's prison population will contract the virus if mass releases do not take place.
The current public health crisis only exacerbates the incarceration crisis that existed in Arizona prior to COVID-19," said Elissa Johnson, who leads FWD.us prison reform efforts in Arizona.
Johnson said factors like dormitory-style housing, an aging population and harsh sentencing practices mean Arizona inmates could be worse off than other states.
"Numerous individuals live, eat, sleep, exercise in very confined quarters," she said. "In addition, the medical care and access to hygiene and cleaning supplies is minimal in many prisons. This has been a problem in Arizona prisons."
The group also argues a lack of testing means the state doesn't have a clear picture of its prison infection rate.
The Department of Corrections website records the number of coronavirus tests given and the number of positive cases. According to that data, less than 1% of the population has been tested so far.

Felicity Rose is the research and policy director at FWD.us. She said so far the only state to conduct widespread testing in correctional facilities is Ohio. The state tested its entire prison population and found at least one facility where over 70% of inmates were infected.
Rose said those numbers should serve as a warning.
"We believe because there's so little ability to social distance and the virus is so contagious, that each person who becomes infected in a prison setting will infect three to four additional people," she said.
Contact with the outside world has also been strained. Family visitations were halted in March. In April, facilities also closed to in-person legal meetings. Lawyers now rely on telephonic meetings.
That can present challenges for legal battles. Tina Woehr is a federal public defender in Tucson. She said there's sometimes an option to meet clients through a video conference, but those slots are limited.

"Some of my clients are Native American, and English might not be their first language, and so it's tough, because I don't speak O'odham and we can't use visual aid in phone calls," she said. "Same goes for my Spanish-speaking clients. Even though I speak Spanish, it's always helpful to have a visual aid or a chart. Talking about it only on the phone can be really suboptimal for good communication."
Inmates are also allowed to email and call their loved ones, but neither option is free.
Lillian Coppess said phone calls cost nearly $2 each. Emails start at 25 cents. She used to be able to afford that cost running an accounting firm for small businesses in South Tucson. But like many small business owners, the pandemic forced her to close last month.
"Right now the finances are not that well, because we needed to stop working," she said. "I'm a small-business owner. It becomes also a financial burden to be able to communicate."
This month, Gov. Doug Ducey said Arizona would increase testing in correctional facilities but would not enact widespread releases. The Department of Corrections didn't respond to interview requests but Director David Shinn has said releasing inmates — even on a temporary basis — could cause public harm.
Other states have released medically vulnerable and elderly inmates to stem the spread of the virus in prison. Nonviolent offenders in several Arizona county jails have also been released to cut down on contagion.
Coppess said because her husband is serving time for a DUI with a fatality, he doesn't fit the nonviolent category. But she hopes his medical circumstances could grant him a short-term release from prison during the pandemic.
"My husband got a 44.5 year sentence," she said. "But now with COVID-19, that sentence has become a death sentence."