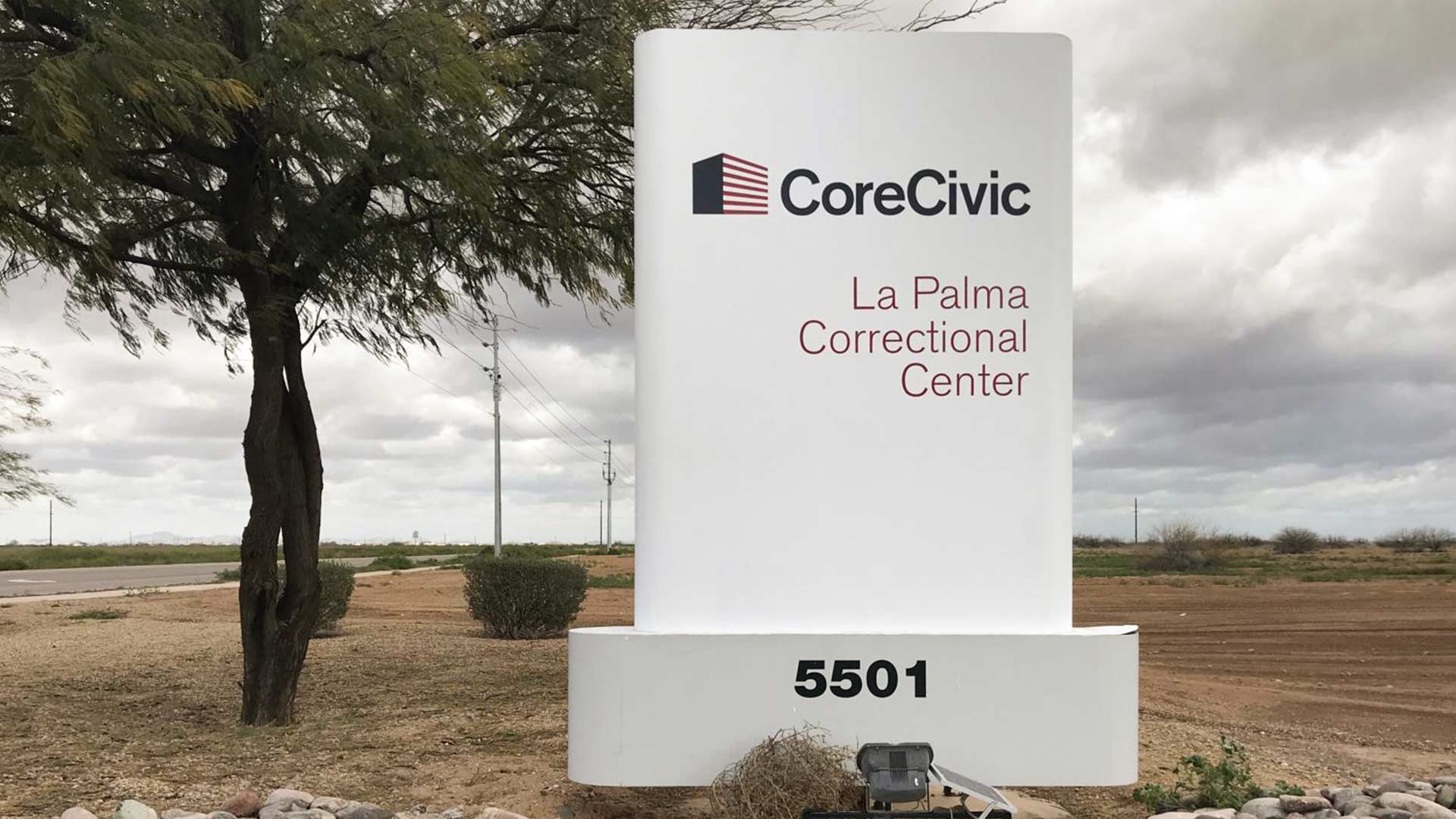 The entrance to the La Palma Correction Center in Eloy, Arizona, 2019.
Matthew Casey/Fronteras Desk
This story has been updated. See below.
---
The coronavirus pandemic is impacting communities everywhere. But immigration advocates and former detainees say those in detention centers face a greater risk.
Alejandra Alor Reyes is a transgender woman from the Mexican state of Veracruz who claimed asylum at the border last June. She was recently released from La Palma Correctional Center in Eloy after almost 10 months in detention.
La Palma reported its first coronavirus cases this month. But Reyes says she only learned about it through a chance conversation.
"I said why are they locking us in? And [the cook] said, 'It's for your own safety and for ours," she said. "Because there are cases of coronavirus."
Reyes says the facility went into lockdown and no one knew why. When she asked a cook, he told her it was because COVID-19 cases had been reported inside La Palma.
She says even then, there was little official information about the virus. Detainees relied on phone calls with family on the outside for updates. A few days before her release, detainees were given masks. But she says facility employees never wore protective gear.
Reyes is 24 and doesn't have any underlying health conditions. But her lawyer, Alexandra Miller with the Florence Immigrant and Refugee Rights Project, had already been working for months to get her released. Miller says that's because Reyes faced sexual harassment and abuse in the all-male detention unit where she was placed.
"It's not hard to imagine that in another world where the pandemic never occurred, she might still be detained. That being said, the groundwork was well laid," Miller said.
According to the Immigration and Customs Enforcement website, 23 detainees in Eloy and 10 in Florence have tested positive for the virus. The numbers in La Palma have almost doubled in the last week.
Some medically vulnerable detainees in Arizona have been released amid the pandemic. The agency has said it has released almost 700 people nationwide. About 30,000 remain in custody.
In an email, ICE representative Yasmeen O'Keefe said releases are done on a case-by-case basis. But advocates say that must happen on a larger scale to prevent further spread of the virus.
---
UPDATE, May 7
Following the publication of this story, CoreCivic — the company that owns and manages La Palma Correctional Center and Eloy Detention Center — reached out to AZPM to provide information about the COVID-19 response in their facilities. They did not agree to an interview but provided a written statement. In it a representative said masks are provided to all facility employees and all people who are detained there.
He said facilities have posters describing coronavirus prevention recommendations as outlined by the Centers for Disease Control in English and Spanish. He also said the company stages town hall-style meetings to update detainees about the virus and that all detainees are informed about positive cases. Additionally, he said CoreCivic has a "zero-tolerance policy" in place for sexual abuse and harassment.
CoreCivic manages detention centers and private prisons around the country. The representative did not specify a pandemic response timeline in Arizona, but said in the wake of pandemic planning in January, medical staff evaluate new arrivals at CoreCivic facilities and people deemed high-risk for COVID-19 are isolated.