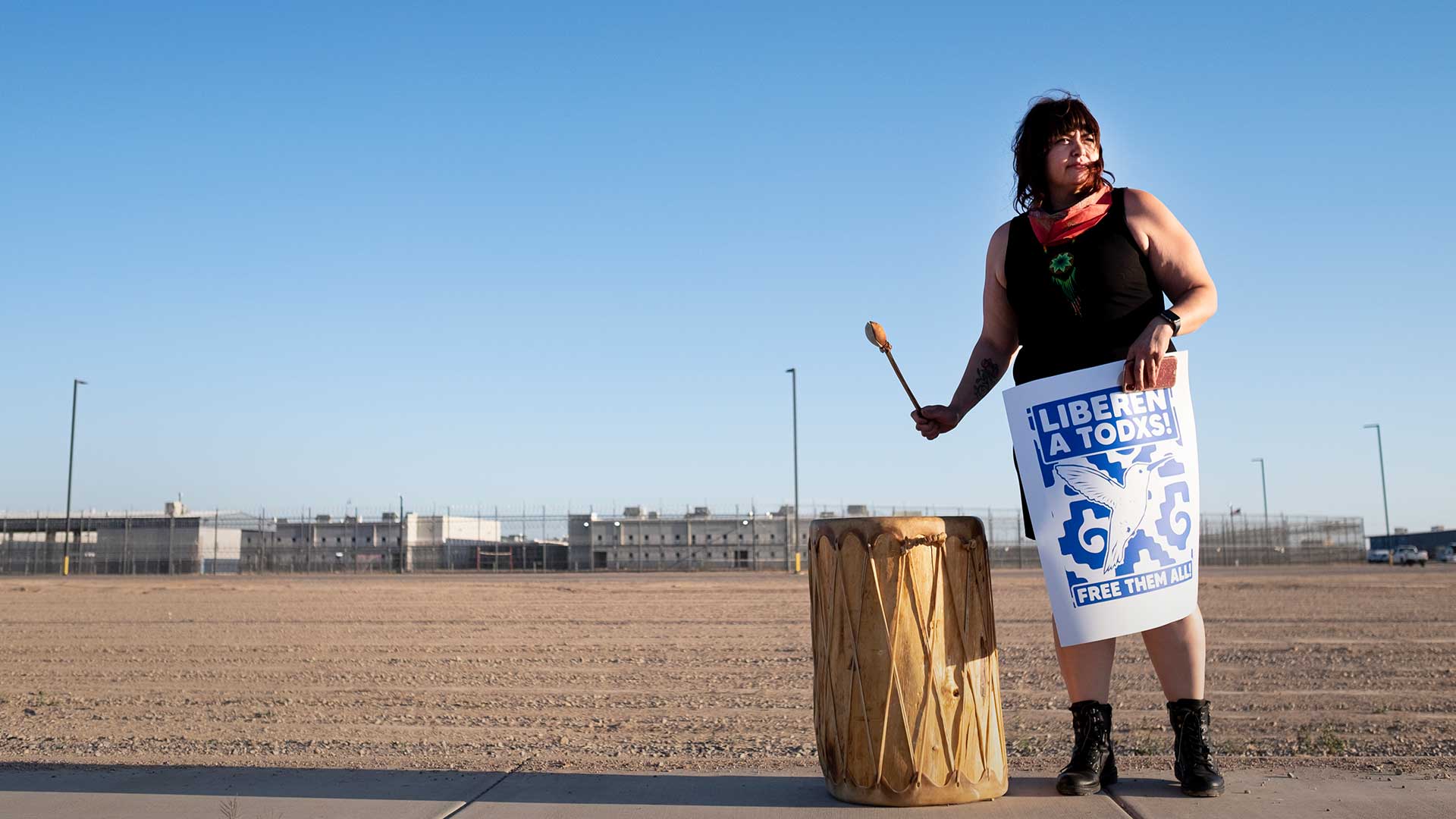 A protester bangs a drum on the sidewalk outside the La Palma Detention Center in Eloy, Arizona. Protesters in over 200 cars circled the facility on on April 10 calling for the release of detainees in the wake of the coronavirus pandemic.
Alisa Reznick/AZPM
The La Palma Correctional Center in Eloy has one of the highest COVID-19 caseloads of Immigration and Customs Enforcement facilities nationwide. But civil rights advocates say they believe numbers are even higher.
Margo Cowan is a public defender in Pima County and a lawyer with the legal aid group Keep Tucson Together. She said the organization has helped nine clients get released from detention recently. Three of them have tested positive for COVID-19.
"Every single employee in those facilities should be tested. Every single person detained in those facilities should be tested," she said.
Cowan said most of her clients in detention have not been tested for the coronavirus and don't know anyone who has. That's why her group asks people who are released to quarantine at a local shelter and undergo a test while there.
"We know that everybody who has been in detention has been exposed," she said. "There are horrific practices in detention when someone is ill or showing symptoms."
Cowan said that's because detainees say people who are sick are sent to quarantine together in a separate part of the facility. She said that could mean individuals are exposed to the virus more than if they were able to recover outside detention. Cowan said her clients face additional barriers to release when hearings are delayed by the pandemic and bond amounts can be as high as $50,000.
ICE said 75 people detained at La Palma have tested positive for COVID-19. The facility has a capacity of around 3000 beds.
Nationwide, more than half of the people tested by the agency have the virus. The agency said it follows federal health guidelines on testing and quarantining for COVID-19. Agency spokesperson Yasmeen O'Keefe said requests for release are evaluated daily on a case-by-case basis.
CoreCivic — the company that owns the facility — has said it conducts testing in collaboration with local and state health departments.
MORE:
Arizona
,
Border
,
Civil Rights
,
Coronavirus
,
Courts
,
Health & Medicine
,
Immigration
,
Justice System
,
News
,
Tucson
,
U.S.