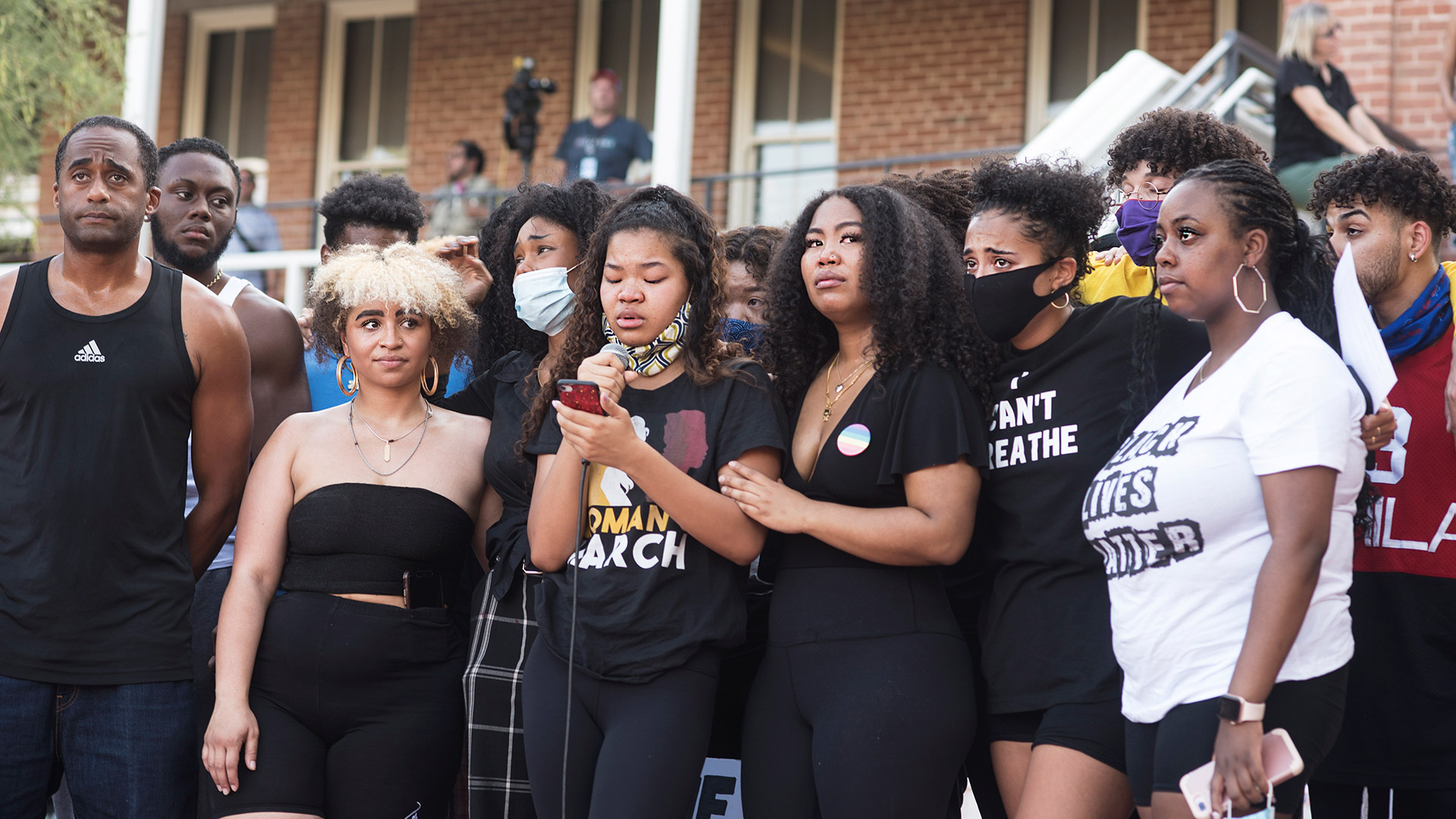 Speakers gather around sisters Jasmine and Janel Drummer as Janel reads an emotional account of her experiences during the March for Justice Tucson event at the University of Arizona campus on June 4, 2020.
Alisa Reznick
More than 1,000 people gathered on the University of Arizona's campus Wednesday afternoon for March for Justice Tucson. The event was organized by local students to allow members of the black community to speak about their experiences and speak out against police brutality and racism.
The event took place at the UA mall several hours ahead of the 8 p.m. curfew in place statewide until Sunday. Organizers Jovanna Conde, Tiana McDaniels and Jasmine Drummer said it was a peaceful event and was a way for members of the black community to heal.
Attendees wore masks and yelled George Floyd's name and other chants.
One speaker was Drummer's younger sister Janel. She is too young to drive or go to college, but said she's already experienced a long list of painful encounters at school and elsewhere that stick with her.
"When I go to school there is racism, when I leave there's racism, when I go home there's racism," she said. "When is it going to change? When am I going to be able to grow up without the fear of being discriminated? We have to do better. I'm 15, I can't drive, I can't work yet, and I'm so afraid to."
Other speakers talked about encounters with law enforcement and racist interactions. Sonja Hamil graduated last year with degrees in psychology, Africana studies and political science and a minor in Spanish.
"Let me tell you, I just graduated with three degrees and I'm tired of trying to prove myself to a country that is afraid of my intelligence," she said. "No matter how many of us they try to stop, no matter how many of us they try to kill, I will never stop loving being black."
Hamil urged attendees to take their activism beyond social media posts or attending demonstrations.
"We are not the latest trend. This is our lives. This has been our lives for 400 years," Hamil said. "When you go home today, continue our fight. Defend us behind closed doors. Don't let another one of us be killed in the street."
Other speakers said the next stage of the fight must involve political change.
"The same energy we put into expressing outrage when murderers take the lives of our people, that's the same energy we need to show the district attorneys, the judges and other public officials that don't set these people ablaze with the flame of justice," one speaker said. "There are many ways to do that, but at the end of the day the way is to vote. Not just for the president and vice president, but for what's going on right here in our own back yard."
At the end of the event, several hundred of the demonstrators continued with a march through downtown Tucson.
The event comes amid a week of demonstrations against police brutality in Arizona and across the nation following the death of George Floyd. Floyd died in police custody after former Minneapolis police officer Derek Chauvin pressed a knee into his neck for nearly 9 minutes. This week Chauvin was charged with second-degree murder for the killing and three other officers on scene during were charged with aiding and abetting second-degree murder.