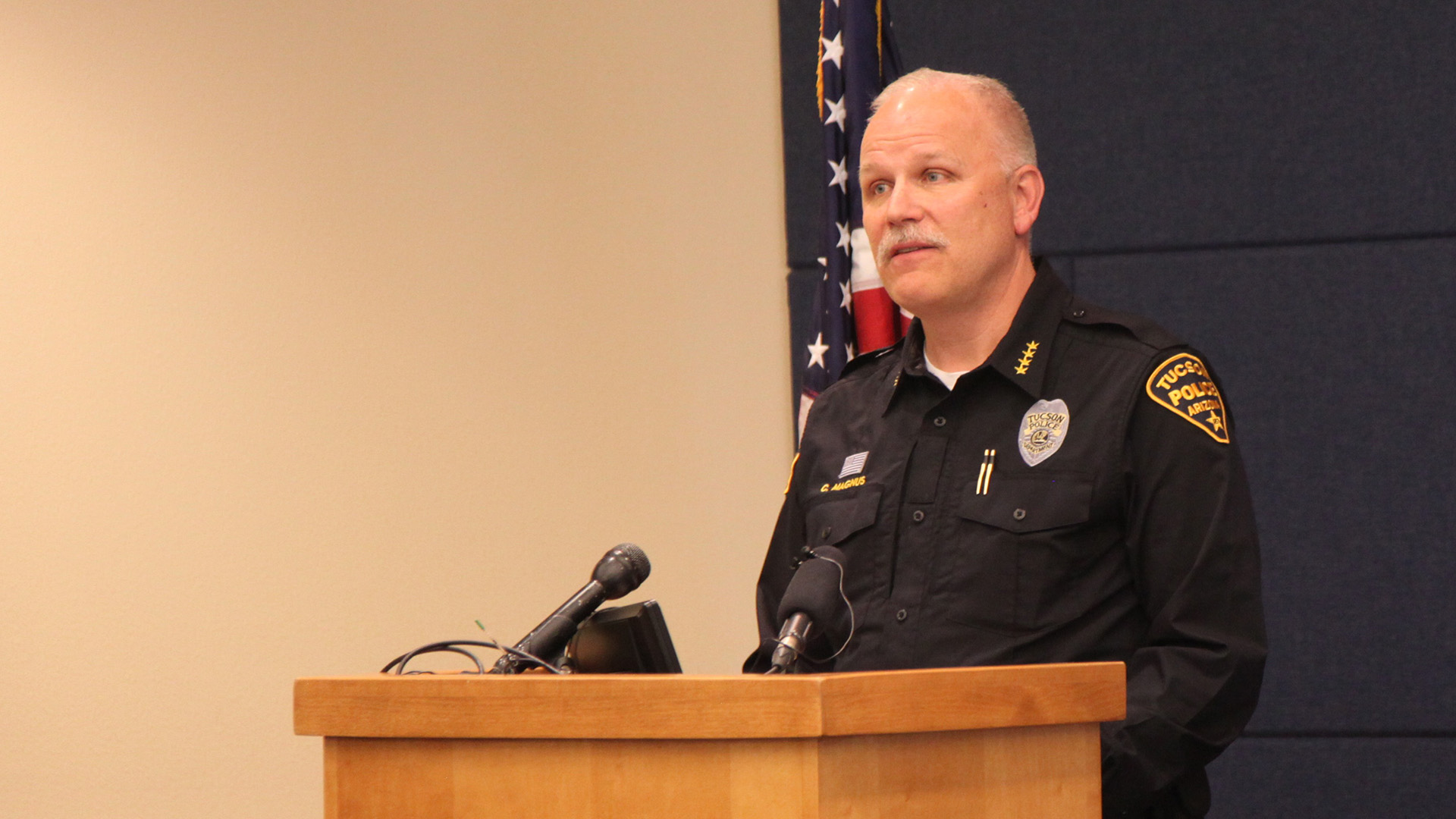 Tucson Police Chief Chris Magnus, March 2017.
Andrea Kelly/AZPM
As groups around the country take to streets urging communities to "Defund the Police," Tucson's police chief has reminded City Council members that his department has already taken budget cuts and rethought its philosophy of policing.
Since becoming chief of the Tucson Police Department five years ago, Chris Magnus has overseen $11 million in cuts to help balance the city budget, and assigned civilians to community relations roles that don't require uniformed officers.
"So this is an agency that's already thought very carefully about how we can cut bloat and put the right work in the right hands," Magnus told City Council members Tuesday.
Along the way, Magnus says he's developed good relationships with community groups. Cheree Meeks, with the Tucson NAACP, says the open line between her group and the police helps defuse potential conflict.

"So when we see we have concerns, we're able to reach out and to say, 'Hey, tell us about this,' you know, 'What's going on here,'" Meeks said.
Meeks said the NAACP has a list of recommendations for local police departments, such as setting up a citizen review board to examine citizen complaints — something the Tucson Police have also already done.
Magnus says his department has adopted all eight recommendations of the group Campaign Zero, to reduce violence by police officers. At Tuesday's City Council meeting, Magnus said that includes a ban on chokeholds and strangleholds blamed for the death of George Floyd.

"Things like that, what you saw in Minneapolis with the knee on the neck. Reprehensible and backwards, in terms of force approach," Magnus said.
Campaign Zero's "8 Can't Wait" recommendations also include that police try to de-escalate conflicts, never fire their weapons without giving a warning, and never shoot at moving vehicles.

The group's website lists Tucson and San Francisco as the only cities whose police have adopted all eight recommendations.