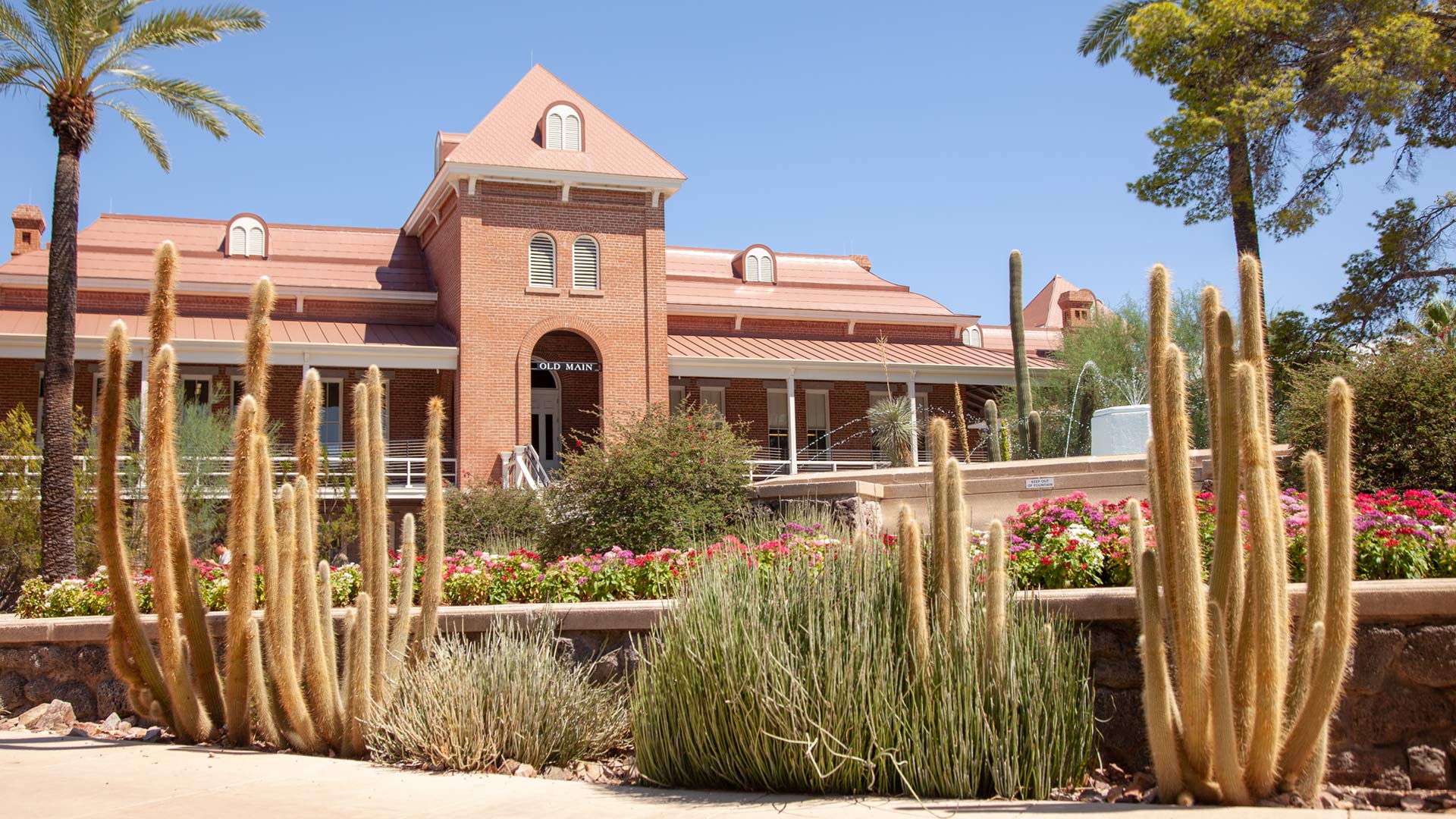 Old Main on the University of Arizona campus.
AC Swedbergh, AZPM
The University of Arizona's acquisition of a for-profit university would cause "irreparable damage" to the university's reputation, risk lawsuits and harm relationships with donors and faculty, according to a letter faculty at the Eller College of Management sent to university leaders in June.
The UA announced Monday a deal to acquire Ashford University, an online for-profit university with over 35,000 students. The venture is intended to bolster UA's online offerings and would create a new nonprofit dubbed University of Arizona Global Campus. The letter, sent to the Arizona Board of Regents, UA President Robert Robbins, and other administrators June 19 and obtained by Arizona Public Media, resulted from a faculty review of Ashford's assets.
"We understand the need to position the University of Arizona as a leader in the secondary education market. However, [UA Global Campus] would be a catastrophic mistake for the University of Arizona," the letter says. "[UA Global Campus] will impair the value of the University of Arizona, expose the University of Arizona to litigation, impede our ability to compete in the high-quality online space, and harm relationships with current and prospective donors and faculty. For these reasons, we ask you to abandon [UA Global Campus] immediately."
The letter uses pseudonyms for Ashford, its operating partner Zovio and the acquisition. Some language containing information subject to a nondisclosure agreement has been changed.
Eller faculty letter - Ashford

View at Google Docs
|

Download File

Ashford University is accredited by the Western Association of Schools and Colleges.
UA spokesperson Pam Scott said the letter "does not reflect the reality of the deal."
"Global Campus creates tremendous opportunity for access to higher education for many non-traditional college students, incorporates our operating values as an institution and provides guaranteed revenue streams with no liability for litigation over acts that occur before closing," she said.
In a Monday press call, Vice Provost for Global Affairs Brent White said he believes the new venture will leave the company's controversial history behind. "We believe the Ashford University team has sought to address the concerns that have been raised and share a joint commitment with us," he said.
Ashford has been accused of misleading prospective students and engaging in aggressive recruitment tactics. A 2008 audit from the U.S. Department of Education's Office of Inspector General found 84% of students who enrolled in Ashford's associate degree programs dropped out within a year.
The state of California sued Ashford parent company Zovio, then known as Bridgepoint Education, in 2017 for allegedly misleading students about their educational prospects and saddling them with tens of thousands of dollars in debt. The suit is set to go to trial next year in San Diego Superior Court.
The Consumer Financial Protection Bureau fined Zovio $8 million in 2016 and required the company to refund $23.5 million in private student loans. That same year, a former executive testified in federal court that Zovio fired him after pointing out the company falsified its financial records.
The Eller faculty letter said the for-profit university would be a "lemon" that would hurt the university financially. Under the terms of the deal, Zovio would still provide recruitment, advising and financial aid services, while the UA would acquire Ashford's assets for $1 and appoint administrators to the online university's board of trustees.
The letter was signed by Eller College Advisory Council Chair and Associate Professor of Accounting Rick Mergenthaler; Stephen Robbins Professor of Management and Organizations Nathan Podsakoff; Professor of Marketing Hope Schau; Assistant Professor of Management Information Systems Bin Zhang; Assistant Professor of Finance David Brown; and Professor of Economics Tiemen Woutersen.
This is a breaking news story and will be updated as information becomes available.
The Arizona Board of Regents holds the broadcast license for Arizona Public Media.