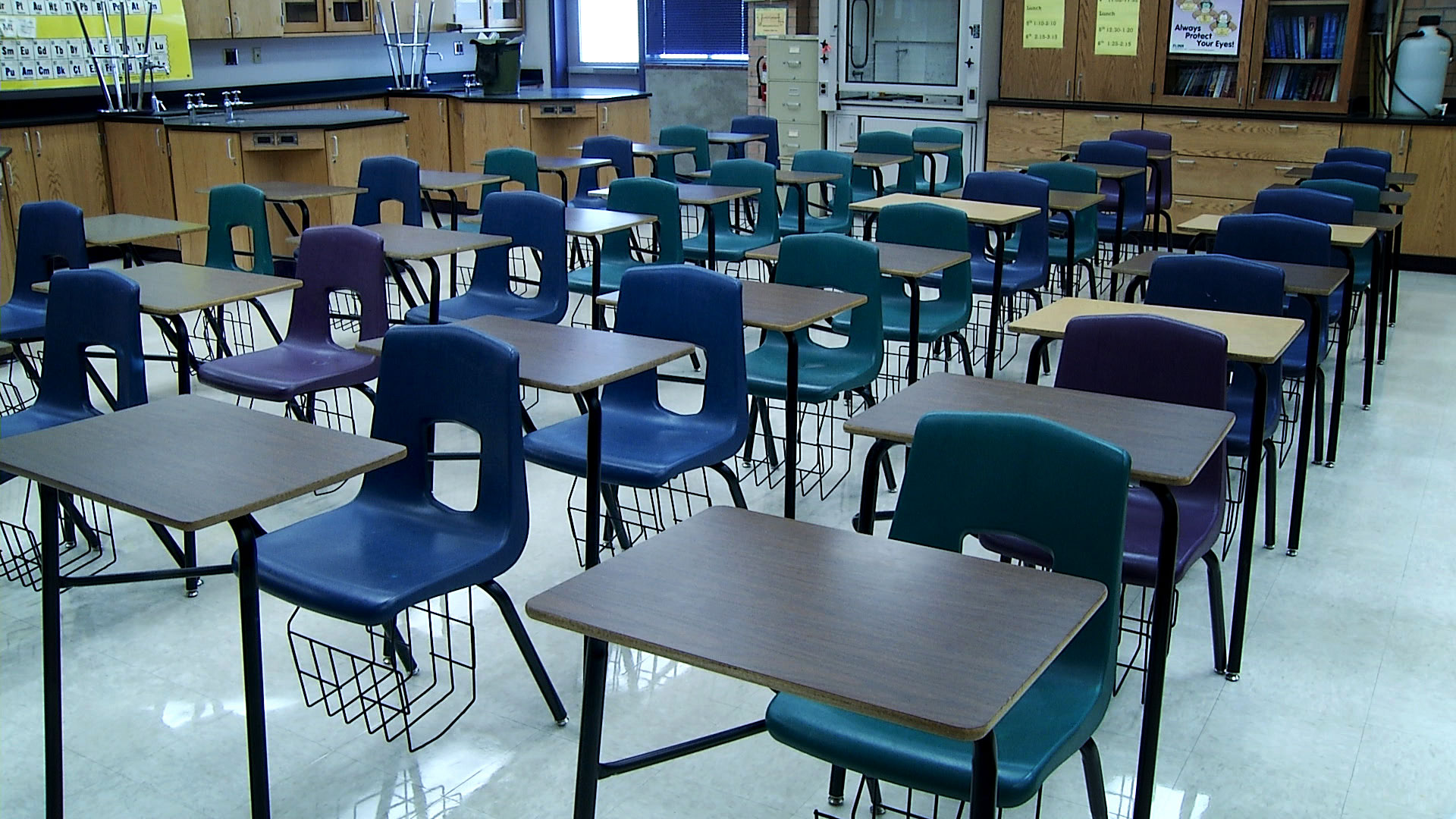 File image of an empty classroom at Sabino High School in Tucson.
AZPM Staff
Arizona on Thursday outlined its promised benchmarks intended to help guide schools' decisions in returning to classrooms during the pandemic, focusing on county-level COVID-19 targets.
In a briefing, State Superintendent of Public Schools Kathy Hoffman and Health Department Director Cara Christ said counties should meet three benchmarks before schools resume all in-person instruction:
1) A two-week decline in weekly average cases or two weeks below 100 cases per 100,000 people
2) Two weeks with diagnostic test percent positivity below 7%
3) Two weeks with less than 10% of hospital visits due to COVID-like illness

Hoffman and Christ said these are not requirements, but recommendations.
"It's likely going to be several weeks before we have a county that will be fully in the yellow and green," Christ said. "We do have some counties that are close, but we don't have any county that is meeting those benchmarks right now, and it'll probably take a couple of weeks."
The state released a dashboard that indicates whether counties meet the recommended benchmarks for in-person learning, which will be updated weekly on Thursdays.
Hoffman said she hopes districts follow the guidelines and that it will be community members who hold school districts accountable.
The benchmarks, intended to help school districts make decisions about returning to traditional, in-class learning, come less than two weeks before the official, Aug. 17 start date for the school calendar. The state characterized its approach to the start of the school year as providing "flexibility" for districts in how they return to in-person learning, though it has also required schools to provide some on-site learning services by that date to access full funding.
The Tucson Unified School District said it was applying to waive that requirement the same week Pima County urged schools not to resume in-person learning by Aug. 17.
In a media release the same day, Gov. Doug Ducey said the state was partnering with Arizona State University and the nonprofit Helios Education Foundation to provide virtual training for teachers in the lead-up to the official start date of schools.