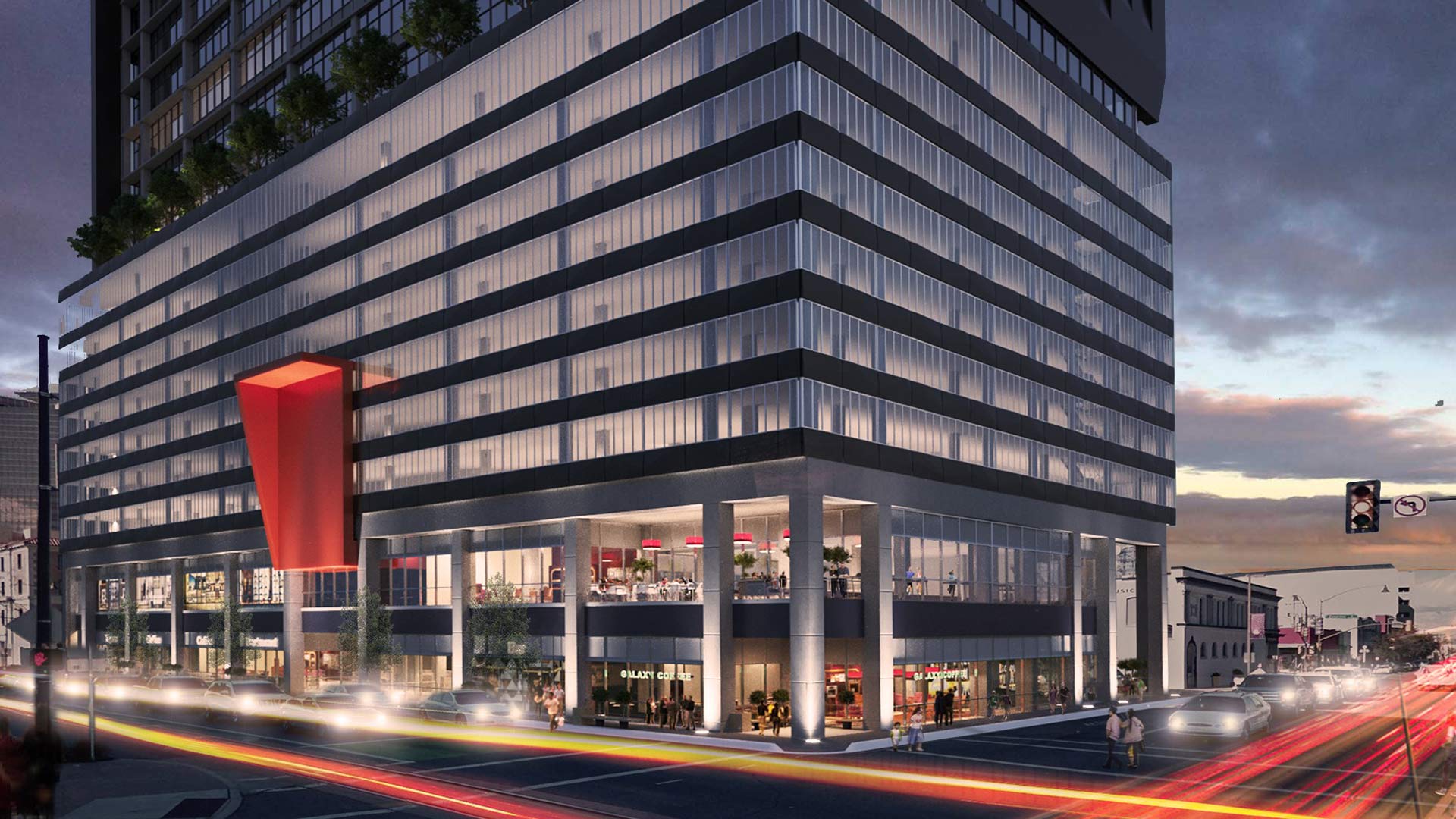 An image depicting a building proposal to replace the parking lot on Broadway and Sixth Avenue.
Courtesy of Rio Nuevo and JE Dunn
A 20-story mixed-use office tower is one step closer to rising on a long-vacant lot on East Broadway between Scott and Sixth avenues.
The Rio Nuevo board Tuesday voted unanimously to close the deal for 75 E Broadway, paving the way for the beleaguered project's approval by the Pima County Board of Supervisors next month.
The $107-million tower was nearly scuttled last year when Kansas City-based JE Dunn backed out. Local developers Peach Properties and Marcel Dabdoub revived the project in February, aiming to restore the project's height from a scaled-down 12 stories to the lot's maximum height of 20 — making the tower Tucson's second tallest.
Rio Nuevo board chair Fletcher McCusker said the tower represents a victory amid the economic turmoil of the Covid-19 pandemic.
"We're moving to close on the largest project we've ever been involved with at a time when clearly the betting money was this would've folded," he said. "It literally, no pun intended, is a phoenix rising out of a lot of ashes that got worse with Covid-19."
The project will include two floors of retail, six floors of parking, six floors of office space and six floors of residential — and a rooftop pool. McCusker said the 30,000 square foot retail space at the street level will be among downtown's largest and could attract a grocery store to serve downtown Tucson's growing population.
"This building will be around for our lifetimes. This is a massive victory in the midst of a pandemic," said Rio Nuevo board member Edmund Marquez. "This is a local developer who put together a deal which JD Dunn didn't or couldn't get done."
No tenants are currently announced. The project's financiers aren't requiring the project to be pre-leased. Previously, JE Dunn's lenders were requiring the project to be 50% leased before construction began, which McCusker said is likely what helped kill that company's proposal.
"They were trying to market an invisible building in a town not known for its class A market space," he said.
The project would be downtown Tucson's first mixed-use high rise in over three decades. The most recent was Tucson's tallest building, One South Church, in 1985. That tower is undergoing a Rio Nuevo-back conversion of its lower eight floors into a hotel.
Rio Nuevo has spent over $340,000 in upfront costs associated with the site. The economic development district currently leases the lot from Pima County for $189,000 a year, and plans to purchase the property for its appraised value of $2.7 million when construction is complete in 2022.
McCusker said construction could begin before the end of the year.