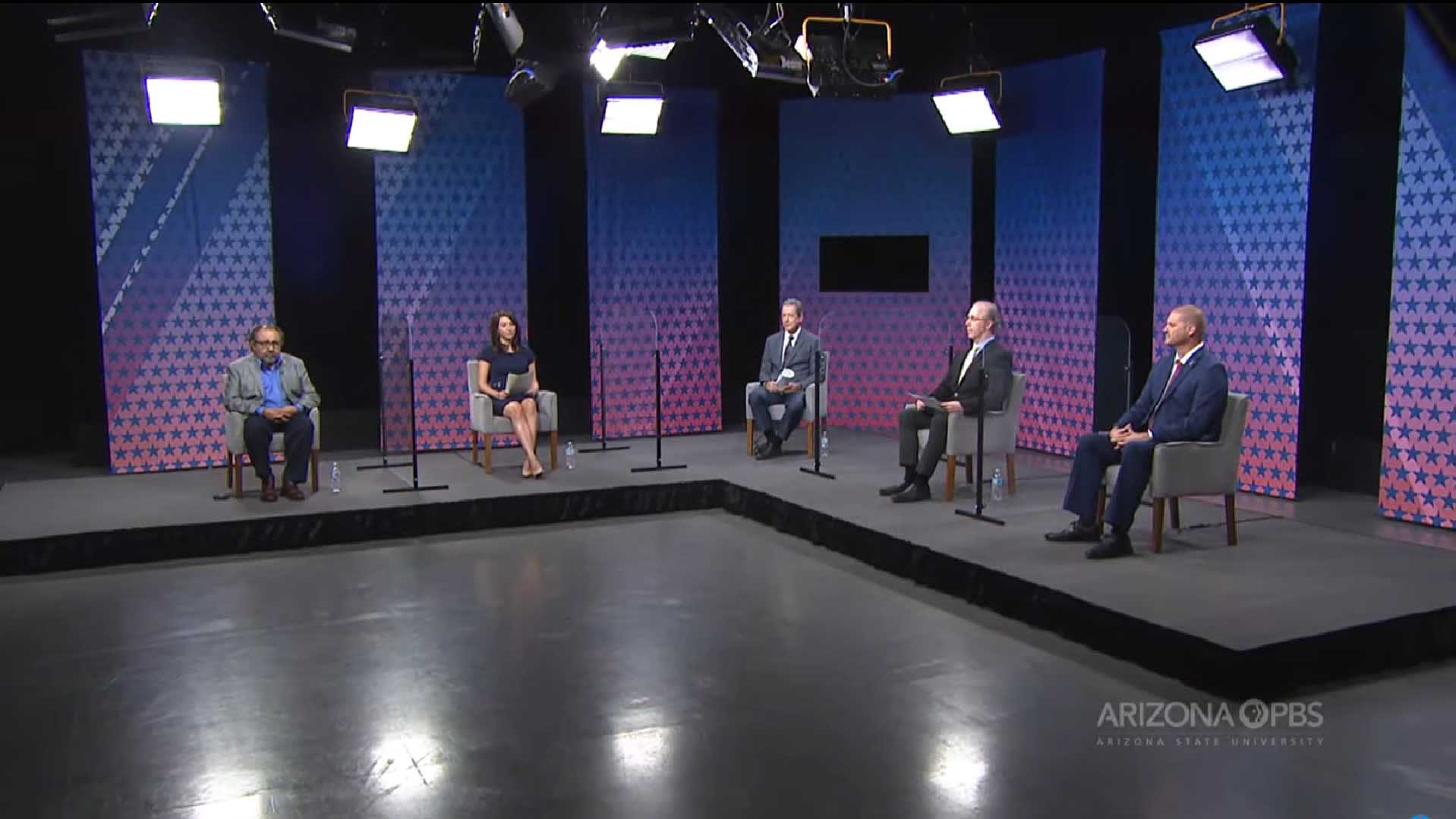 Raúl Grijalva (far left) and Daniel Wood (far right) debate in the Arizona PBS studio on September 28, 2020.
Arizona PBS
Arizona's longest-serving Democrat in Congress and the Republican challenging him each blame the other's party for not making progress on immigration reform.

Third Congressional District Rep. Raúl Grijalva squared off against Republican challenger Daniel Wood in a televised debate from Phoenix Monday night. Wood, a military veteran who works for a private security firm, said Grijalva has accomplished nothing on immigration.

"Congressman [Grijalva] has been in for 18 years and you had eight years of Obama. Eight years of Obama. You had a Democratic president and you did nothing to fix this," Wood said.
Grijalva responded that Republicans blocked every Democratic initiative to deal with immigration and asylum issues.
"Under Obama we had the executive order on DACA because the Republican-controlled Congress would not pass any legislation dealing with the DREAM Act or any immigration legislation," Grijalva responded.
The death toll from COVID-19 was another of the subjects the two disagreed over. Wood, a Donald Trump supporter, praised the president's response to the coronavirus and said he doubted whether the virus has truly caused over 200,000 deaths.

"I'm confused because [the Centers for Disease Control and Prevention] comes out with these numbers. It's changing constantly. It's either high, it's low, it depends on where it's coming from, so I mean I'm not sure if Mr. congressman here is right about what he's saying," Wood said.
He pointed to a CDC report that indicated that only 6% of COVID-19 deaths were caused solely by the coronavirus. Grijalva said he "absolutely believes" that the virus has killed 200,000 Americans.

"And we have to at some point accept science and empirical fact as being the guide to us responding to this pandemic and not let politics influence how we respond to it," Grijalva said.
Woods' claim, that the coronavirus death toll may be much lower than the government reports, has been widely debunked. Ninety-four percent of those who died of coronavirus have other comorbidities, such as heart disease, but health experts say the virus is still the key cause of those deaths.
Grijalva has served in Congress since 2003, longer than any other current Arizona member, and is running for his tenth term. He has consistently won 60% of the vote in a heavily Democratic district. Wood is running a shoestring campaign with no contributions from PACs or his party.

Read more coverage of national, Arizona, and local elections at our 2020 elections portal,
Your Vote 2020
.